Red Potato Pepper Home Fries are an easy to make side dish. While home fries are most often served at breakfast, these home fries would be great for dinner as well. Bell peppers, onions and spices make them very flavorful.
You are not going to be peeling potatoes for this recipe. The potatoes are scrubbed and cooked with the peels on. Red potatoes are very thin skinned potatoes and they really don't need to be removed.
Red Potato Pepper Home Fries are comfort food at it's best! If you want some other potato side dish ideas check out Creamy Mashed Potatoes, Boxty, Colcannon. Herbed Potato Salad, and Oven Baked Potato Skins.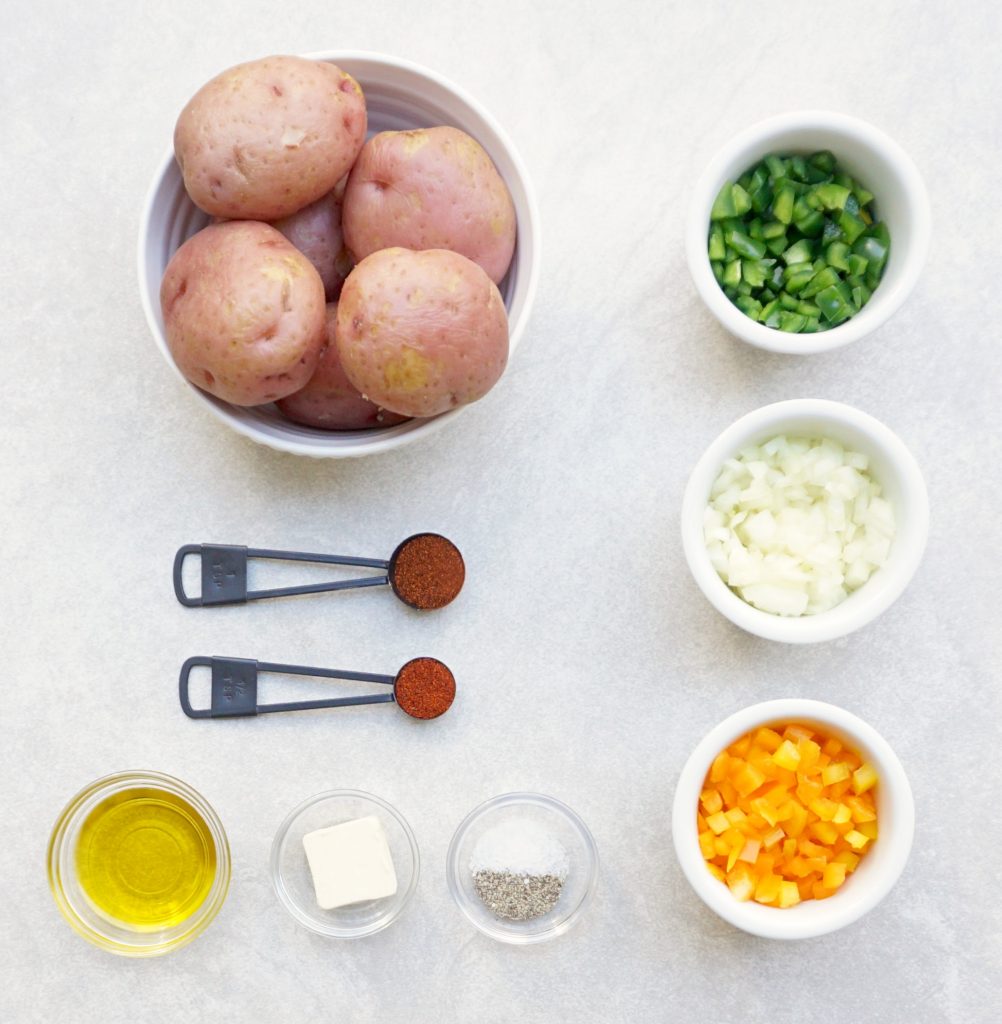 Red Potato Pepper Home Fries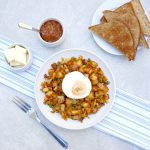 Print This
Ingredients
3 tablespoons olive oil,divided

½ cup yellow onion, chopped

½ cup green bell pepper, chopped

½ yellow or orange bell pepper,chopped

1 tablespoon butter

6 medium red potatoes, scrubbed

1 teaspoon paprika

½ teaspoon chili powder

½ teaspoon kosher salt

¼ teaspoon black pepper
Instructions
Scrub the potatoes and add them to a large saucepan. Cover them with water. Heat over high heat and bring them to a boil.
Choose a consistent size of potatoes so they will cook evenly at the same time.
Reduce the heat to medium low for a slow boil. Cook for about 20 minutes until they are cooked through but not soft. A good way to test this is piercing it with a knife. You do not want to feel any resistance.
Drain the potatoes and let them cool. Cut them into ½ inch cubes.
In a large skillet, heat 1 tablespoon of the olive oil over medium low heat. Add the onion, green bell pepper and orange bell pepper to the skillet.
Cook for about 5 minutes, stirring often until they are softened but not browned.
Remove them to a plate.
Add the remaining  2 tablespoons of olive oil and butter to the skillet, keeping the temperature at medium low.
Add the potato cubes to the pan. Stir in the paprika, chili powder, salt and pepper.
Let the potatoes cook in a single layer without touching them for 5 minutes. This will allow them to be nicely browned.
Stir the potatoes and let them cook an additional 3-4 minutes, stirring until they are browned all over.
Add the pepper and onion mixture into the potatoes, stirring them in and heating them 1 minute.