Marbled Cookie Brownies are for those moments when you can't decide between a cookie and a brownie. They are the perfect blend of half brownie and half buttery chocolate chip cookie dough. This chocolate chip cookie bar will satisfy your sweet tooth and the whole family will love them. They are also easy to make.
Whether you are baking for friends, a family gathering, or just for yourself, this Marbled Cookie Brownies recipe is a good choice.
If you prefer to simply make a full batch of the cookies check out Chocolate Chip Cookies. You might also like Chunky Chocolate Chip Cookies and Chocolate Chip Sugar Cookies. If you prefer to bake a cake check out Mini Chip Layer Cake and Banana Chocolate Chip Sheet Cake. Chocolate Chip Banana Bread is always a good idea too!
SOME THINGS TO KNOW:FAQ'S
INGREDIENT TIPS:
Make sure that your butter is at the right temperature. For the brownie layer, melted butter is needed. For the chocolate chip cookie dough, softened butter works best. Softened butter should be pliable but not overly soft or melted.
 Eggs at room temperature blend more easily and result in a better texture. If you've stored your eggs in the refrigerator, take them out about 30 minutes before baking.
This recipe calls for unsweetened cocoa powder, which usually means natural cocoa powder. You could also use Dutch- process cocoa in the brownies.Read Dutch-Process vs. Natural Cocoa. Cocoa powder tends to clump. Try to sift it to avoid lumps in your brownies.
SPECIAL EQUIPMENT NEEDED:
9×9-inch Square Pan: This size is ideal for the quantities mentioned in the recipe.
Mixing Bowls: You will need two bowls.One for the brownie mix and another separate bowl for the cookie dough.
Electric Mixer, Hand Mixer or Whisk: For mixing the brownie and cookie batter. You can also mix them in the bowl of a stand mixer.
Spatula or Wooden Spoon: To scrape down the sides of the bowl.
Toothpick or Skewer: For checking the doneness of the brownies.
Wire Rack:  Placing the baking pan onto a wire rack ensures even cooling.
SUBSTITUTIONS:
You can replace the unsalted butter with margarine for a dairy-free alternative.
Cane sugar or light brown sugar can be used in place of the granulated sugar.
The all-purpose flour can be replaced with unbleached flour.
Cocoa powder can be substituted with cacao powder, which is less processed than cocoa and offers a richer flavor.
The semi-sweet chocolate chips can be replaced with milk chocolate chips or dark chocolate chips.
HOW TO STORE MARBLED COOKIE BROWNIES:
You can store the brownies at room temperature for up to 2-3 days. Allow the brownies to cool completely on a wire rack then transfer them to an airtight container. You could also leave them in the baking pan and cover the pan tightly with plastic wrap
For a longer shelf life, place the cooled brownies into the refrigerator in an airtight container or resealable plastic bag. They can be refrigerated for up to 5 days. Before eating, you can let them sit at room temperature for a bit to soften.
The brownies can also be frozen for up to 3 months. Make sure that the brownies are cooled. Place the individual brownie squares onto a baking sheet lined with parchment paper or aluminum foil. Make sure that the brownies don't touch each other. Freeze the brownies for 1-2 hours or until firm. Transfer the pre-frozen brownies to resealable freezer bags or airtight containers. If  you are using bags, try to remove as much air as possible to prevent freezer burn. If you're stacking the brownies into an airtight container, place a sheet of parchment paper  or waxed paper between the layers to avoid sticking.
To defrost the marbled cookie brownies, remove the desired number of brownies from the freezer and let them thaw at room temperature on a wire rack. This should take 1-2 hours.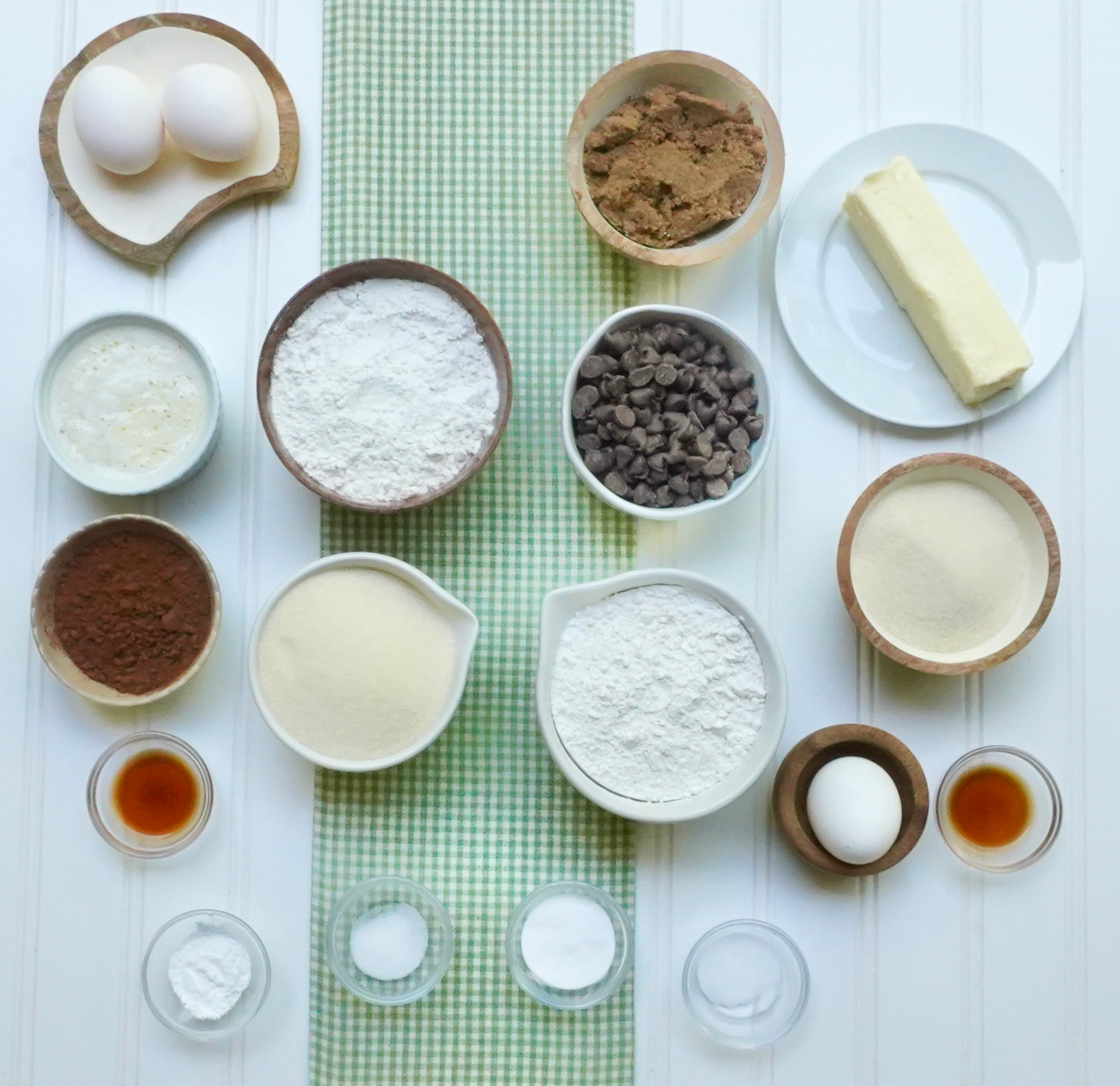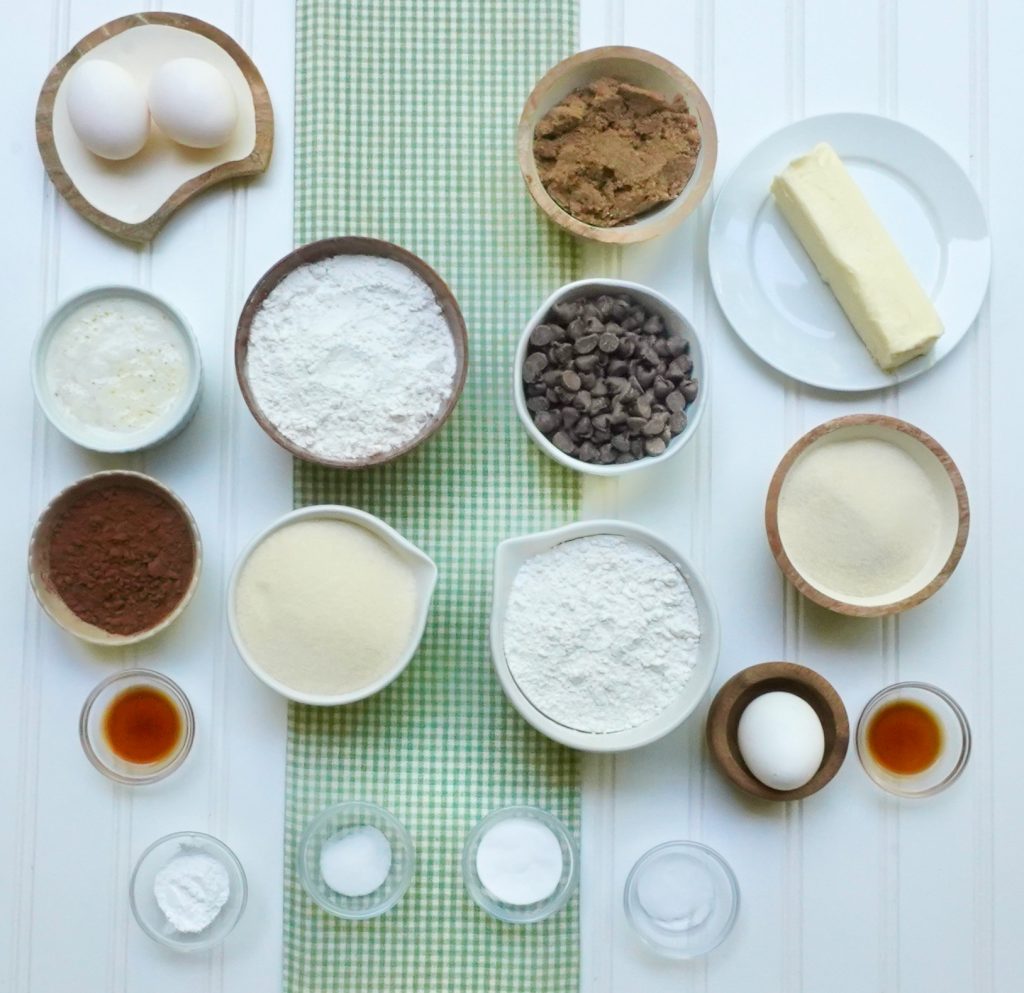 Mix together the brownie and cookie batters.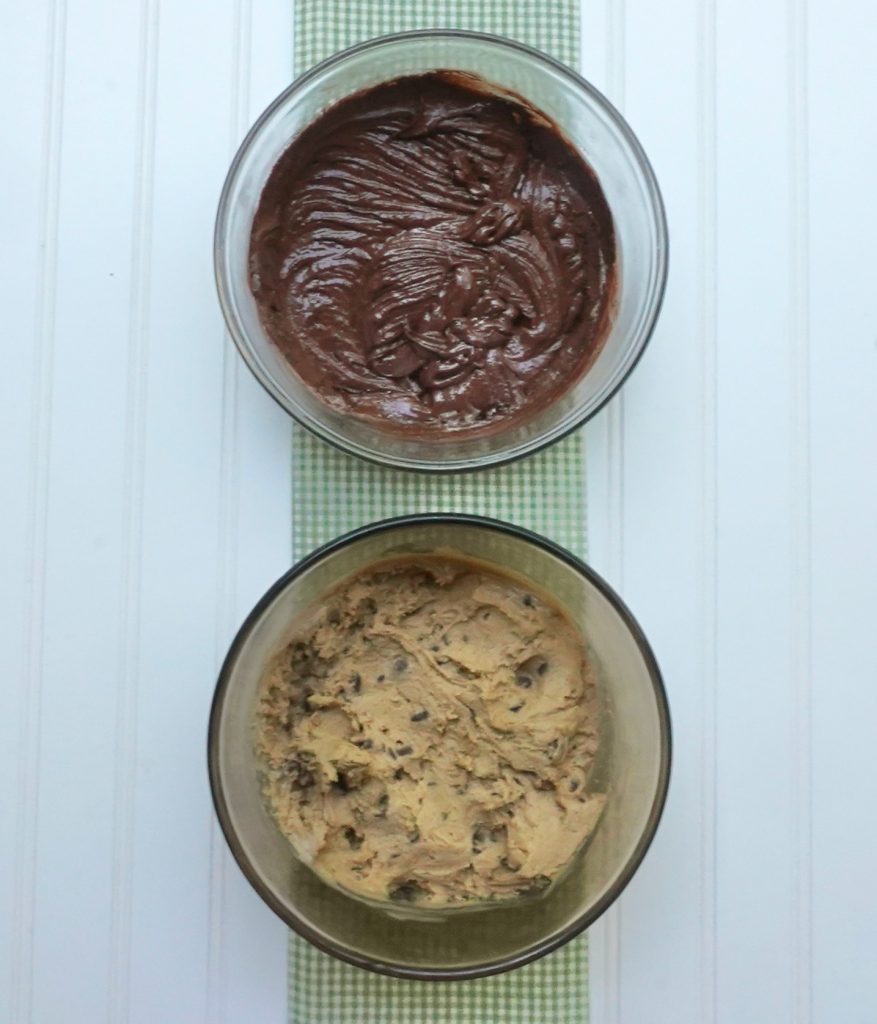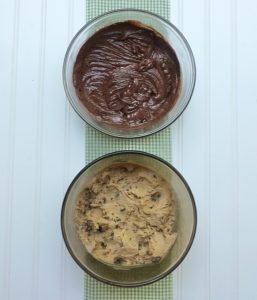 Spread the brownie batter into a greased 9″x 9″ baking pan.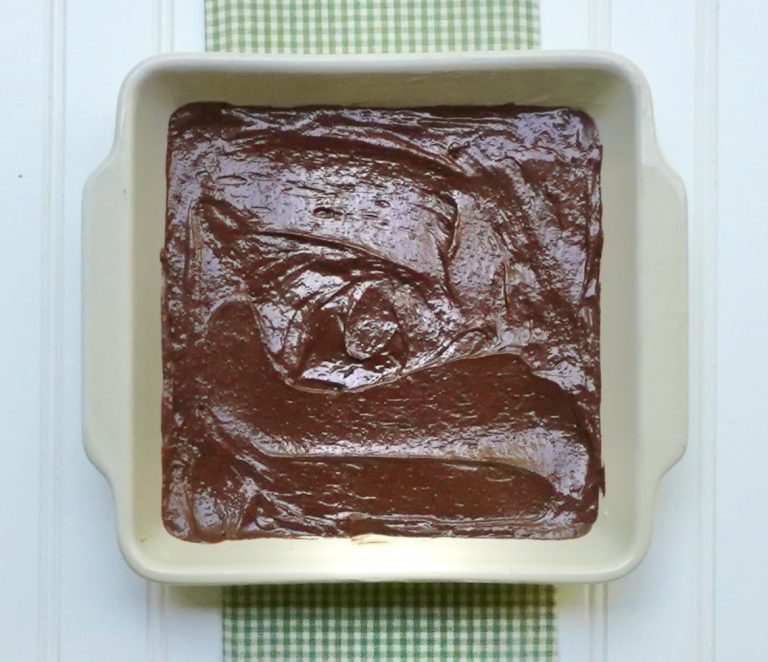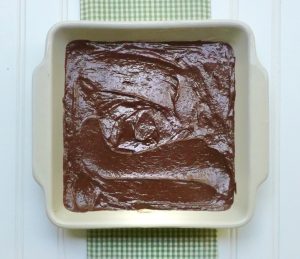 Roll the cookie dough into balls and place them in rows on top of the brownie batter.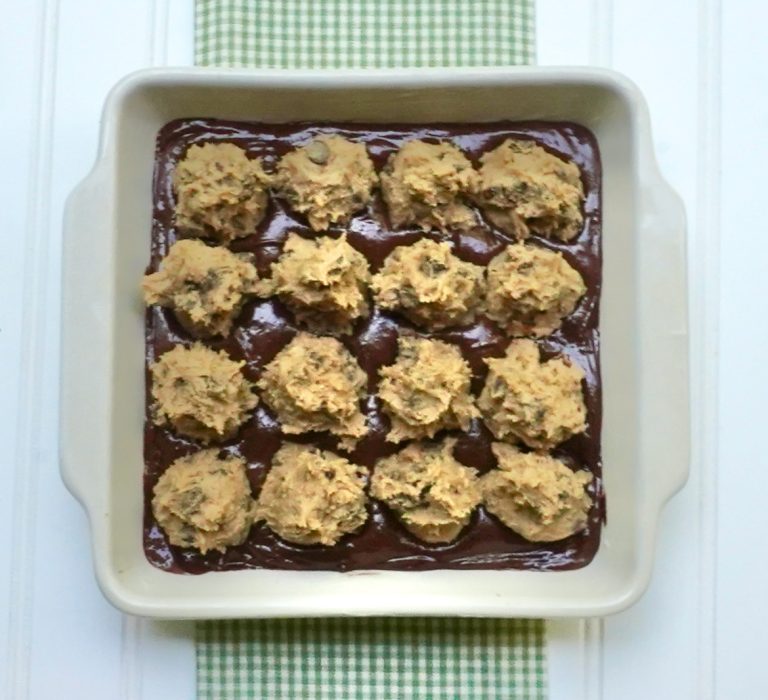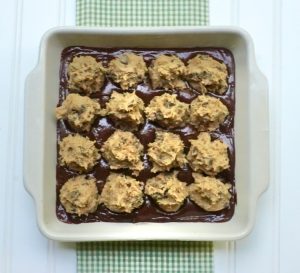 Bake and check for doneness by inserting a toothpick into the top of the brownies.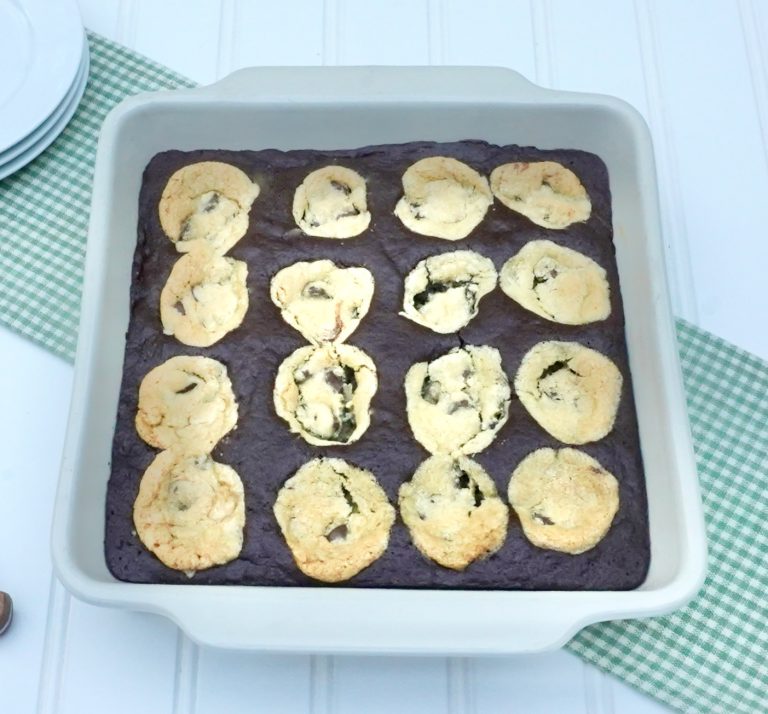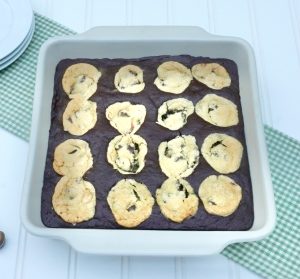 Marbled Cookie Brownies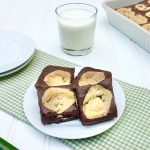 Print This
Ingredients
BROWNIE LAYER:

¼ cup unsalted butter, melted

½ cup granulated sugar

1 large egg

½ teaspoon vanilla extract

2 tablespoons plus 2 teaspoons unsweetened cocoa powder

½ cup all-purpose flour

¼ teaspoon salt

½ teaspoon baking powder

COOKIE LAYER:

½ cup unsalted butter, softened

½ cup granulated sugar

½ cup brown sugar, packed

1 large egg

1 teaspoon vanilla extract

1¼ cups all-purpose flour

½ teaspoon baking soda

½ teaspoon salt

1 cup semi-sweet chocolate chips
Instructions