Chocolate Chip Sugar Cookies would make a great addition to your cookie platter this holiday season. A bit different than traditional sugar cookies, they are filled with mini chocolate chips. These cookies are made with white sugar instead of the dark brown sugar that is normally found in a chocolate chip cookie recipe. They taste similar to a shortbread cookie and have a soft, chewy center.
This simple recipe has only a few ingredients and produces an easy to handle dough which is formed into balls, then flattened into cookies. This would be a good cookie to make as a family holiday baking project.
You can make these cookies year round, sprinkling white sugar over the tops of the cookies or use colored sugars to make them colorful and festive for the holidays.
If you prefer classic Chocolate Chip Cookies, check out Chocolate Chip Cookies. You might also like Chunky Chocolate Chip Cookies.
If you would like to try some other cookie recipes for your holiday cookie platter, check out Cookie Cutter Cookies, Gingerbread Cookies, Holiday Spritz Cookies, and Jam Sandwich Cookies.
If you have some mini chocolate chips left over, you could make a Mini Chip Layer Cake.
SOME THINGS TO KNOW:
Make sure that your butter is at room temperature and very soft for the best results.
If you do not have mini chips on hand, you can use regular chocolate chips.
If you do not have sanding sugar, simply sprinkle granulated sugar over the tops of the cookies. Do read about What is Sanding Sugar and see why you may want to use it in your baking.
You could also make a colorful Cookie Glaze to drizzle over the tops of the cookies.
These cookies will stay fresh for 2-3 days in an airtight container at room temperature.
You can freeze these Chocolate Chip Sugar Cookies  for 2-3 months in an airtight freezer container. When you are ready to defrost them, place them onto a wire rack at room temperature.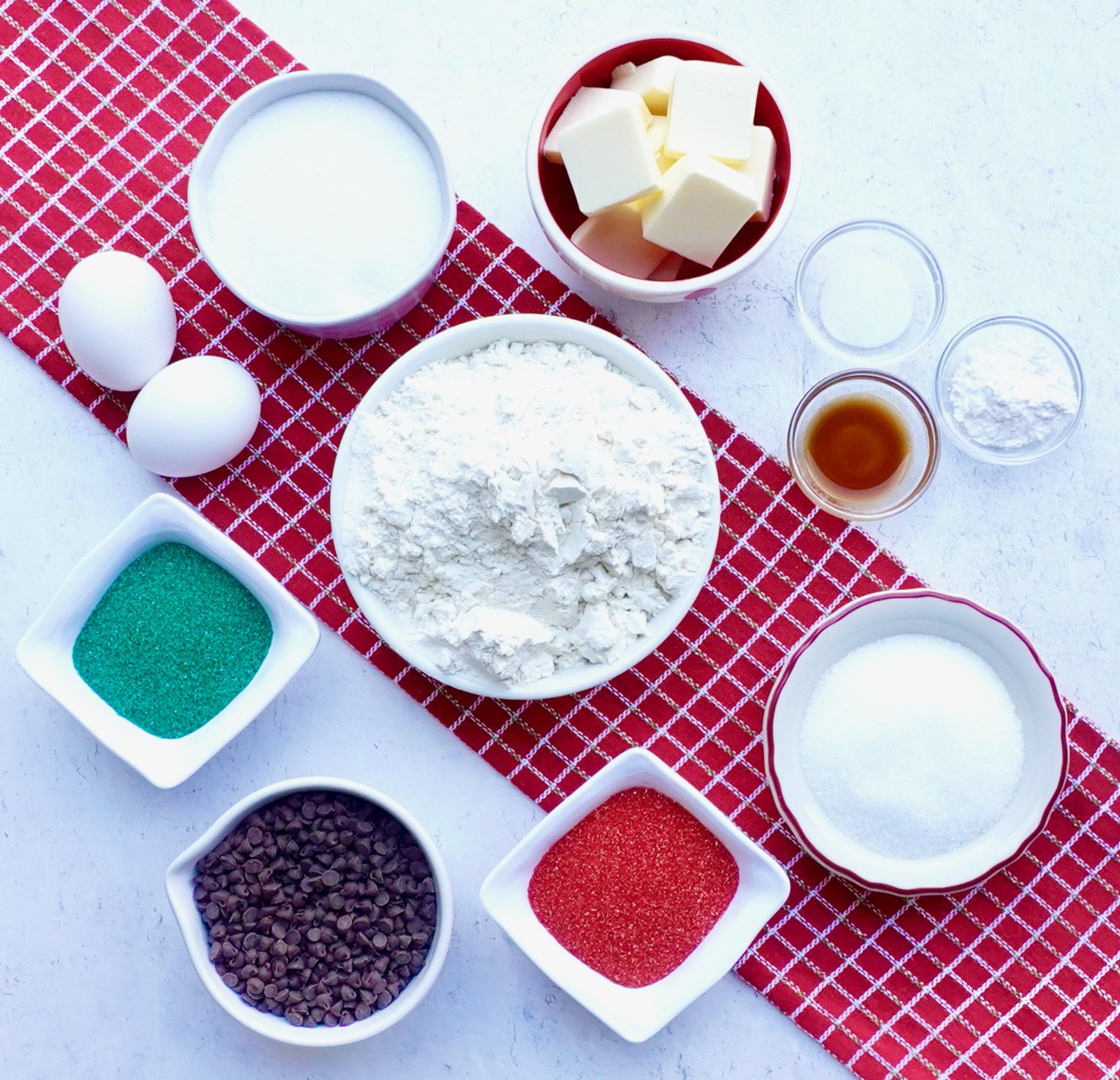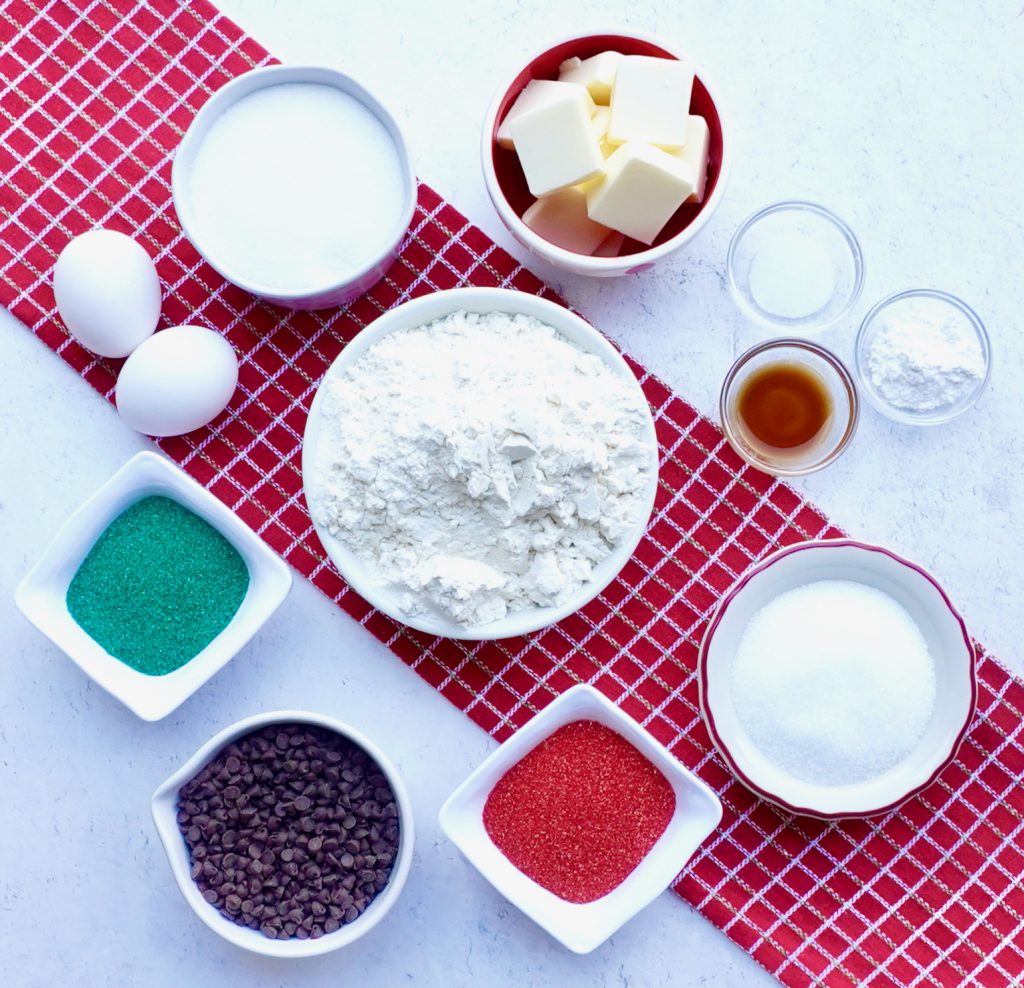 Chocolate Chip Sugar Cookies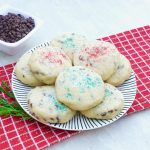 Print This
Ingredients
1½ sticks unsalted butter (12 tablespoons at room temperature)

1 cup granulated sugar

2 large eggs

1 tablespoon vanilla extract

2 ¼ cups all- purpose flour

2 teaspoons baking powder

½ teaspoon salt

1 cup mini chocolate chips

white or colored sanding sugars
Instructions
Preheat the oven temperature to 350 degrees. Place your oven racks at the top and center of your oven.
There is no need to grease your cookie sheet but if you want an easier clean up you can line them with parchment paper.
You can use either a hand electric mixer or a stand mixer with a paddle attachment.
Place the butter into a large bowl . Cream butter until it is fluffy.
Add the sugar and beat until it is thoroughly combined.
Add the eggs one at a time, making sure that the egg yolk and egg whites are mixed in thoroughly.
Mix in the vanilla extract.
In a medium bowl combine flour, baking powder and salt. Make sure the flour mixture is mixed well.
Add the dry ingredients to the butter mixture.  Mix them in on medium speed, making sure to scape the sides of the bowl so everything mixes together thoroughly and a soft dough forms.
Add the mini chips and mix them into the dough on low speed.
Scoop out rounded tablespoons of dough and roll them into balls. You want the balls of dough to measure 1½ inches.
Place the balls onto prepared baking sheets 2 inches apart.
Press the balls down with your hands to form a flat cookie that is 2½ inches in diameter.
Sprinkle the tops of the cookies with the sanding sugar.
Place the cookies into the preheated oven.
Bake cookies for 10-12 minutes, turning the baking sheet around after 5 minutes so the cookies will bake evenly. They will be lightly colored on the top and a light golden brown on the bottom.
You want the cookies to be soft with chewy centers so start checking them at 10 minutes for the best results and softer cookies.
If you prefer cookies with crisp edges, let them bake for the entire 12 minutes.
Remove the cookies from the oven and let them cool on the baking tray for 5 minutes.
Use a metal spatula to remove them to a cooling rack to cool completely.
Remove them from the cooling rack to a plate for serving. Cover the plate with plastic wrap to keep the cookies fresh.