Burst Tomato Corn Polenta is a flavorful dish made with fresh corn. It has a nice sweetness and a smooth creamy texture although no cream is added.
Corn on the cob is cooked, removed from the cob and processed until smooth. It cooks with some reserved cooking water, butter and parmesan until it is thick. Topped with some quick cooked cherry tomatoes, it is a perfect combination.
There are so many great ways to use fresh corn. Check out Red Pepper Corn Risotto, Corn Medley, Corn Salad, Tomato Corn Orecchiette, Zucchini Corn Fritters, Zucchini Corn Saute, Mexican Street Corn Fritters, Mexican Corn Cakes, and Red Pepper Corn Chowder  if you want cook with fresh corn before the season ends.
An average size ear of corn yields about 3/4 cups of corn. While you will not get the exact sweetness or flavor of fresh summer corn you can use frozen corn in all of these recipes and they will still be good.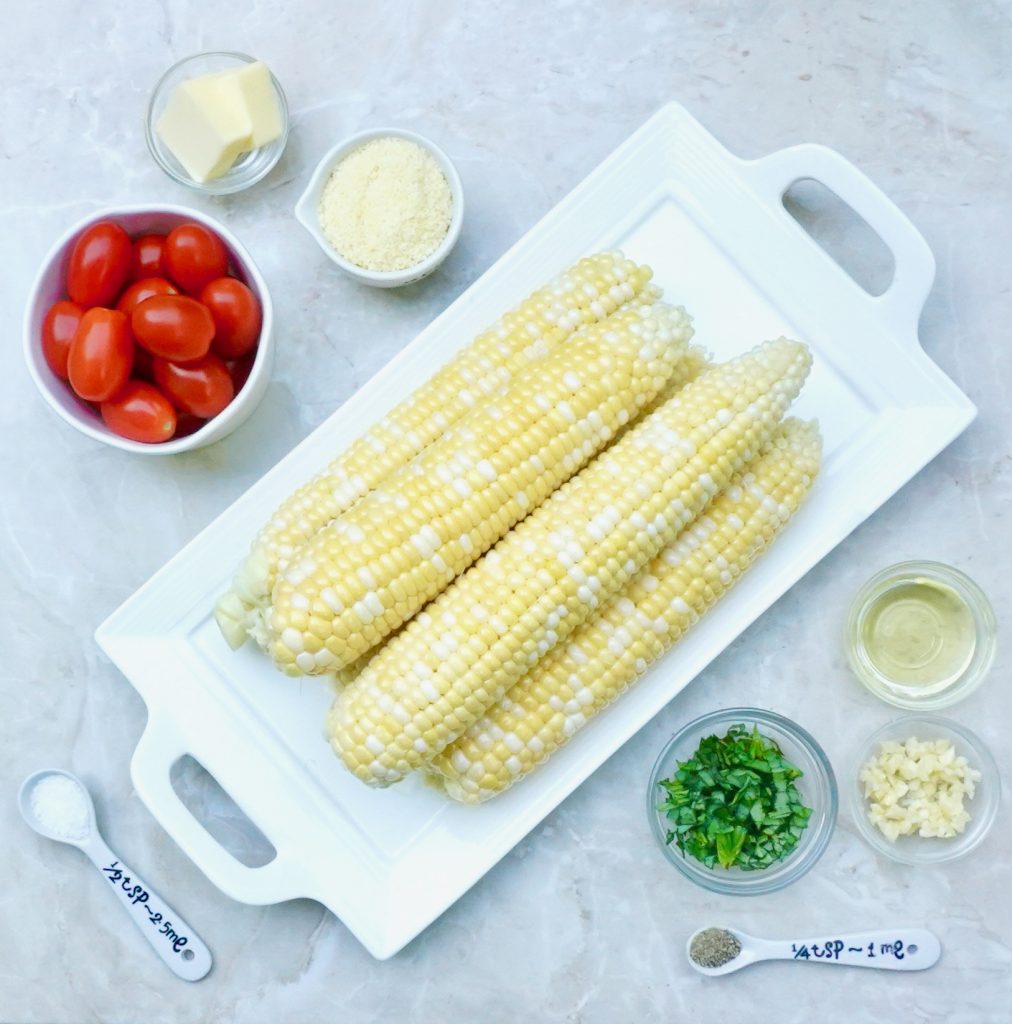 Burst Tomato Corn Polenta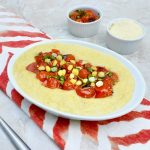 Print This
Ingredients
POLENTA:

6 ears of corn on the cob, leaves and silk removed

2½ cups water

2 tablespoons butter

½ cup parmesan cheese

½ teaspoon kosher salt, or to taste

¼ teaspoon black pepper, or to taste

.

BURST TOMATOES:

1 tablespoon olive oil

2 cups cherry or grape tomatoes

2 cloves garlic, minced

2 tablespoons fresh basil leaves, chopped
Instructions
POLENTA:
Place the corn into a large pot. cover it with the the water. It needs to be covered completely so add more water if needed.
Set the heat to the  high setting  and bring it the water to a boil. Once it boils, turn the heat down to medium low and simmer the corn for 8 minutes.
Reserve ½  cup of the cooking water. Drain the corn and cut the kernels from the cobs. An easy way to do this is by placing the pointed tip of the cob into the hole of a bundt baking pan. This secures the cob and you can run a knife down the cob, releasing the kernels into the pan. No mess!
Place the kernels into the bowl of a food processor or blender. Pulse them until they are completely smooth.
Return the corn puree to the pot. Add the reserved cooking water, butter, parmesan cheese, salt and pepper. Put  the heat  setting to high to bring it to a boil. Once it boils, set it on low heat and simmer uncovered for about 5 minutes until it becomes thick.
BURST TOMATOES:
While the polenta is cooking, add the olive oil to a skillet and heat over medium low heat.
Add the tomatoes and cook for 5 minutes, stirring occasionally.
Add the garlic to the pan and cook for an additional 2 minutes, stir occasionally. You do not want the garlic to brown.
Remove from the heat and stir in the basil.
Cover the skillet to keep warm if the polenta is not finished.
Place the polenta into a serving bowl and top with the burst tomatoes.