Red Pepper Corn Chowder is a great soup to make in the summer when fresh corn is abundant. This is a simple vegetarian soup that really highlights the sweet corn.
This easy to make chowder is filled with red bell pepper, red potatoes, red onion and scallions in addition to the corn. It is hearty and flavorful.
Red Pepper Corn Chowder is best when you have fresh corn available but you can certainly make it year round by using frozen or canned corn. You can also make this now and freeze it for a future meal. If you want to do this, just do not add the cream to the chowder. You can add that at the time you are ready to serve it.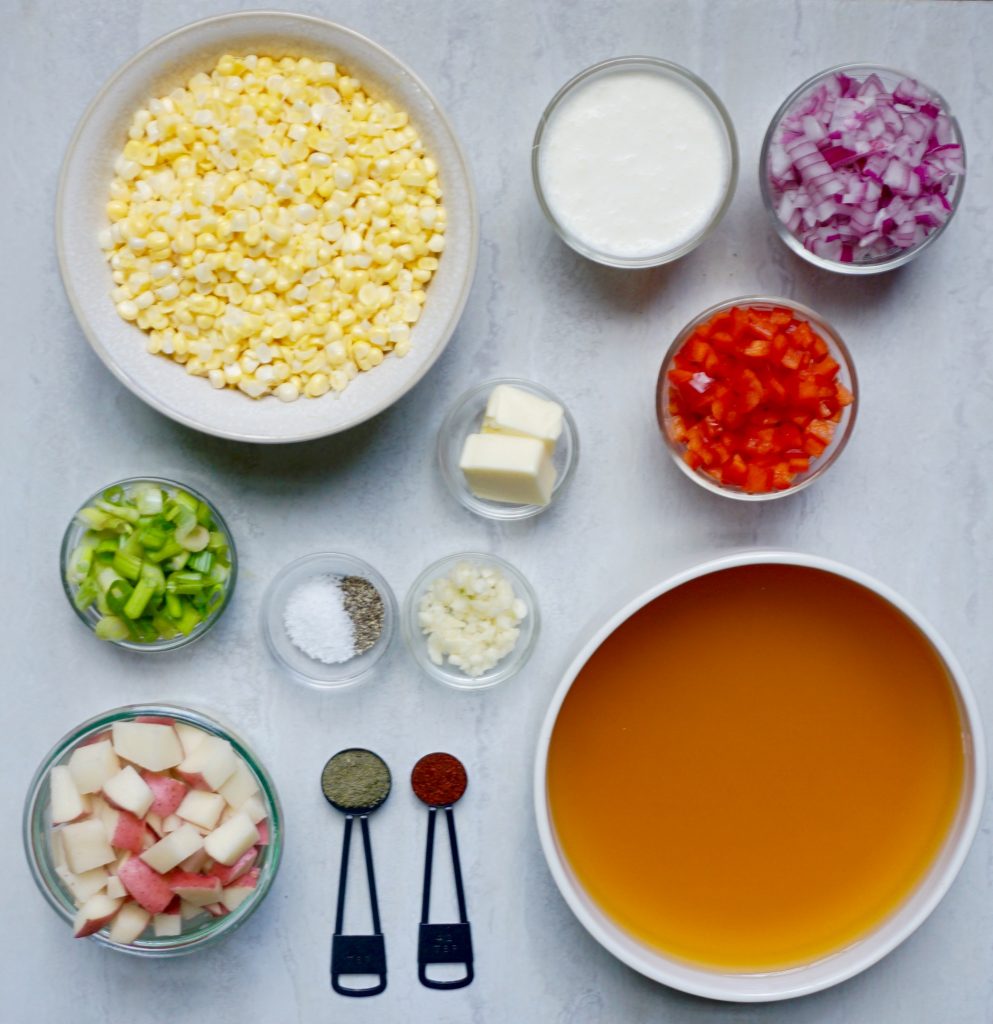 Red Pepper Corn Chowder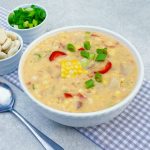 Print This
Ingredients
2 tablespoons butter

1 large red onion, diced

2 garlic cloves, minced

1 cup red bell pepper, diced

2 quarts, vegetable stock

4 cups red potatoes, scrubbed and diced

1 teaspoon dried dill

½ teaspoon chili powder

7 cups corn, removed from the cob fresh, or use frozen corn

½ cup scallions, chopped

1 cup heavy cream

Salt and pepper to taste
Instructions
Melt the butter in a large stockpot. Add the red onion, red pepper and garlic and cook over medium low heat for 3 minutes until they are beginning to soften. Do not let these brown!
Add the vegetable stock to the pan along with the potatoes, dill and chili powder.  Bring the stock to a boil and then reduce the heat to low and simmer for 20 minutes, until the potatoes are tender.
Add the corn and cook for an additional 5 minutes. Remove from the heat.
Ladle one half of the soup into a blender or food processor. Puree the soup until it is completely smooth. Pour the pureed soup back into the pot. By doing this, you will be thickening the soup.
Stir in the cream and add the scallions. Simmer on low heat for an additional 10 minutes. Make sure that the soup does not boil after you have added the cream.
Season with salt and pepper to taste.
Notes
If you want to make a big batch of this and freeze for later, just make sure that you omit the cream before freezing it. Cream will not freeze well. The cream can be added to the chowder when you have defrosted it and are reheating it on your stove.