Fresh Sweet Corn is one of the best parts about the summer. 13 Easy Summer Corn Recipes is a collection of our favorite ways to cook it. There are some summer salads, and delicious recipes for summer side dishes.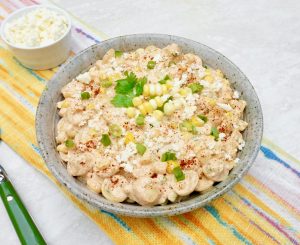 Mexican Street Corn Pasta Salad is a fresh corn salad recipe with a dressing that has great flavor with the addition of fresh cilantro, chili powder, and lime juice. It is topped with cotija cheese. This creamy corn salad recipe is a good cookout side dish.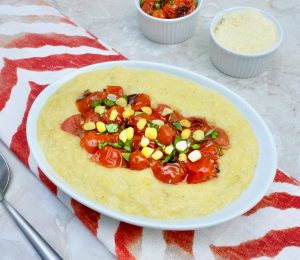 Creamy Burst Tomato Corn Polenta is a different type cooking method for sweet corn kernels and a delicious side dish. The corn is cooked, pureed and  simmered with some parmesan cheese and reserved cooking water until it thickens. The creamed corn is topped with cherry tomatoes that are cooked with fresh basil and garlic.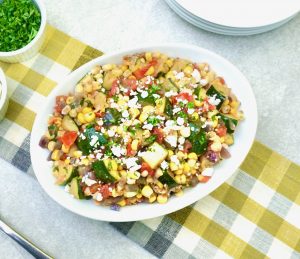 Corn Medley is a quick fix side dish which combines crisp corn kernels with fresh veggies. They are quickly sautéed in olive oil with garlic, kosher salt and black pepper. The vegetables include zucchini, red onion and plum tomatoes. It is topped with feta cheese.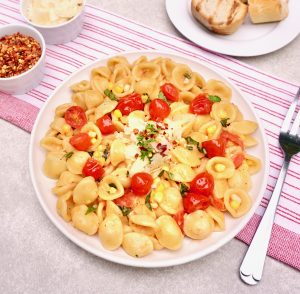 The fresh ingredients sweet corn, tomatoes and basil are the standouts in this dish. They provide lots of great flavor and freshness. Tomato Corn Orecchiette is a delicious way to enjoy seasonal produce in a creamy sauce for your summer family dinners.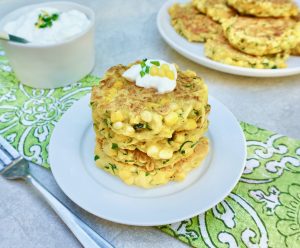 Zucchini Corn Fritters combine two of summer's favorite vegetables into a delicious easy side dish. Fresh sweet corn and summer zucchini are a great combination in these crispy fritters. They would  make a nice light vegetarian meal or a delicious appetizer. They are one of the two fritter recipes in 13 Easy Summer Corn Recipes.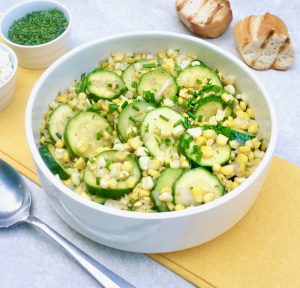 Zucchini Corn Sauté is a simple dish that is ready from start to finish in under 20 minutes. It is a good choice for weeknight dinners. This healthy side dish made with fresh herbs would go well with just about anything that you are grilling. This might be the simplest recipe of the 13 Easy Summer Corn Recipes.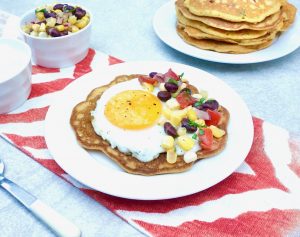 Mexican Corn Cakes are versatile little pancakes that you can use in any number of ways. They are made with fresh corn kernels, red bell pepper and green onion so they are flavorful on their own. You can top then with some sour cream and salsa and just serve them as a side dish or top them with an egg for a delicious brunch or breakfast.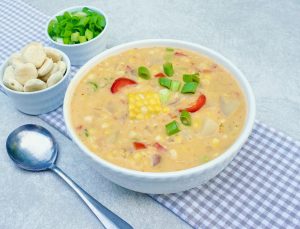 Red Pepper Corn Chowder is one of those great creamy soups to make when sweet summer corn is abundant. This is a simple vegetarian corn chowder recipe that really highlights the sweet corn. This easy to make chowder is filled with red bell pepper, fresh corn kernels, red potatoes, red onion and green onions. It is flavorful and delicious.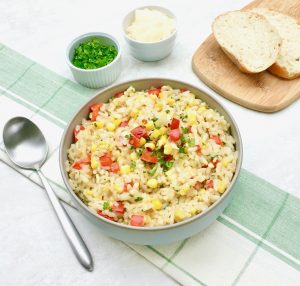 If you are a fan of risotto, try Red Pepper Corn Risotto. Red bell pepper and fresh summer corn are a great addition to this creamy dish made with Arborio rice. This is a perfect side dish that is substantial enough to be a vegetarian meal.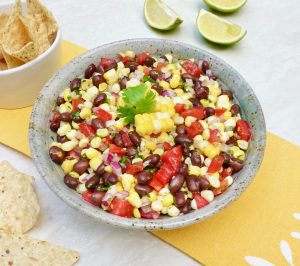 Black Bean Corn Salsa is a very flavorful, healthy salsa. The combination of black beans with the sweet corn is delicious. Fresh veggies which include tomatoes, red onion, lime juice and fresh cilantro make it bright. A bit of cayenne adds a minimal amount of heat. The best way to serve it is at room temperature with some crispy tortilla chips.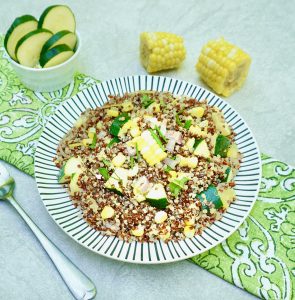 Zucchini Corn Quinoa Salad is super easy to make! Simply cook the quinoa, sauté the zucchini, corn and shallot and mix them together. Last add the basil and dressing and you have a great side dish for your summer grilling or a light perfect summery meal all by itself.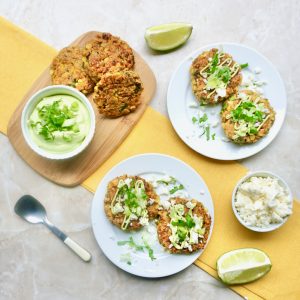 Mexican Street Corn Fritters are a fun way to enjoy the flavors of Mexican Street Corn in an easy to serve fritter. Bring out the grill, grill corn and make these perfect summer appetizers  or side dish when fresh corn is at it best.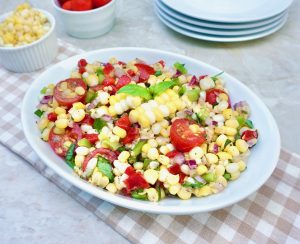 Corn Salad highlights some of the best vegetables that summer has to offer. This perfect summer side dish combines fresh summer corn kernels with cherry tomatoes, bell peppers, red onion and fresh basil. The fresh ingredients are dressed with a light and flavorful very simple dressing. This cold corn salad is the best way to eat on hot summer days.
Before you head off to the farmers market or grocery store read Here's How to Pick the Best Corn on the Cob Every Single Time.
While these 13 Easy Summer Corn Recipes will really shine with your local summer corn, you can easily make them year round with frozen corn.