Summer Corn Salad highlights some of the best vegetables that summer has to offer. This simple summer side dish combines fresh summer corn kernels with cherry tomatoes, bell peppers, red onion and fresh basil. The fresh ingredients are dressed with a light and flavorful dressing. Simply done is all you need in the summer for a perfect side dish when the vegetables are so good. If you are looking for some other summer bbq recipes, check out 30 Simple Summer Cookout Side Dishes.
This is a versatile dish that you could serve as a side at a summer cookout. This easy corn salad would pair well with anything that you are grilling. It would be great for a summer picnic or could also be eaten as a healthy vegan meal.
If you are a fan of summer corn, you should also check out Zucchini Corn Fritters, Tomato Corn Orecchiette, Zucchini Corn Saute, Mexican Street Corn Fritters, Red Pepper Corn Chowder, and Zucchini Corn Quinoa Salad. You might also like Corn Medley which is topped with feta cheese.
If you want to try another fresh corn salad recipe, check out Mexican Street Corn Pasta Salad. It is a a flavorful Mexican corn salad that is made with cotija cheese, green onions, chili powder and a creamy dressing made with sour cream and mayonnaise, If you like black beans and corn together, check out Black Bean Corn Salsa which is great with tortilla chips.
SOME THINGS TO KNOW:FAQ'S
INGREDIENT TIPS:
SPECIAL EQUIPMENT NEEDED:
Large pot
Cutting board
Sharp knife to remove the corn kernels from the cob.
SUBSTITUTIONS:
If fresh corn is not available at your grocery store, frozen corn can be substituted.
You could use any color bell peppers that you have on hand.
The red onion can be substituted with yellow onion, sweet onions or green onions.
If you do not have fresh basil, substitute fresh herbs you have on hand or substitute 2 teaspoons of dried basil.
Canola oil or vegetable oil can be substituted for the olive oil.
HOW TO STORE LEFTOVER CORN SALAD:
You can store any leftover salad in an airtight container for 3-5 days.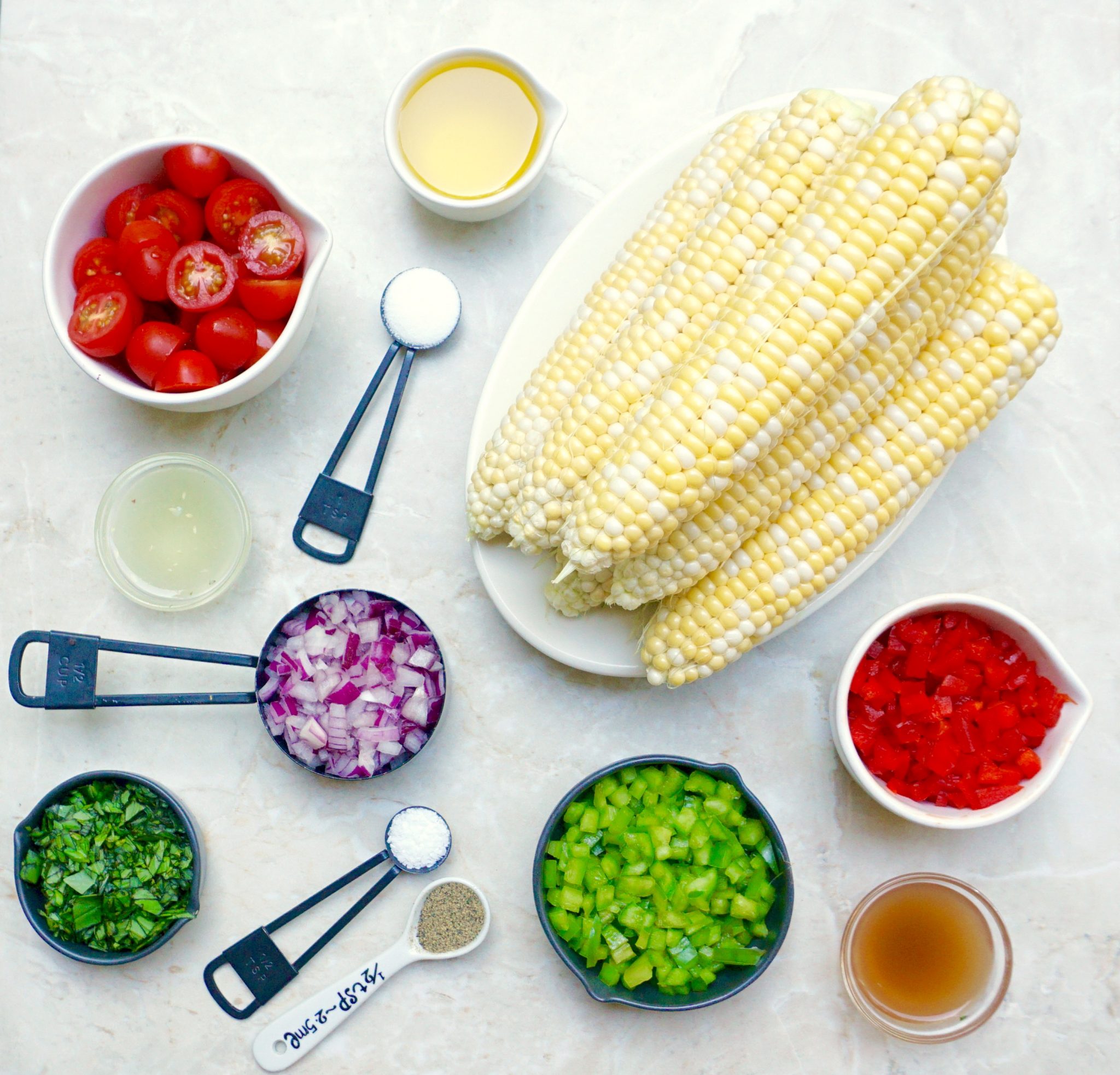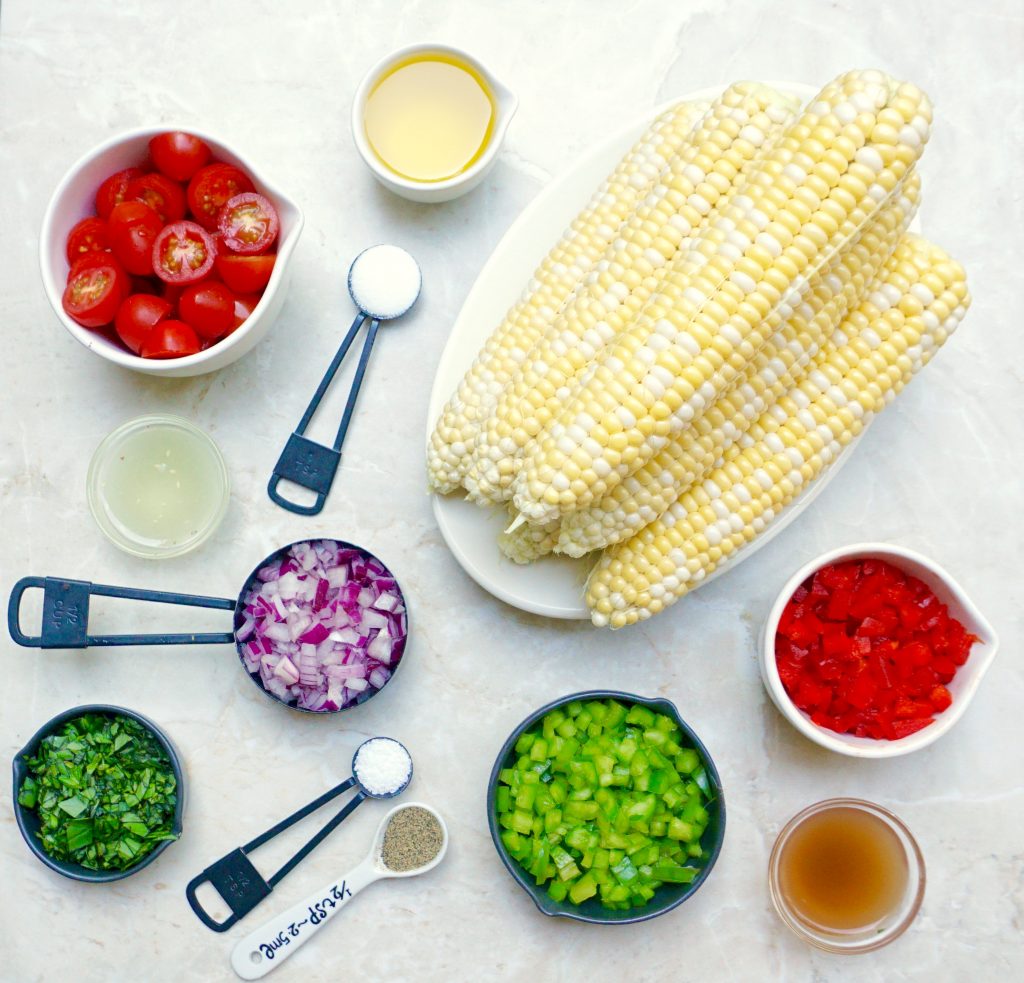 Corn Salad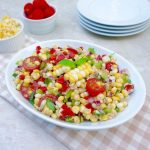 Print This
Ingredients
6 ears fresh sweet corn cobs, peeled and silks removed

1 cup cherry or grape tomatoes, cut in half

½ cup green bell pepper, diced small

½ cup red bell pepper, diced small

½ cup red onion, diced small

¼ cup fresh basil, chopped fine

¼ cup olive oil

2 tablespoons fresh lime juice

2 tablespoons cider vinegar

½ teaspoon kosher salt

½ teaspoon black pepper

1 teaspoon sugar
Instructions
In a large pot of water over medium-high heat until it boils. Add the corn and cook for 3 minutes. Remove it from the pot and rinse it in cold water to stop the cooking process.
Remove the corn from the cob. *see note
In a large bowl, combine the corn, tomatoes, green bell pepper, red bell pepper, red onion and basil.
In a small bowl, whisk together the olive oil, lime juice, cider vinegar, salt, pepper and sugar. Combine the dressing ingredients well.
Pour the dressing over the salad and combine well.
This is best served at room temperature.
Notes
An easy way to remove the corn from the cob without creating a mess is to use a bundt pan. This large round cake pan with a hole in the middle is perfect for this. Place the cob point down into the center of the hole. With a large knife, scrape the corn cob from the top to the bottom. The kernels will fall into the pan. Scrape all sides of the cob until you have removed all of the kernels.