Black Bean Corn Salsa is a recipe that you can make all year long, but will be the best in the summertime with fresh corn. It is a simple corn salsa recipe that is a crowd favorite. It can be simply served as a salsa dip with crunchy tortilla chips or as a side dish. It would also make a good topping for nachos.
This fresh black bean salsa is a very versatile and easy recipe to make.  It is a healthy snack that can be served as a dip or it i can be added to tacos, burritos, and quesadillas. In the summer months when fresh corn is available you can substitute two cups of fresh corn. When fresh corn is not available it can be made with canned or frozen corn.
This is a very flavorful, healthy salsa. The combination of black beans with the sweet corn is delicious. Fresh veggies which include tomatoes, red onion, lime juice and fresh cilantro make it bright. A bit of cayenne adds a minimal amount of heat. If you are a spicy food fan you can certainly add more to taste or you can leave it out entirely.
Homemade salsa with fresh ingredients is always great with your Mexican inspired- meals, grilled meats or for game day snack with chips. If you would like some additional ideas to this black bean salsa recipe, check out Tomato Salsa, Watermelon Salsa, Bell Pepper Salsa, Pineapple Radish Salsa ,Canteloupe Salsa, Cherry Salsa, Pickle Salsa, Salsa Taquera and Zucchini Salsa.
They are all great recipes made with fresh fruits and vegetables.
If you would like to try some other easy black bean recipes, check out Black Bean Mexican Rice, Spicy Black Beans, Turkey Black Bean Tacos and Black Bean Pepper Quesadilla.
Black Bean Corn Salsa makes a great side for your summer cookouts too. If you want some other summer cookout inspiration, check out 30 Simple Summer Cookout Side Dishes.
SOME THINGS TO KNOW:
INGREDIENT INFORMATION:
In the summer months when fresh corn is available you can substitute two cups of sweet corn. You will need 3 ears of corn to get 2 cups of kernels depending on the size of the ears. If there is a bit extra, just add it in.

If you are using fresh corn, you will need to boil it in a large pot over medium-high heat and remove the corn kernels from the cob. Check out How to Cook Corn on the Cob to do this.
If you like spicy flavors and  heat in your salsa, jalapeño pepper would be a good addition. Just remember that most of the heat is in the ribs and seeds of jalapeno peppers so be sure to remove them if you want to control the heat level.
Plum tomatoes are also know as Roma tomatoes. They are dense and have less moisture and seeds than other tomatoes. They are interchangeable in this recipe.
SUBSTITUTIONS:
When fresh corn is not available, this recipe can be made with canned corn or frozen corn.

You can substitute the olive oil with canola oil or vegetable oil.
You can keep any leftover salsa in the refrigerator in an airtight container for 2-3 days.
If you do not have a fresh limes to squeeze to make the fresh lime juice, lemon juice would be a good substitute.
If you do not have a red onion, you can get that onion flavor with a white onion, green onions or sweet onions. They will all work well in the recipe.
While black beans are preferred, white beans can be added in a pinch. Navy Beans or Great Northern Beans would be the best substitution.
HOW TO STORE LEFTOVER BLACK BEAN CORN SALSA:
You can keep any leftover salsa in the refrigerator in an airtight container for 3-4 days.
This salsa contains fresh tomatoes and raw onion which will change consistency if frozen. It is not recommended to attempt freezing this.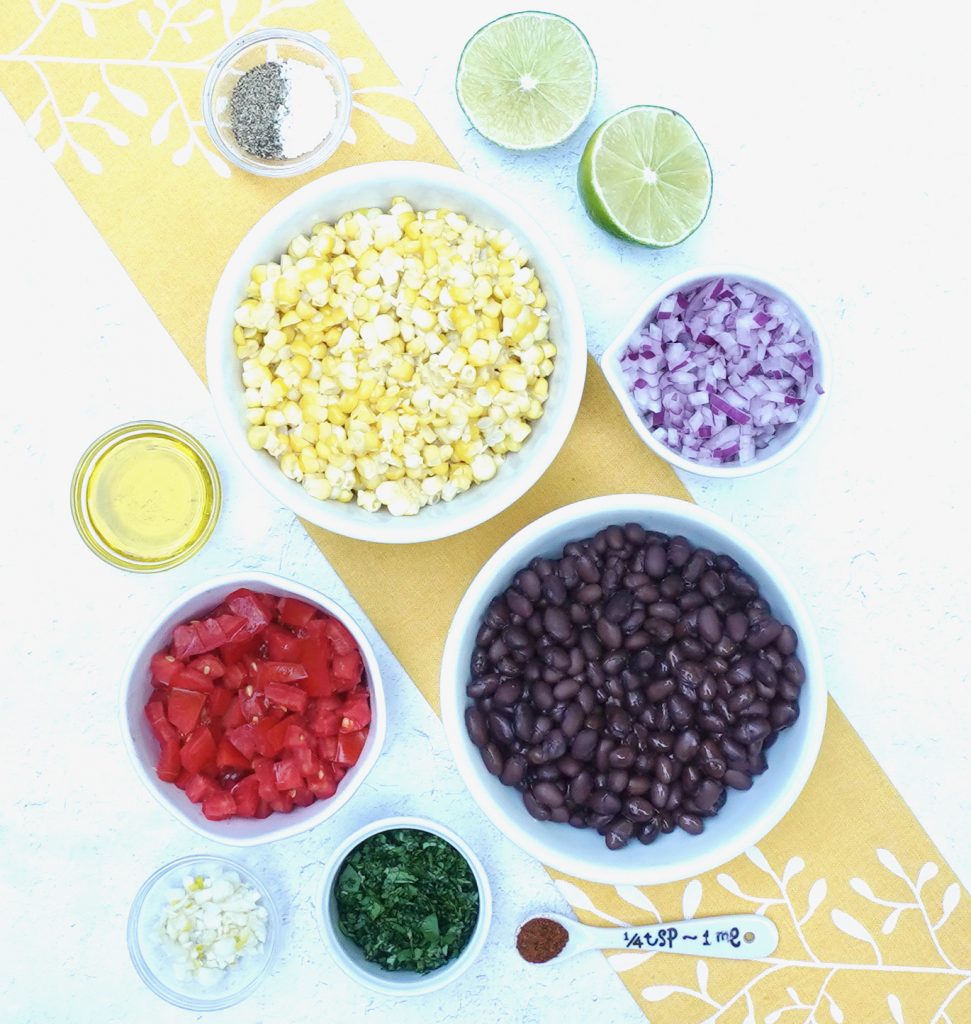 Black Bean Corn Salsa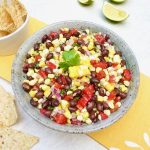 Print This
Ingredients
15 ounce can of black beans, rinsed and drained
2 cups corn kernels, fresh, frozen or 15 oz canned corn
2 medium plum (Roma) tomatoes, diced
½ cup red onion, diced
1 clove garlic, minced
2 tablespoons fresh cilantro, chopped
1 tablespoon olive oil
Juice of one lime
¼ teaspoon cayenne pepper
Salt and pepper to taste
Instructions
In a large bowl combine the black beans, corn, tomatoes, red onion,  garlic and cilantro.
Give it a good stir to combine it well.
Add the lime juice, olive oil and cayenne pepper.
Combine well.
Taste and add salt and pepper if needed.
This will be the most flavorful when served at room temperature.
Notes
Cilantro is one of the very few spices that I would not recommend that you substitute dried for fresh. Cilantro has a strong flavor which I think gets lost when it is dried.