Irish Tea Cake is a simple cake that is light, moist and delicious. It is a traditional Irish cake recipe that is typically served for afternoon tea. While it is the perfect pairing for a hot cup of tea any time of year, it would also make a great St. Patrick's Day dessert. It has a nice vanilla flavor and a light sprinkle of powdered sugar on the top of the cake.
If you would like to do some other baking for St Patrick's day, check out Chocolate Guinness Cake and Irish Soda Bread. You might want to try Baileys Irish Cream Frosting to top your favorite cake.
If you are looking for some St. Patrick's Day dinner ideas, check out Corned Beef Cabbage Dinner, Guinness Beef Stew and Bangers and Mash.
SOME THINGS TO KNOW:
SPECIAL EQUIPMENT NEEDED:
9″ Round cake pan
Flour sifter (for powdered sugar topping)
SUBSTITUTIONS:
Powdered Sugar is granulated sugar that has been pulverized into a light powder. It may also have a bit of cornstarch added. This recipe calls for powdered sugar. Depending on where you live or what brand you buy, it can also be labeled as confectioners' sugar, icing sugar and 10X. They are all the same. You can use any one of them. You can also make it yourself. Check out How to Make Powdered Sugar if you want to try this.
STORAGE:
You can keep any leftover Irish Tea Cake for 1-2 days tightly covered or in an airtight container.
You can freeze any leftover cake for 2-3 months in an airtight freezer container. Defrost the frozen cake by placing it onto a wire rack at room temperature.
Irish Tea Cake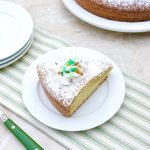 Print This
Ingredients
2 cups all purpose flour

1 teaspoon baking powder

1 teaspoon baking soda

1 teaspoon iodized salt

1 stick unsalted butter (½ cup butter at room temperature)

1 cup granulated sugar

2 large eggs (room temperature)

1 ½ teaspoons vanilla extract

½ whole milk

¼ cup powdered sugar
Instructions
Preheat the oven to 350 degrees
Prepare your cake pan. Lightly coat the interior of the pan with vegetable shortening.  This is easily done with a paper towel.  Add 2 teaspoons of flour to the pan and shake the pan so that the flour coats the entire surface. If you see any spots where the flour does not stick, add more shortening and then flour again.
Combine the flour, baking powder, baking soda and salt in a medium bowl and set aside.
Cream butter in a large bowl with an electric mixer at medium speed.
Add the sugar and beat it into the butter until the mixture is pale yellow and fluffy.
Beat in the eggs, one at a time, mixing well after each addition.
Add the vanilla extract and milk. Beat them into the butter mixture on low speed.
Add the flour mixture and beat it into the wet ingredients slowly at first to avoid the flour flying out of the bowl.
Mix until the ingredients are thoroughly combined but do not over beat the batter.
Spoon batter into the prepared pan.
Place it in to the preheated  oven on the top rack.
Bake for 30-35 minutes. Oven temperatures vary. If your oven tends to run hot, start checking in on the cake before 30 minutes. You want the top top the cake to be completely set and light golden brown. You can insert a cake tester or toothpick into the center of the cake. If it comes out clean, then the cake is done.
Let the cake cool in the pan for 5 minutes then remove it from the pan and place it onto a wire rack to cool completely.
Once the cake has cooled to room temperature, remove it to a serving plate. Lightly sift the powdered sugar over the top of the cake.
To serve, you could add some whipped cream. Fresh berries and fresh fruit would also be a good addition.