Is there anything more delicious than a roasted potato? A perfectly browned potato wedge makes a wonderful side dish. Herb Roasted Turmeric Potatoes are made with fresh chives and parsley, plus some garlic and turmeric so they have lots of flavor.
This simple recipe is done on a parchment paper lined baking pan so the clean up is as simple as removing the sheet and throwing it away! The roasting time is under 30 minutes so they can easily be a part of your weeknight dinners.
Turmeric gives the potatoes a bit of an earthy flavor and beautiful color. It cannot be substituted. However, if you do not have fresh chives and parsley, you can easily substitute them for dried chives and parsley. Instead of 2 tablespoons of the fresh herbs you will need two teaspoons of the dried.
Turmeric is said to have many benefits ,including helping to increase the immune system.If you want to add it into your cooking you should also take a look at Turmeric Chicken.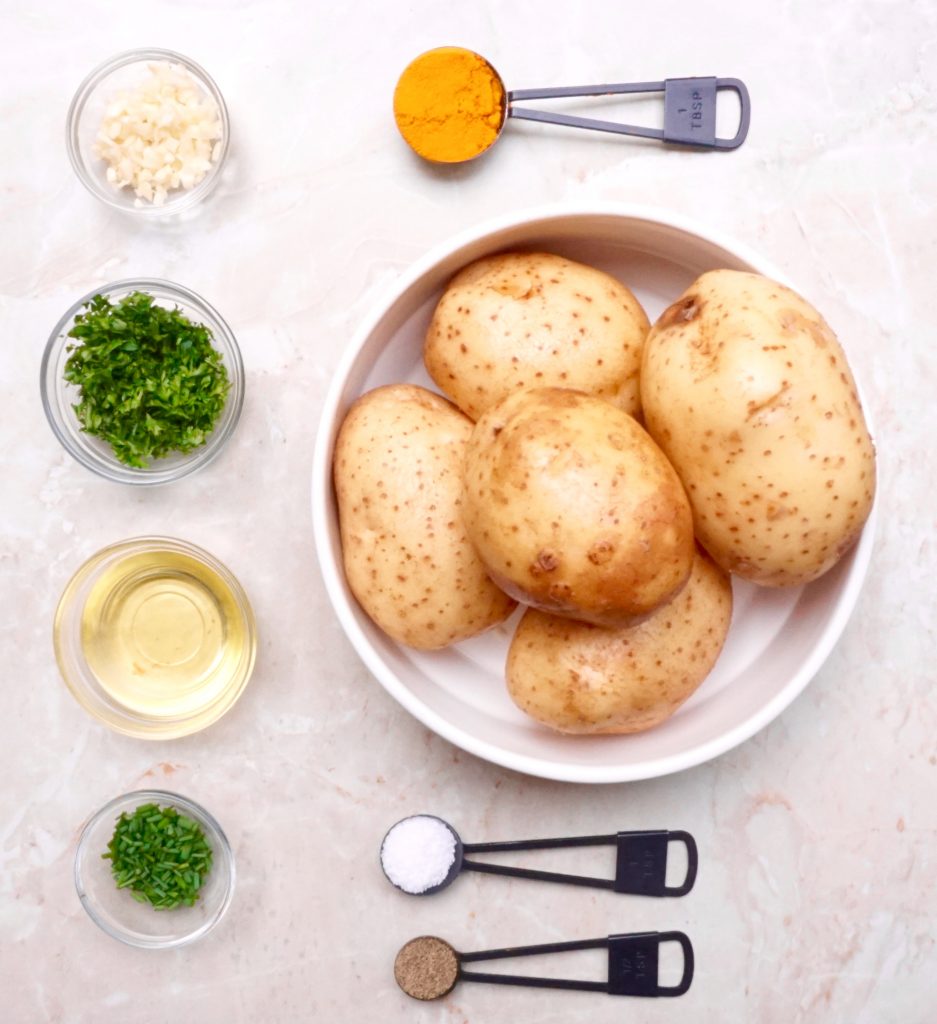 Herb Roasted Turmeric Potatoes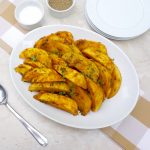 Print This
Ingredients
2 pounds Yukon Gold potatoes, about 6 medium to large potatoes

2 tablespoons olive oil

2 cloves garlic, minced

1 tablespoon ground dried turmeric

1 teaspoon kosher salt

½ teaspoons black pepper

2 tablespoons fresh chives, chopped

2 tablespoons fresh parsley, chopped
Instructions
Preheat the oven to 400 degrees. 
Peel the potatoes. Cut each potato in half lengthwise. Next cut each half in half. You will have 4 large wedges. Cut each wedge down the center to create smaller wedges. You should get 8 wedges from each potato.
Add the potato wedges to a large bowl. Add the olive oil, garlic, turmeric, kosher salt, black pepper, chives and parsley. Combine well making sure that each wedge is thoroughly coated.
Line a large baking sheet with parchment paper. 
Lay the wedges on the baking sheet with one of the cut sides down. Bake for 15 minutes without touching them.
Remove the sheet from the oven and turn each wedge onto the other cut side. Return them to the oven and bake for an additional 10 minutes.
Test for doneness by pressing a fork into one of the wedges. There should be no resistance. If there is, return them to the oven for a few additional minutes.