Corn Medley is an easy corn recipe with a combination of fresh vegetables that makes a great tasty side dish. Fresh sweet corn is combined with two of summer's other favorites, zucchini and tomatoes.
This dish comes together fast and with a cooking time of just 8 minutes, you can create a delicious side dish. This would be great with chicken recipes, meat or fish. It is flavorful and a perfect way to enjoy the summer corn. This would be a good addition to a healthy dinner. This is one of those recipes that you could easily add some other additional vegetables. Green bell peppers, red bell pepper, and green onions would be good choices.
Corn is one of the most popular vegetables and there are plenty of other easy recipes for it on this site.If you are looking for new ways to cook with it, check out  Corn Salad, Tomato Corn Orecchiette, Zucchini Corn Fritters, Zucchini Corn Sauté, Mexican Street Corn Fritters, Red Pepper Corn Chowder, and Mexican Corn Cakes. If you are a fan of black beans, check out Black Bean Corn Salsa.
SOME THINGS TO KNOW:FAQ'S
INGREDIENT TIPS:
An ear of corn yields about ¾ cup kernels.
SPECIAL EQUIPMENT NEEDED:
Large nonstick skillet, cast iron skillet
Sharp knife to remove the corn kernels from the cob.
SUBSTITUTIONS:
If fresh corn is not available, frozen corn or canned corn can be substituted.
The plum tomatoes can be substituted with grape tomatoes, or cherry tomatoes.
If you do not have feta cheese, use what you have on hand. Monterey Jack or cheddar cheese would be good choices.
HOW TO STORE LEFTOVER CORN MEDLEY:
You can keep the leftovers in the refrigerator in an airtight container for 3-5 days.
You can freeze this for up to 3 months in a freezer bag or container. Note that there may be a slight change in the texture of the vegetables.
HOW TO REHEAT LEFTOVER CORN MEDLEY:
You can reheat the leftovers covered in a microwave safe dish in the microwave. Cook at 1-2 minute intervals, stirring in between, until heated through.
You can reheat the medley on the stovetop in a large saucepan over medium low heat. Stir occasionally until heated through.
Corn Medley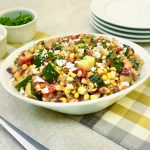 Print This
Ingredients
2 tablespoons olive oil

2 small zucchini, diced small, 2 cups

1 cup red onion, diced

4 ears of corn on the cob, 3 cups corn kernels

3 plum tomatoes, diced small

2 cloves garlic, minced

1 teaspoon salt

½ teaspoon black pepper

1 tablespoon fresh cilantro, chopped fine

¼ cup crumbled feta cheese
Instructions
In a large skillet, heat the olive oil over medium heat.
Add the zucchini and red onion. Cook for 3 minutes, stirring often.
Add the corn, tomatoes and garlic. Cook for an additional 5 minutes, stirring often.
Stir in the salt, pepper and cilantro.
Remove to a serving dish and sprinkle with feta cheese.