The holidays are a great time to serve a festive breakfast. Gingerbread Pancakes are perfect for the season and easy to make!
This wonderful pancake has all of the flavors found in gingerbread cookies. Brown sugar, molasses, ginger and cinnamon make these pancakes very different and special.
They might just become a new tradition for Christmas morning. Serve the pancakes with some Gingerbread Cookies on the side and make it twice as festive.
Gingerbread Pancakes should be served warm with butter and maple syrup. If you want to add a bit of cinnamon to the syrup and warm it, you will really take these over the top!
If you like gingerbread for breakfast, check out Gingerbread Waffles.
Gingerbread Pancakes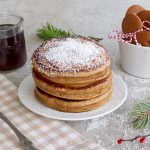 Print This
Ingredients
2 cups all- purpose flour

2 tablespoons brown sugar

2 ½ teaspoons baking powder

½ teaspoon salt

2 teaspoons ground ginger

1 teaspoon cinnamon

2 large eggs

1 cup whole milk

1/3 cup molasses

3 tablespoons vegetable oil
Instructions
In a large bowl stir together the flour, brown sugar, baking powder, salt, ginger and cinnamon. Combine well.
Beat the eggs in a small bowl. Add the milk, molasses and vegetable oil and stir to combine.
Add the egg mixture to the dry ingredients and combine well.
Heat a griddle or skillet over medium low heat. Spray with non-stick cooking spray.
Add the pancake batter ¼ cup at a time to the griddle or skillet. 
Cook for 1-2 minutes on the first side. You will see bubbles rise when it is ready to turn over. 
Flip the pancake and cook an additional 1-2 minutes on the other side until it is lightly browned.
If you cannot cook all the pancakes at once, keep them warm on a baking sheet in a 200 degree oven until you have completed them all.
Notes
To make cinnamon maple syrup: Add 1 cup of maple syrup to a saucepan over medium low heat. Add 1 teaspoon of cinnamon. Heat through until just slightly warm.