Vegetable Gnocchi is a simple vegetarian dish. It can be made all year long but will be the best in the summer with all the local vegetables.
This is a simple dish that comes together fast and tastes so fresh. Gnocchi only need to cook for 2-3 minutes. While you are heating the  water to cook them, you can be cooking the vegetables and have everything done in under 10 minutes. There is a bit of prep work chopping the vegetables but the time is well worth it.
Gnocchi are an Italian pasta in a dumpling shape. They are made with flour, eggs and other variations that include semolina or potato. You can purchase them packaged in the pasta area of your grocery store.
Vegetable Gnocchi is a hearty vegetarian meal but can also be served as a side dish. Make sure that you reserve ½ cup of the gnocchi cooking water. You will need it for the sauce.
If you are a fan of gnocchi, check out Baked Ricotta Gnocchi, One Pot Asparagus Gnocchi, Tuscan Gnocchi, Turkey Gnocchi Soup, and Gnocchi with Butternut Bechamel Sauce.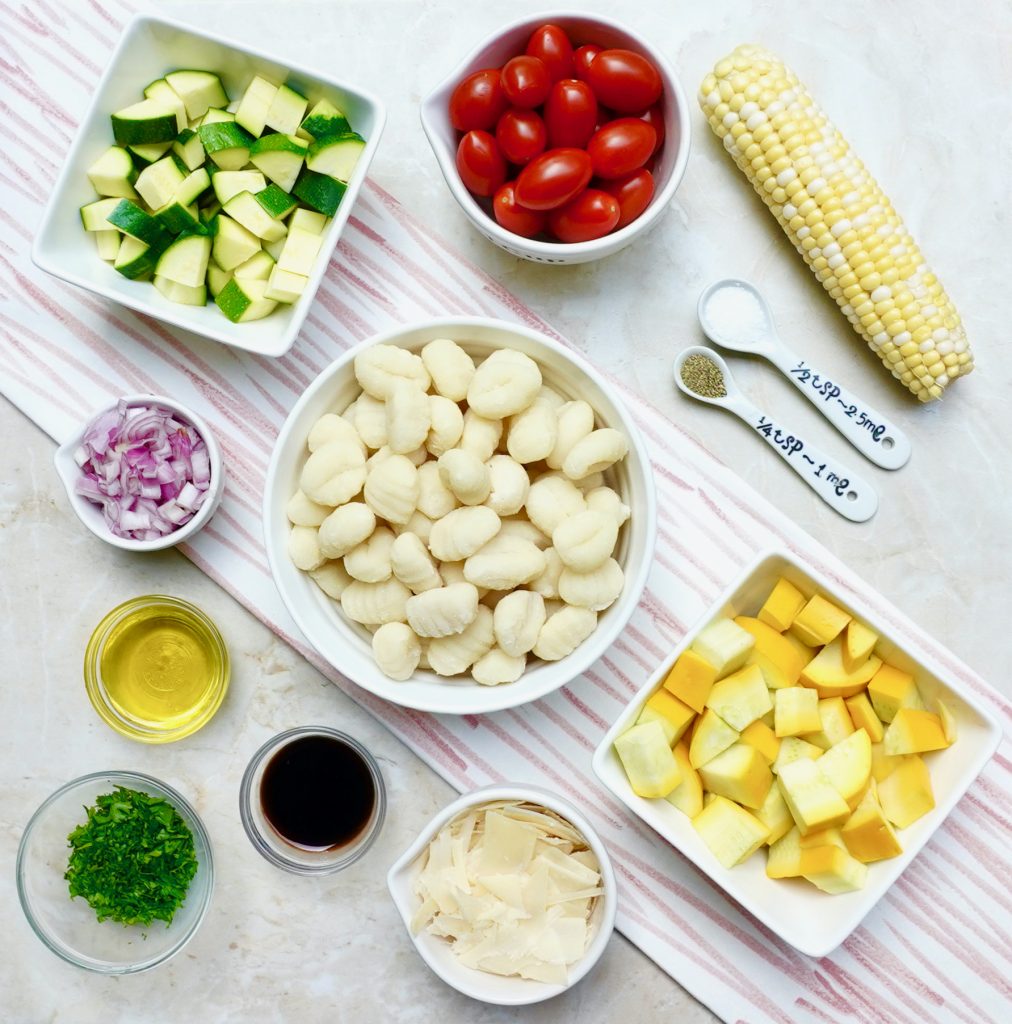 Vegetable Gnocchi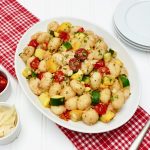 Print This
Ingredients
16 ounce package prepared gnocchi

2 tablespoons olive oil

¼ cup shallots, chopped (one small shallot)

1 ear fresh corn on the cob, shucked ( ½ cup frozen corn)

1 small zucchini cut into ½ cubes

1 small yellow squash cut into ½ cubes

1 cup cherry or grape tomatoes, halved

½ teaspoon kosher salt

¼ teaspoon black pepper

2 tablespoons fresh parsley, chopped

1 teaspoon balsamic vinegar

½ cup grated parmesan cheese

½ cup reserved pasta cooking water
Instructions
Put a large pot of water on the stove over high heat to cook the gnocchi. Bring it to a boil.
While the water is heating, add the olive oil to a large skillet over medium low heat.
Add the shallots, corn, zucchini and yellow squash. Cook, stirring occasionally for 3 minutes until they begin to soften.
Add the tomatoes and season with the salt and pepper. cook for an additional 2-3 minutes until the tomatoes look slightly softened but not mushy. Remove from the heat and stir in the parsley.
Cook the gnocchi according to the package directions for only 2-3 minutes. When they rise to the top of the water, they are finished.
Reserve  ½ cup of the gnocchi cooking water and drain the gnocchi.
Add the gnocchi back to the pot. Add the balsamic vinegar, parmesan cheese and the reserved cooking water. Cook over medium low heat, stirring until it forms a cheesy sauce.
Add the vegetables to the pot and cook for another minute stirring to make sure that they are heated through.