Pumpkin Waffles are a great fall breakfast experience that will fill your home with the comforting aroma of pumpkin spice. As you bite into the crispy exterior, the soft and fluffy inside combined with the rich pumpkin flavor will surely make your autumn mornings wonderful. This is a great recipe for pumpkin season!
Pumpkin Waffles are are colorful, easy to make and delicious. They are made with same ingredients as pancakes but a waffle maker creates an interesting shape. Fun and festive, they would make a perfect start to your Halloween or Thanksgiving  for breakfast.
You can serve the waffles with maple syrup or try some chocolate glaze and sprinkles to give them a holiday theme.
There are so many ways to substitute flavors to a basic waffle recipes. If you are a waffle fan check out Red Velvet Waffles and Lemon Ricotta Waffles.  
Create a Waffle Bar for a group with chocolate chips and all your favorite toppings or make a Fried Chicken Waffle Sandwich for game day!
If you would like to try some other pumpkin recipes for breakfast this time of year and you like pumpkin pancakes and muffins, check out Pumpkin Oatmeal Pancakes made with oat flour and Pumpkin Crumble Muffins. Pumpkin Bread and Pumpkin French Toast are other good breakfast options. They are all delicious recipes with pumpkin spice flavor.
SOME THINGS TO KNOW:FAQ'S
INGREDIENT TIPS:
Always make sure that you' are using 100% pure pumpkin puree and not pumpkin pie filling, which has added sugars and spices. For a fresher taste, consider making your own pumpkin puree by roasting and blending pumpkin flesh.
For fluffier waffles, separate the egg yolks and whites. Mix the yolks in with the wet ingredients as usual. Beat the egg whites until stiff peaks form and gently fold them into the batter right before cooking.
SPECIAL EQUIPMENT NEEDED:
Waffle Iron/Waffle Maker: This is essential for making waffles. They come in various shapes and sizes, from classic round or square to fun shapes like hearts or characters. Some waffle irons have non-stick surfaces, while others might require you to grease them to prevent sticking.
Mixing Bowls: You will need two – one for dry ingredients and one for wet ingredients. This helps ensure an even mix of ingredients and makes the process more organized.
Whisk: Useful for combining both dry and wet ingredients, ensuring no lumps in the batter, and for beating eggs.
Rubber Spatula: Useful for scraping the sides of the mixing bowl to ensure all ingredients are incorporated.
Cooling Rack (optional): If you're making a batch of waffles and want to keep them crisp while making the rest, place the finished waffles on a cooling rack in a warm oven. This prevents them from getting soggy as they won't be sitting directly on a plate or counter.
SUBSTITUTIONS:
The all-purpose flour can be replaced with whole wheat flour for a nuttier taste and increased fiber.
The light brown sugar can be replaced with dark brown sugar for a richer molasses flavor or granulated sugar if you are in a pinch and don't have brown sugar.
A homemade pumpkin pie spice blend using 1 ½ teaspoons cinnamon, ½ teaspoon ginger, ¼ teaspoon nutmeg, and ¼ teaspoon cloves can replace the 2 teaspoons of pumpkin spice.
The whole milk can be replaced with almond milk, soy milk, or oat milk for a dairy-free version. You could also use buttermilk for a tangier flavor and slightly more fluffy pumpkin waffles.
Sweet potato puree or butternut squash puree can offer a similar texture and slightly different but still delightful flavor than the pumpkin puree.
If you do not have canola oil, vegetable oil or sunflower oil are similar neutral oils that won't change the flavor of yje waffles. You could also use coconut oil but it may slightly alter the taste. You could also use melted butter.
HOW TO STORE PUMPKIN WAFFLES:
If you plan on eating the leftover waffles within a day, you can store them at room temperature. Place them in a single layer on a plate and cover them with a clean kitchen towel to prevent them from becoming soggy. For longer storage, it's better to refrigerate or freeze them.
They can be stored in the refrigerator for up to 3 days. Place the waffles in an airtight container or zip-top bag, separating the layers with parchment paper to prevent sticking.
Properly stored, pumpkin waffles can last in the freezer for up to 2 months. Lay the waffles in a single layer on a baking sheet and place the sheet in the freezer for about an hour. This is known as flash freezing and helps the waffles retain their shape without sticking together.Once they're individually frozen, transfer the waffles to an airtight container or freezer bags. Place parchment paper between layers if stacking.
You can defrost the waffles on a wire rack at room temperature.
HOW TO REHEAT PUMPKIN WAFFLES:
The toaster or toaster oven is one of the best methods to retain the waffle's crispiness. Pop the frozen or refrigerated waffle into the toaster and toast on a medium setting until it's heated through and you have crispy waffles.
To reheat the waffles in the oven, preheat your oven to 350°F (175°C). Place waffles into the oven on a baking sheet for about 10 minutes if they're refrigerated, or 15-20 minutes if frozen. This method is especially useful when reheating multiple waffles at once.
If you still have your waffle iron out, you can reheat waffles by placing them back into the preheated iron for a minute or two. This can restore some of their crispiness.
 The microwave oven is the quickest method, but it can make the waffles a bit soft. Place the waffle on a microwave-safe plate and heat on high for about 1 minute if refrigerated, or 1.5-2 minutes if frozen. Check at 30-second intervals to make sure they don't become too soft or overheated.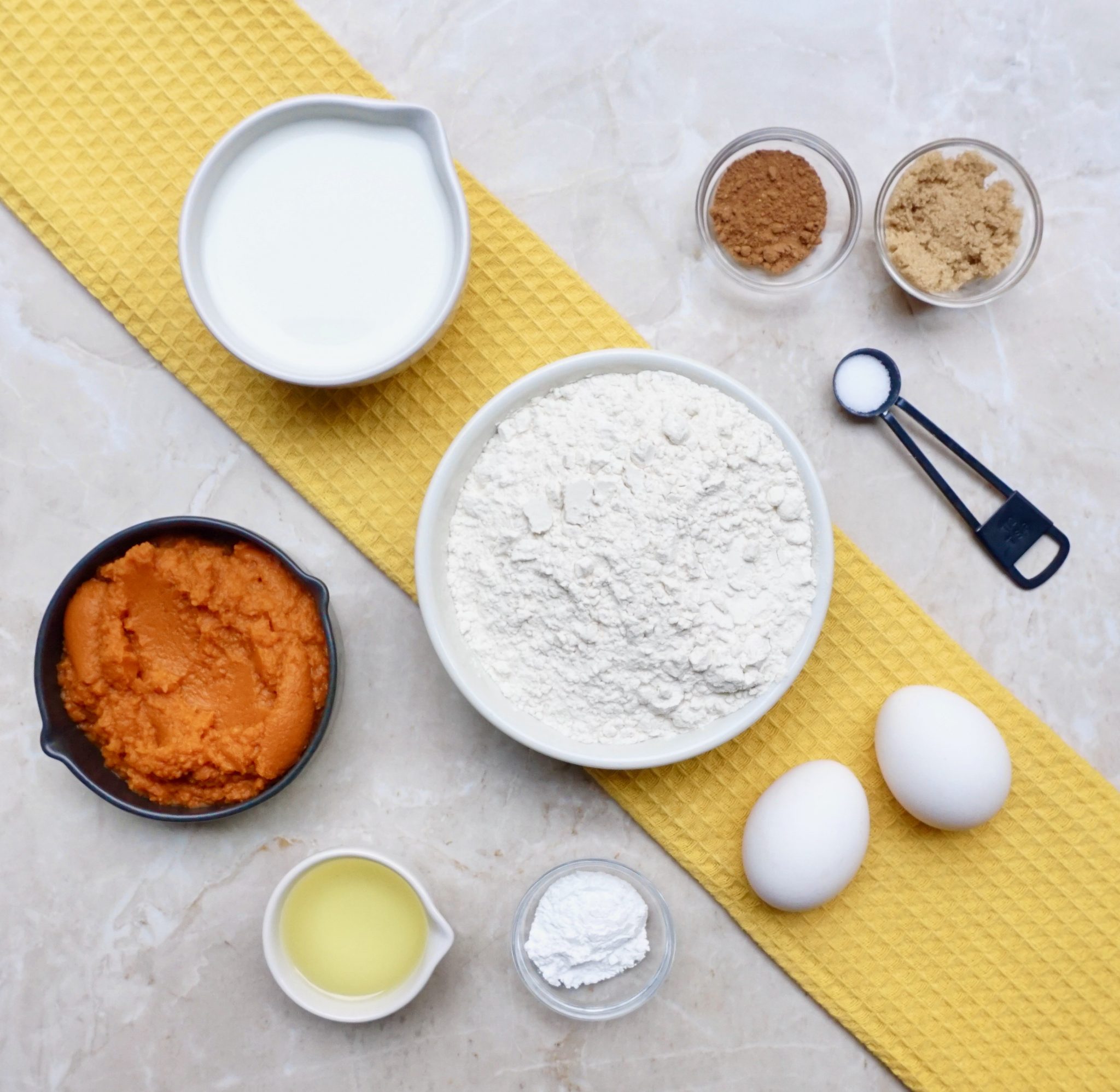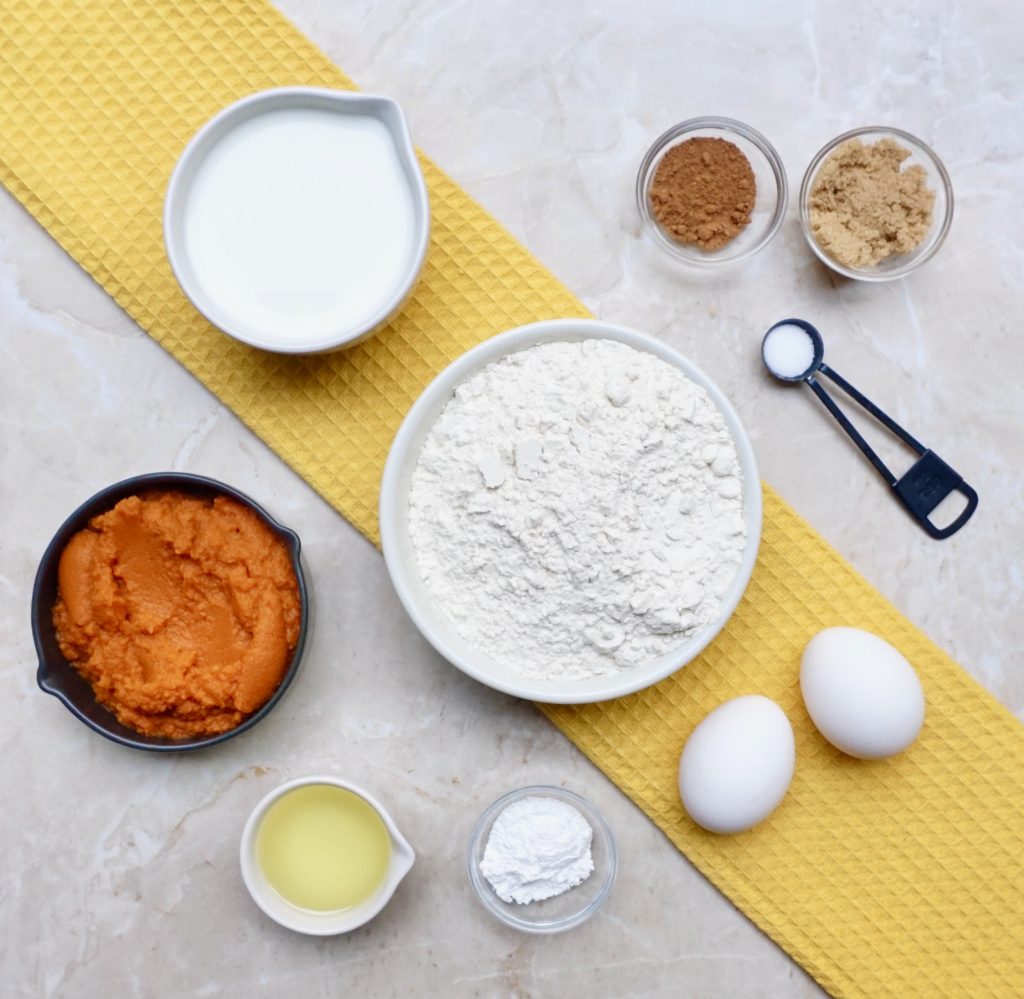 Pumpkin Waffles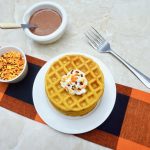 Print This
Ingredients
1 ¾ cups all purpose flour

2 tablespoons light brown sugar

2 teaspoons baking powder

½ teaspoon salt

2 teaspoons pumpkin spice *see note

2 large eggs

1 cup whole milk

1 cup pumpkin puree

¼ cup canola oil
Instructions
In a large bowl, combine the flour, brown sugar, baking powder, salt, and pumpkin spice.
In a medium bowl beat the eggs. Add the milk, pumpkin purée, and canola oil. Add to the dry ingredients and combine with the pumpkin mixture well.
Heat your waffle maker and spray both the top and bottom with cooking spray. Fill with waffle batter. A four inch waffle maker will take three tablespoons. Cook until the waffles are golden and crisp, about two minutes for a four inch waffle. You may need to adjust cooking times based on the size of your waffle maker.
If you are making the waffles in batches, preheat the oven to 200 degrees. Place the cooked waffles on a baking sheet that has a wire rack added to keep them warm and crispy while you finish cooking the rest.
Serve with chocolate glaze, sprinkles  and whipped cream or pure maple syrup. Enjoy your easy pumpkin waffles!
Notes
If you do not have a pumpkin spice mix on hand, substitute it for 1 teaspoon cinnamon, ½ teaspoon nutmeg and ½ teaspoon ground cloves.