This Chicken Marsala recipe was given to me by a friend and it has become one of my favorite meals.  It is an easy and very flavorful dish. Chicken cutlets are browned and then simmered in Marsala wine with tomatoes, mushrooms, onions, and seasonings. This is not your ordinary Chicken Marsala recipe!
The best thing about this recipe is that it can be made ahead. This makes it a perfect dish for entertaining.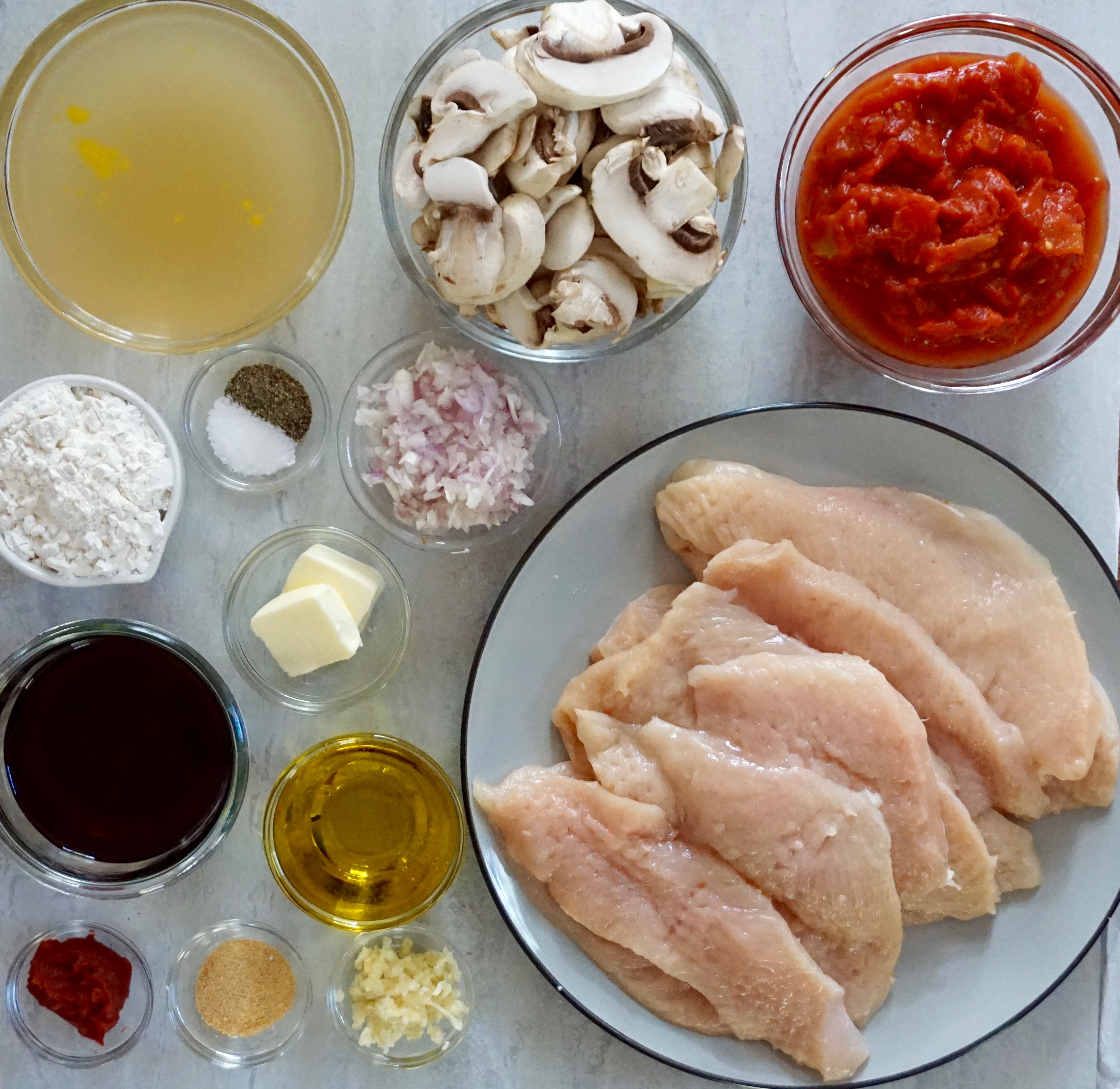 Chicken Marsala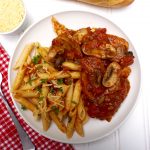 Print This
Ingredients
3 pounds boneless chicken breasts, sliced thin and pounded

1/2 cup all purpose flour

1 teaspoon kosher salt

1/2 teaspoon black pepper

1 teaspoon garlic powder

1/2 cup olive oil

2 tablespoons butter

3 cloves garlic, chopped

1/2 cup shallots, chopped

1- 10 ounce container fresh mushrooms, cleaned and thinly sliced

2 teaspoons dried basil

1- 14 ounce can diced tomatoes

1 tablespoon tomato paste

1- 14.5 ounce can chicken broth

1 cup marsala wine
Instructions
Combine the flour, salt, pepper,and garlic powder in a plastic ziploc type bag. Shake well to combine the ingredients.
Heat the olive oil in a large skillet over medium low heat. Shake the chicken pieces in the flour mixture, making sure to coat each piece well. Add chicken pieces to the skillet and brown well on both sides.
Remove chicken pieces to a plate.
Add the butter to the skillet and add the mushrooms, shallots and garlic. Saute over medium low heat until the mushrooms have rendered their moisture and the moisture has evaporated.
Add the diced tomatoes, basil, chicken broth and Marsala to the skillet. Simmer over low heat, stirring occasionally for 10 minutes. Add the tomato paste and simmer until the mixture thickens, about 5 additional minutes.
Return the chicken to the pan and heat through.
Notes
If you are making this to serve later, place the browned chicken cutlets into a 9x13 inch baking dish. When you have finished making the sauce, pour it over the chicken in the baking dish. Let cool and cover. This can be refrigerated up to 2 days before serving. Reheat in a 350 degree oven for 20 to 25 minutes until heated through and bubbly.