Lentil Brown Rice Soup is hearty and comforting, and at the same time very healthy. This simple brown rice soup recipe is easy to make and such a delicious soup.
Hot soup is the best meal on a cold day and a vegan, gluten free, filling soup is a great way for eating plant based on a vegan diet.
Lentils and brown rice are both ingredients that contain lots of fiber to keep you full. When added to this veggie packed soup with lots of herbs, they are the perfect combination.
Lentil Brown Rice Soup makes a great meatless dinner or healthy meal prep for lunch. You can make a batch and freeze what ever you don't eat at once, in a freezer container for 2-3 months. This is a great recipe to make ahead of time as it will taste even better the next day.
Healthy soup provides a good balance to eating healthy. If you want some other soup options to try that are hearty soup recipes made with healthy ingredients, check out Vegetable Quinoa Soup, Chickpea Vegetable Soup, Turnip Crispy Kale Soup, Tuscan Bean Soup, and Lentil Soup.
Check out more healthy vegan soups at 10 Simple Vegan Soup Recipes.
If you are a fan of vegetarian brown rice recipes, check out Brown Rice Veggie Cakes.
SOME THINGS TO KNOW:
SUBSTITUTIONS: 
You can substitute white rice or wild rice for the brown rice in this recipe. You will need to adjust the cooking time however as the white rice will require less cooking time and the wild rice will require more cooking time. The best thing to do is to check the instructions for cooking on your package of rice.
This recipe uses green lentils. They are similar to brown lentils and you could easily substitute them. Red lentils could also be used. Check out Everything You Need to Know About Lentils to learn about the varieties. You could also use a combination of lentils as long as they have similar cooking times.
You could substitute chicken broth in the recipe if you don't require a vegetarian meal.
You can substitute Italian seasoning for the oregano and basil in the recipe. You could also add a half teaspoon of red pepper flakes for a touch of heat.
STORAGE:
You can keep any leftover soup in the refrigerator in an airtight container for 3-5 days.
This soup will freeze well and can be kept in the freezer for 2-3 months. Make sure it is placed into an airtight freezer container. Defrost the soup overnight in the refrigerator.
REHEATING:
Place the leftover  Lentil Brown Rice Soup into a large stock pot to reheat over medium low heat. Both the brown rice and lentil absorb liquid and the soup may have lost some liquid while sitting. You can add a couple cups of veggie broth or a couple cups of water if needed before reheating the soup based on the amount of liquid needed.
MORE BROWN RICE SOUP RECIPES:
Chicken Brown Rice Soup, and Creamy Mushroom Rice Soup,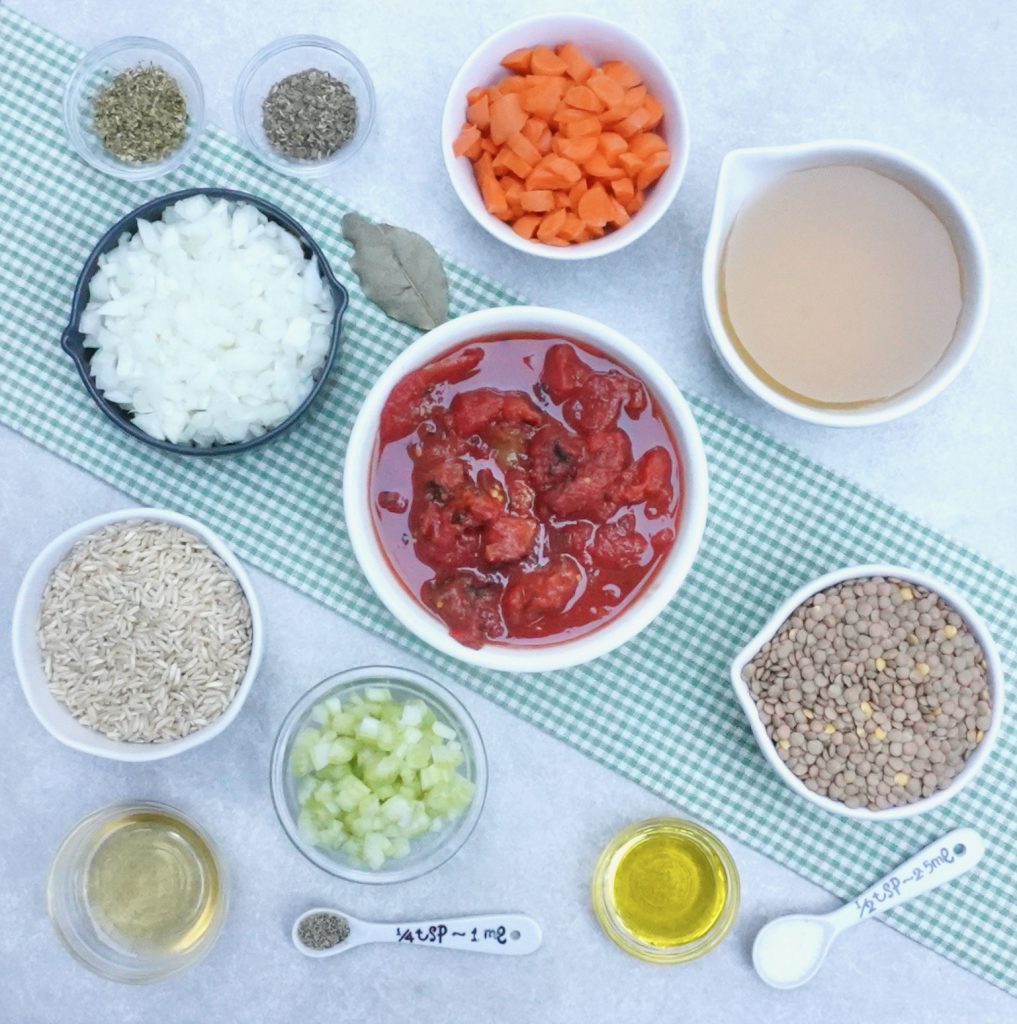 Lentil Brown Rice Soup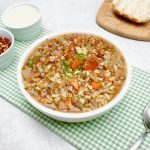 Print This
Ingredients
1 tablespoon olive oil

1 cup carrots, chopped

1 cup yellow onion, chopped

1 stalk celery, chopped

8 cup of vegetable broth

14.5 ounce can diced tomatoes

1 cup dried lentils, (small, green)

1 cup brown rice

1 teaspoon dried oregano

1 teaspoon dried basil

1 bay leaf

2 tablespoons apple cider vinegar

½ teaspoon kosher salt

½ teaspoon black pepper

Optional:

2 tablespoons fresh parsley, chopped
Instructions
Heat the olive oil in a large soup pot or a large dutch oven over medium low heat.
Add the carrots, onion, and celery to the pot.
Cook, stirring occasionally for 2 minutes until they just begin to soften.
Add the vegetable broth, tomatoes, lentils, brown rice, oregano, basil, bay leaf, cider vinegar, salt and pepper.
Raise the heat to the high setting to bring the mixture to a boil.
Lower the heat to medium low and cover the pan.
Cook stirring occasionally for 20- 25 minutes until the lentils and brown rice are tender.
Optional: Stir in fresh chopped parsley and serve with crusty bread.