What do you do with those overripe bananas sitting on the counter? Strawberry Streusel Banana Bread is a great way to use them. It is a simple quick bread that does not require yeast or rising times. It can be quickly put together using a mixer and it is well worth the effort!
This moist banana bread with crunchy streusel topping is full of great banana flavor that is enhanced with fresh strawberries. If you do not want to make the extra effort for the streusel just skip it! It will still be delicious without it.
If you want to try a couple other banana bread recipes, check out Blueberry Banana Bread and Chocolate Chip Banana Bread.
You might also like Homemade Strawberry Drop Biscuits.
If you are a fan of strawberries and want to see our collection, check out 20 Simple Summer Strawberry Recipes.
SOME THINGS TO KNOW: FAQ'S
INGREDIENT TIPS:
It's important that you use over ripe bananas when making banana bread. They should be turning dark with brown and black streaks.
Over ripe bananas will develop more sugar so they will make the banana bread sweeter. They will also moisten quite a bit as they sit so they will make the banana bread moister.
There is such a thing as a banana which has become too ripe to use in baking. If you see any liquid seeping from them or any sign that mold has developed you should throw them away.
You can freeze bananas that are overripe to use at a later time for baking. Just place them into an airtight freezer container with the peel on. You can keep them in the freezer for up to 3 months.
SPECIAL EQUIPMENT NEEDED:
Food Processor or Pastry Blender to make the streusel.
Mixing  Bowl and hand held electric mixer or Stand Mixer for the banana bread.
9″ x 5″ loaf pan.
SUBSTITUTIONS:
You can make this with whole wheat flour instead of all purpose flour in the same proportion.
You can replace the butter with margarine or ⅓ cup of a neutral oil like Canola oil or vegetable oil.
If you do not have granulated sugar, light brown sugar can be used.
HOW TO STORE STRAWBERRY STREUSEL BANANA BREAD:
You can keep this tightly wrapped in plastic wrap or in an airtight container at room temperature for 2-3 days
Strawberry Streusel Banana Bread freezes very well. Make sure that it is wrapped with freezer wrap or placed into an airtight freezer container. You can freeze it for 2-3 months.
When you are ready to use it, unwrap it and place it onto a wire rack to defrost.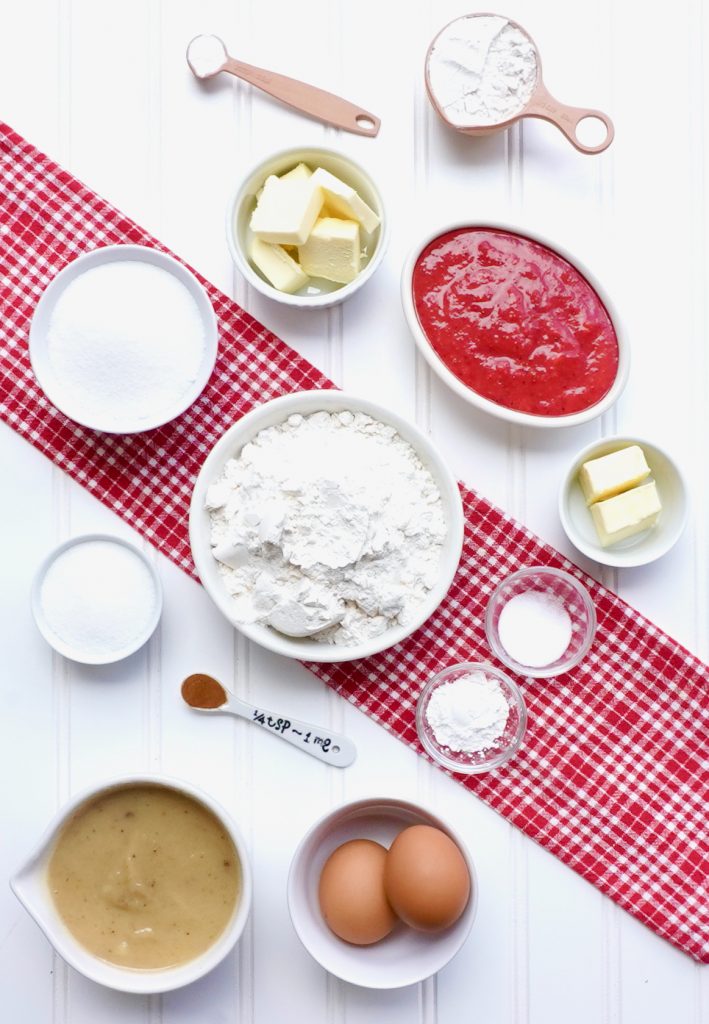 Strawberry Streusel Banana Bread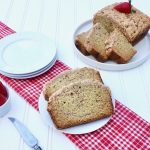 Print This
Ingredients
BANANA BREAD:

⅓ cup butter, at room temperature

¾ cup white sugar

2 large eggs

1 ½ cups mashed bananas (4 overly ripe bananas)

1 ¾ cups all purpose flour

1 ¼ teaspoons baking powder

½ teaspoon baking soda

¾ teaspoon salt

1 cup pureed strawberries

.

STREUSEL TOPPING:

1⁄3 cup flour

1⁄3 cup sugar

¼ teaspoon cinnamon

3 tablespoons cold butter, cut into cubes
Instructions
Preheat the oven to 350 degrees. Thoroughly grease and flour a 9 x 5 inch loaf pan.
STREUSEL TOPPING:
Mix the flour, sugar and cinnamon together.
Using either a food processor or pastry blender, add the butter cubes.. The butter needs to be completely cut into the dry ingredients so that you achieve a very crumbly mixture.
If you are using a food processor, slowly pulse the butter into the flour mixture until crumbles form.
If you are using a pastry cutter or knife and fork, keep cutting the butter into the flour mixture until it is fully incorporated and the mixture forms a crumble.
Set the topping to the side while you mix the bread together.
BANANA BREAD:
Stir together the flour, salt, baking powder and baking soda. Set aside.
Beat the butter until creamy either in the bowl of a stand mixer with a paddle attachment or in a large mixing bowl with a hand held electric mixer.
Add in the sugar and mix it thoroughly into the butter.
Add the eggs one at a time, mixing thoroughly after each addition.
Add one cup of the flour mixture to the butter mixture and combine well.
Next add half of the mashed bananas and mix them in thoroughly.
Add the remaining flour mixture and then the remaining bananas, mixing well after each addition. Scrape the sides of the bowl to make sure everything has been well mixed in.
Spoon one half of the batter into the prepared loaf pan. Spoon the pureed strawberries over the batter. Spoon the remaining batter over the strawberries. Take a knife and gently move it through the batter so the strawberries are swirled in the batter. Do not let the knife touch the sides of the pan or the bottom of the pan.
Spoon the streusel topping evenly over the top of the batter.
Place the baking pan into the oven on a center rack. Bake for about 50 minutes checking to make sure the top of the bread is totally set and golden brown. Oven temperatures vary. Start checking the banana bread at 45 minutes to see if it is done.
You can tell by looking or by inserting a cake tester or toothpick into the top of the loaf and making sure that it comes out dry.
Remove the banana bread from the oven. Cool in the pan for a few minutes then remove it to a wire rack to cool.