Pita Bread Salad is a hearty salad that makes a flavorful side dish or vegetarian meal. Pita bread is toasted then combined with romaine lettuce, tomatoes, Kalamata olives and red onions then dressed in a light dressing made with olive oil and lemon juice. Seasoned with oregano and topped with feta cheese, it is a great salad to make all summer long.
Pita Bread Salad would also be a good side dish for your summer cookouts, Check out some additional cookout side dishes at 30 Simple Summer Cookout Side Dishes.
Panzanella is another variation of bread salad that would make a good addition to your summer line up. If you like the flavor combination of this Pita Bread Salad you will also like Chopped Greek Salad and Greek Orzo Salad.
Another dressing that would be good on this salad is Basil Balsamic Vinaigrette.
SOME THINGS TO KNOW:
Extra Virgin Olive Oil is the best type for salads. This type of olive oil is the most flavorful.
You can prepare the salad and dressing a couple hours before you are ready to serve it. Keep them separate and covered in the refrigerator. When you are ready to serve the salad, combine them and add the feta cheese.
This salad is best when served. You can try to keep any leftovers covered in the refrigerator for a day but you should expect the lettuce to wilt.
If you cannot locate Kalamata olives, you can substitute California black olives or French Black olives.
If you cannot find pita bread, flatbread, naan or focaccia would all make suitable substitutes.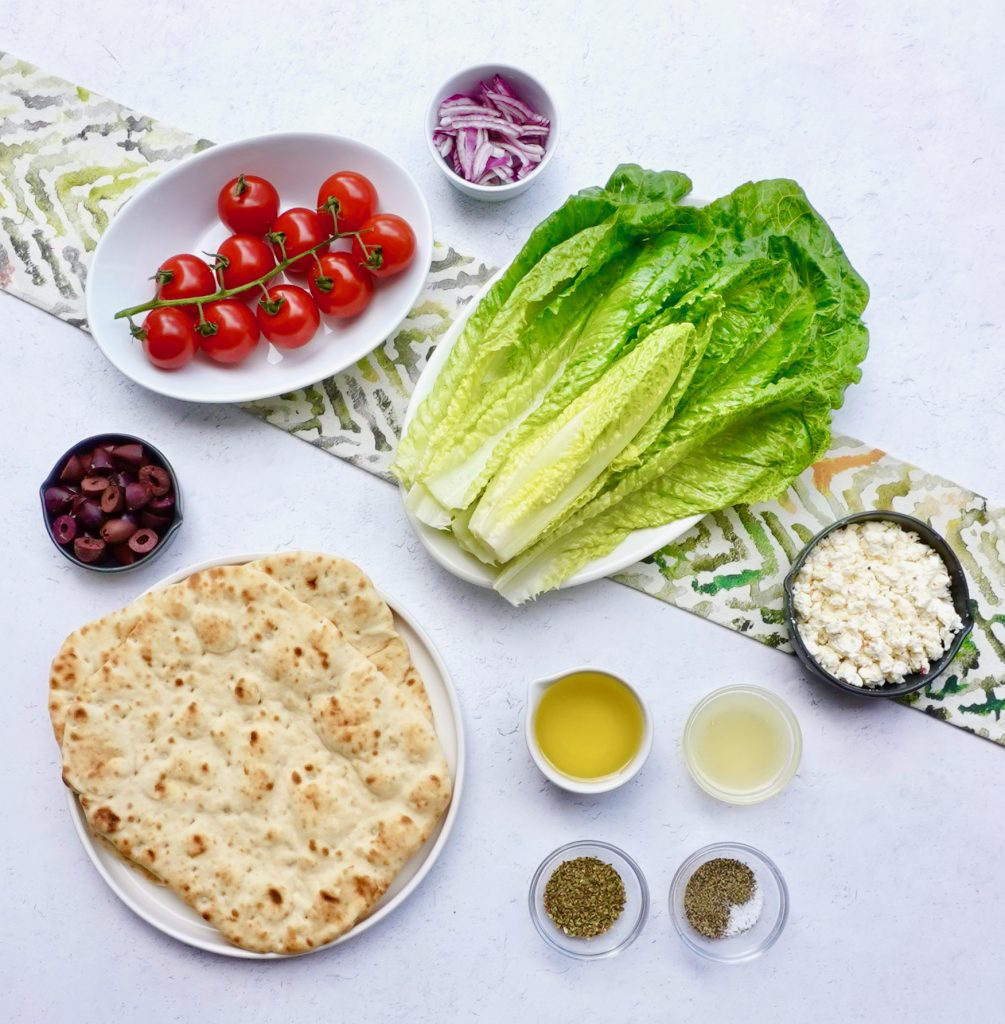 Pita Bread Salad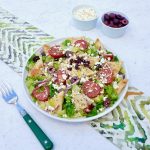 Print This
Ingredients
2 8" pita breads, cut into small triangles

1 small head romaine lettuce

10 cherry tomatoes, halved

¼ cup Kalamata olives, pitted and sliced

¼ cup red onion, sliced thin

¼ cup olive oil

2 tablespoons fresh lemon juice

¼ teaspoon kosher salt

Pinch black pepper

1 teaspoon dried oregano

½ cup feta cheese, crumbled
Instructions
Preheat the oven to 350 degrees.
Place the pita bread triangles onto a baking sheet and bake them for 10 minutes so they become crisp.
Place the pita bread into a large bowl. Add the romaine, cherry tomatoes, Kalamata olives, and red onion. Stir to combine.
In a small bowl, combine the olive oil, lemon juice, salt, pepper and oregano. Combine well.
Pour the dressing over the salad ingredients and mix together well. Sprinkle it the with the crumbled feta to serve.