As the leaves start to change and the air turns crisp, it's time to savor the flavors of fall. What better way to do that than with a delicious Apple Cider Mule Cocktail? This perfect fall twist on the classic cocktail Moscow Mule combines the warmth of apple cider from your local orchard with the zing of spicy ginger beer and a touch of vodka. Whether you're hosting a cozy gathering or simply looking to unwind after a long day, this festive cocktail made with simple ingredients is the perfect choice.
Apple Cider Mule is a slight variation on a Moscow Mule as we are replacing the traditional fresh lime juice with apple cider. The cider goes well with the ginger beer and the fizzy drink is light,flavorful and refreshing.
This fall Moscow mule in a frosty copper mug would be a nice addition to Halloween and Thanksgiving festivities. Add the cinnamon stick and apple slice for garnish to make it extra pretty. If want to try another perfect fall cocktail be sure to check out this festive drink Pumpkin Martini.
Holiday Sangria is another easy fall cocktail recipe that makes a big batch to serve a crowd at your holiday parties. Another option for a good fall cocktail for the holiday season is Holiday Cape Codder.
If you are looking for a refreshing classic recipe for a  cocktail made with simple syrup, vodka and grapefruit juice check out the Greyhound Cocktail. Tiramisu Martini Dessert Cocktail is a non traditional cocktail that makes a fun dessert.
If you have some sweet cider left over you could make this Apple Walnut Salad with Cheddar Croutons. The dressing is made with apple cider. You can also try Curried Apple Rice which is made with apple cider too. For a delicious autumn twist on chicken, check out Apple Cider Chicken Thighs.
SOME THINGS TO KNOW:FAQ'S
INGREDIENT TIPS:
SPECIAL EQUIPMENT NEEDED:
Copper Mug or rocks glass
SUBSTITUTIONS:
If you prefer a different spirit or want to make it alcohol-free, you can substitute vodka with white rum for a slightly sweeter twist or simply omit the vodka for a virgin version.
You can substitute the ginger beer with diet ginger beer. You can also use ginger ale for a less spicy ginger flavor, or use a ginger-flavored sparkling water if you cannot locate ginger beer at your grocery store.
If you're out of apple cider, apple juice can be a suitable replacement. Just be aware that it might be a bit sweeter than cider, so adjust accordingly. If you want to make an extra potent drink use hard cider.
If you don't have a cinnamon stick, a dash of ground cinnamon can be used as a substitute. Remember, ground cinnamon is more potent, so use it sparingly.
 While apple slices make a lovely garnish, you can also use lemon or orange slices or a lime wedge for a citrusy twist or omit the fruit garnish altogether. You could also use mint leaves as a garnish.
HOW TO STORE APPLE CIDER MULE:
Remember that the quality of the cocktail may degrade over time, so it's best to make only as much as you plan to consume in the near future. Keep it chilled in the refrigerator.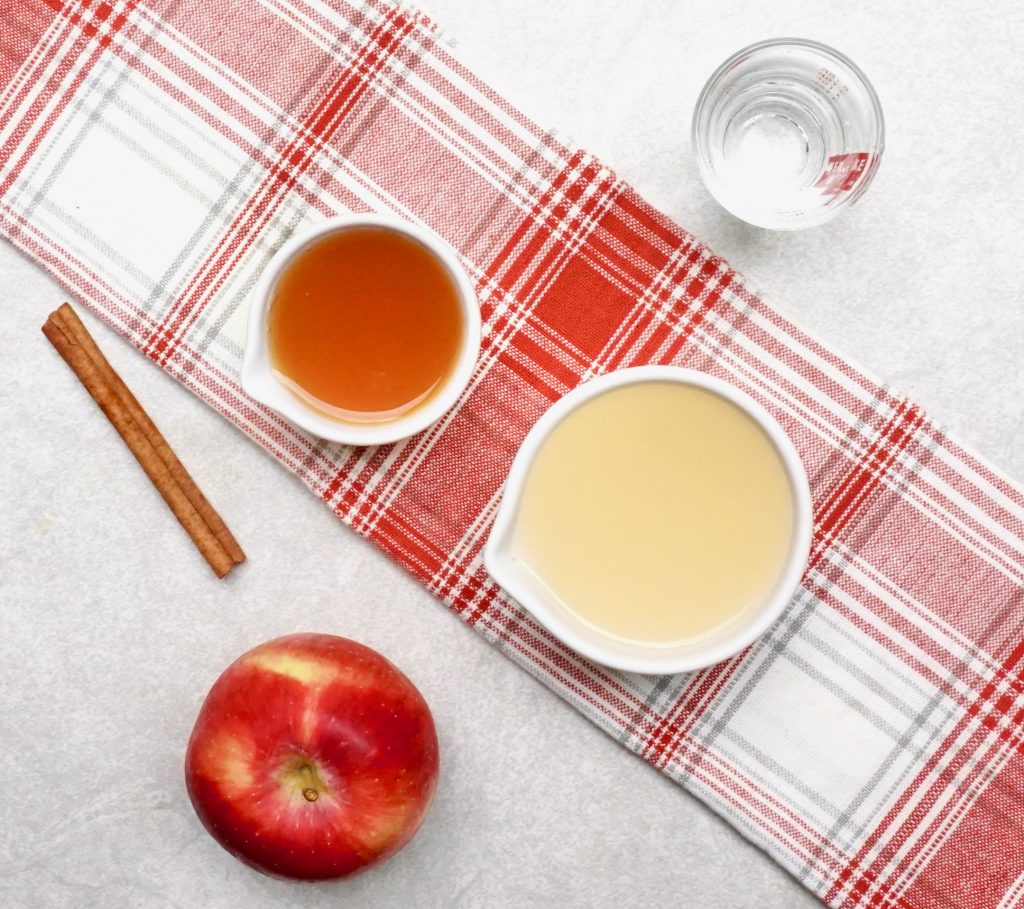 Apple Cider Mule
Print This
Ingredients
1 ounce vodka

¼ cup apple cider

½ cup ginger beer

ice cubes

cinnamon stick

apple slices
Instructions
Gather Your Ingredients
Before you start mixing, make sure you have all your ingredients ready. The key to a great cocktail is preparation.
Fill Your Glass
Take a Moscow Mule chilled copper mug or a rocks glass and fill it with ice cubes. The cold ice will keep your cocktail refreshing.
 Add the Vodka
Measure out 1 ounce of vodka and pour it over the ice in your glass. Vodka adds a smooth kick to the cocktail without overpowering the other flavors.
 Pour in the Apple Cider
Now, pour ¼ cup of apple cider over the vodka. This is where the magic of fall comes in, with the sweet and slightly tangy taste of apple cider.
 Top with Ginger Beer
Gently top off your cocktail with ½ cup of ginger beer.
 Stir and Garnish
Use a stirring rod to mix the ingredients gently. Drop a cinnamon stick into the glass, and garnish with a few apple slices.
Note: 
If you prefer to use a cocktail shaker, add all of the ingredients except the ice and shake to combine. Pour over ice in your cocktail glass.​
Enjoy!