If you love the creamy, coffee-infused flavors of traditional Italian Tiramisu, one of the most favorite desserts of all, this recipe is for you!. Tiramisu Martini Dessert Cocktail combines vodka, Baileys Irish Cream, and Kahlua to create a rich and indulgent drink that's perfect for after-dinner sipping. A drizzle of chocolate syrup and a dash of cocoa powder add a touch of sweetness, while heavy cream gives it a luxurious, velvety texture. It has all the flavors of tiramisu with a fraction of the work.
Remember, the best part about making cocktails at home is that you can adjust the ingredients to suit your taste. So feel free to experiment, add your favorite liqueurs and make this Tiramisu Martini Dessert Cocktail your own.
If you would like to try another delicious dessert cocktail that is made with dark rum, coconut cream, coconut milk, sweetened condensed milk, evaporated milk, vanilla and cinnamon, check out Coquito. It is traditionally served as a Christmas cocktail but it would be a beautiful after-dinner drink for any time of the year. You might also like Rummy Egg Nog, Chocolate Martini, and Pumpkin Martini. They are all sweet, creamy easy recipes that make a good drinkable form of dessert!
SOME THINGS TO KNOW:FAQ'S
WHAT IS TIRAMISU?
Tiramisu is a classic Italian dessert. It is made with lady fingers that have been soaked in a touch of coffee. They are layered with a Marscapone cheese, egg and sugar mixture. The top is sprinkled with unsweetened cocoa powder. This tiramisu martini recipe is a delicious cocktail form of this famed Italian dessert.
WHAT ARE THE ALCOHOLS USED IN THIS TIRAMISU MARTINI DESSERT COCKTAIL?
Baileys Irish Cream is a cream liqueur made with fresh cream, spirits, aged whiskey and a unique chocolate blend.
Kahlua is a coffee liqueur that contains rum, sugar, and arabica coffee.
Vodka is is a clear distilled alcoholic beverage made mostly from water and ethanol.
SPECIAL EQUIPMENT NEEDED:
Cocktail shaker that has a strainer top.
Shot glass or tablespoon. The typical shot glass measures slightly more than 2 tablespoons.
Martini Cocktail Glasses  Check out How to Chill Glassware When Mixing Drinks.
SUBSTITUTIONS:
If you don't have all the ingredients on hand, don't worry. Here are some easy substitutions.
You can substitute vodka with any clear spirit like white rum or gin. You could also use a flavored vanilla vodka.
 If you don't have Baileys, you can use any other brand of Irish cream liqueur.
No Kahlua? Use any coffee-flavored liqueur like Tia Maria or even a shot of strong espresso for a non-alcoholic option.
If you do not have chocolate syrup you can use melted dark chocolate or even Nutella in a pinch. You could also place some Godiva Chocolate Liqueur or Creme de Cacao into the bottom of the glass.
If you're out of heavy cream, heavy whipping cream, half-and-half or whole milk can work. Just note that it won't be as rich and creamy with the milk or half and half.
HOW TO MAKE TIRAMISU MARTINI DESSERT COCKTAIL IN ADVANCE:
If you will be serving these dessert drinks to a group at a dinner party, you may want to make a batch ahead of time. You can increase that quantity of the ingredients for the number of martinis that you need to make in a large pitcher. Just do not add the ice as it will dilute the martini. Chill the mixture covered in the refrigerator. If you chill this for long enough you will not need to shake it with the ice cubes before serving.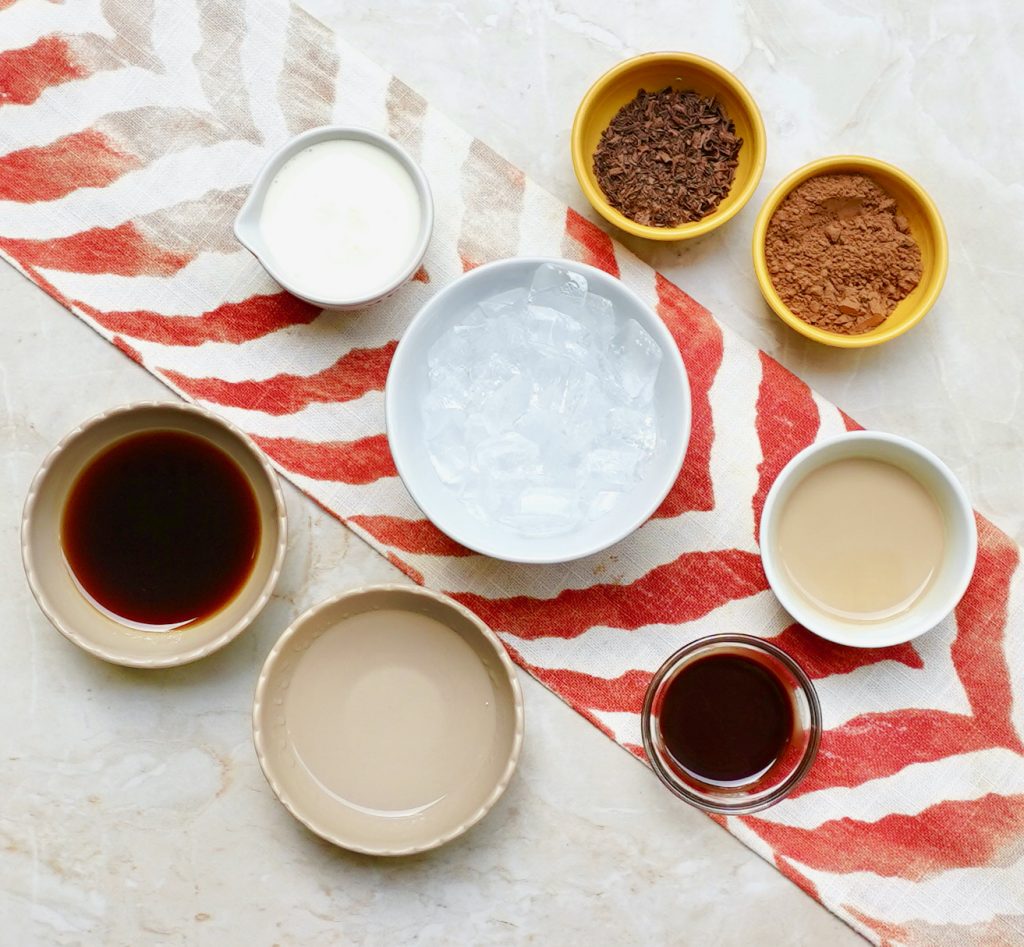 Place your ice cubes into a cocktail shaker. Add the Baileys Irish Cream, Vodka, Kahlua and heavy cream. Place the top on the shaker and shake well to chill and combine the martini. You will add the chocolate syrup, cocoa and chocolate shavings to the glass.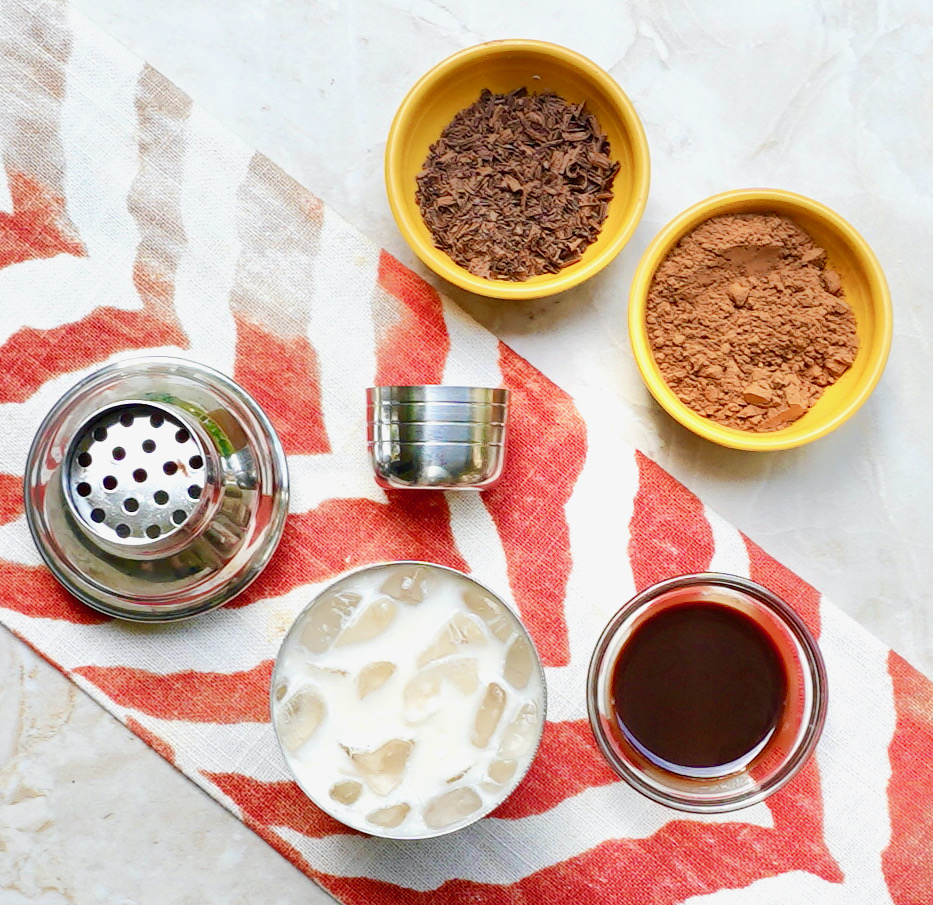 Tiramisu Martini Dessert Cocktail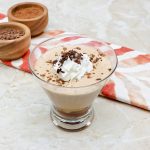 Print This
Ingredients
½ cup ice cubes

1 shot vodka

1 shot Baileys Irish Cream

1 shot Kahlua

¼ cup heavy cream

1 teaspoon chocolate syrup

Dash of cocoa powder and chocolate shavings for garnish on top of the cocktail

Optional: Whipped cream
Instructions
Place your martini glasses into the freezer at least 30 minutes before you plan to make the martinis to chill them.
Place the ice cubes into a cocktail shaker that has a strainer and top.
Add the vodka, Baileys, Kahlua and heavy cream. Shake well to combine.
Place the chocolate syrup into the bottom of the glass.
Strain the cocktail mixture into the martini glass.
Top with a dollop of whipped cream, a dusting of cocoa powder, and a sprinkle of shaved chocolate.
Serve immediately and enjoy the rich, dessert-like flavors.