Bisquick Zucchini Bread is one of those delicious quick breads that is so easy to make using Bisquick baking mix. This is a savory zucchini bread that has green onions, parmesan cheese, parsley and oregano. It would be a good bread to serve with a meal and the bread slices would also make an interesting sandwich.  It is a dense bread that is nice and moist.
Bisquick Zucchini Bread is a good zucchini bread recipe to try if you are just starting out with baking. The Bisquick mix already has everything included in it to make the bread rise perfectly. This is a great recipe to save for zucchini season.
If you would like to try some other zucchini recipes, check out Zucchini Tomato Sauce, Zucchini Corn Fritters, Zucchini Corn Saute, and Zucchini Herb Frittata, Zucchini Corn Quinoa Salad and Lemon Zucchini Cake.
Check out 15 Simple Summer Squash Recipes for additional ways to cook with these seasonal vegetables.
SOME THINGS TO KNOW: FAQ's
SPECIAL EQUIPMENT:
9″ X 5″ loaf pan
electric mixer or whisk
box grater or food processor to grate the zucchini
rubber spatula
INGREDIENT TIPS:
It is best to bake with eggs that are at room temperature. They will mix better with the batter and rise better.
It is very important to squeeze the moisture out of the grated zucchini. Place it onto paper towels and squeeze the water out.
It is always better to grease and flour your baking pan instead of using a cooking spray. If you have never done this before, check out How to Grease a Pan.
SUBSTITUTIONS:
You can replace the fresh zucchini with yellow squash.
Some other hard cheese substitutes for grated parmesan would be Pecorino which is very similar except that it is made from sheep's milk, Asiago, and Romano cheese. Cheddar cheese would also work well.
You can substitute the vegetable oil for canola oil or olive oil.
If you do not have whole milk on hand, you can use almond milk, oat milk, soy milk or half and half.
STORAGE:
You can keep any leftover Bisquick Zucchini Bread at room temperature for a day or two wrapped in plastic wrap or in an airtight container.
This bread will freeze well. Place it into an airtight freezer container and freeze it for 2-3 months.
When you are ready to defrost the bread, place it onto a wire rack until it comes to room temperature.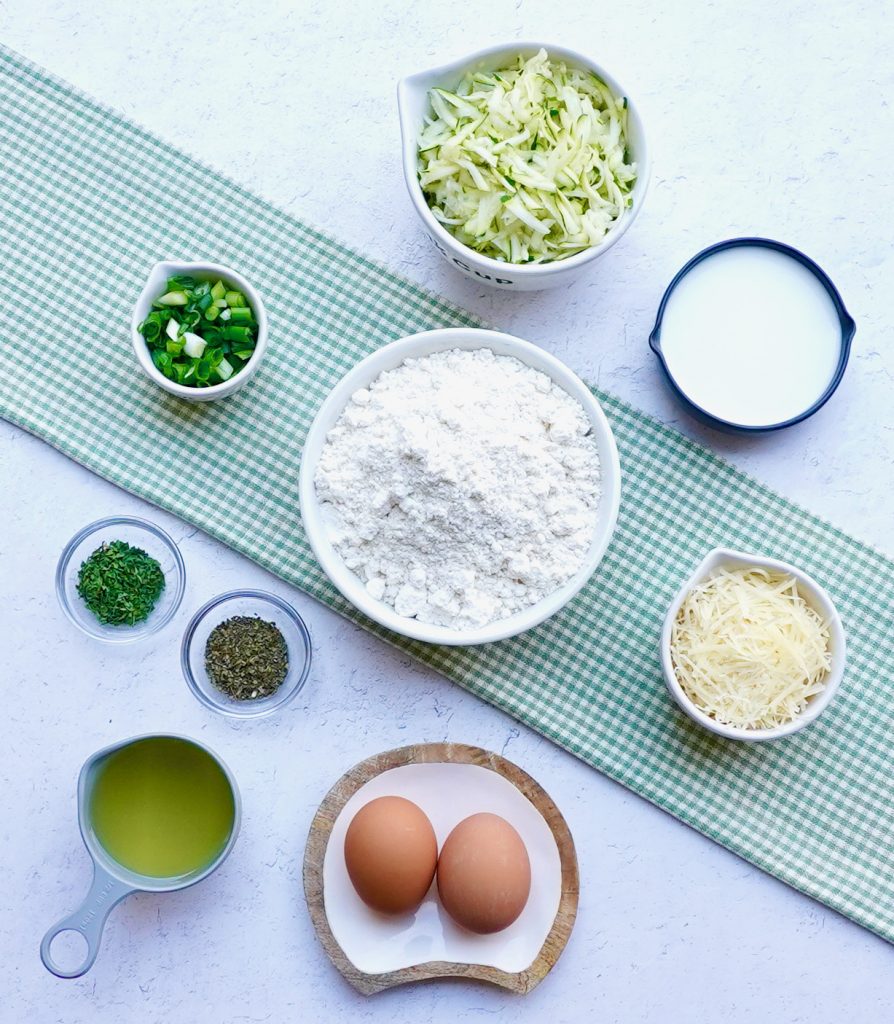 Bisquick Zucchini Bread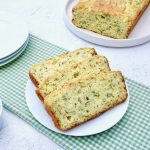 Print This
Ingredients
2 large eggs

½ cup whole milk

½ cup vegetable oil

2 cups Bisquick baking mix

½ cup grated parmesan cheese

1 teaspoon dried parsley or 1 tablespoon fresh parsley finely chopped

1 teaspoon dried oregano

1 teaspoon kosher salt

½ teaspoon black pepper

1½ cups grated zucchini, extra liquids squeezed out with paper towels (about 1½ medium zucchini)

¼ cup green onions, finely chopped
Instructions
Pre heat oven to 350 degrees.
Place the oven rack in the center of the oven.
Grease and flour a 9″ x 5″ loaf pan
In a large bowl, beat the eggs with an electric mixer at medium speed or by hand with a whisk.
Add the milk and vegetable oil to the eggs. Combine well.
Next, we will add the dry ingredients to the wet ingredients.
Add the Bisquick, parmesan cheese, parsley, oregano, salt and pepper to the bowl.
Mix on low speed to avoid ingredients flying out of the bowl. Combine well.
Use a rubber spatula to mix the grated zucchini and green onions into the batter.
Spoon the batter into the greased loaf pan. Smooth the top evenly using a rubber spatula.
Bake for 45 – 50 minutes. Oven temperatures vary. If your oven tends to run hot, start checking in on the bread at 40  minutes. You want the top of the bread to be completely set and golden brown.
Let the bread cool in the pan for 5 minutes.
Remove it from the pan to a wire rack to cool completely.