Lemon Zucchini Cake is a good one to make during the summer months, as it the best time of year for local garden zucchini. This easy recipe has a wonderful lemon flavor and you can make it without a mixer!
This Lemon Zucchini Cake is a moist and delicious dessert. The sweet and tangy glaze really lets you know that you are eating lemons and complements the ingredients in the cake.
If you like lemon cake, you might also like Lemon Chiffon Cake. It is another easy cake to make. You should also try Lemon Crunch Cake with its crunchy sugar topping.
If you like to bake with zucchini, check out Bisquick Zucchini Bread. It is a simple quick bread recipe.
If you would like to try some other zucchini recipes, check out Zucchini Salsa, Zucchini Tomato Sauce, Zucchini Corn Fritters, Zucchini Corn Sauté, Zucchini Herb Frittata and Zucchini Corn Quinoa Salad.
Check out 15 Simple Summer Squash Recipes for more ways to enjoy these seasonal vegetable.
SOME THINGS TO KNOW:FAQ'S
INGREDIENT TIPS: 
SPECIAL EQUIPMENT NEEDED:
9″ x 5″ loaf pan
Large bowl
Medium bowl
Whisk
If you only have round cake pans, a  9″ x 2″ round pan holds 8 cups of batter which is the same amount as a 9″ x 5″ loaf pan.
SUBSTITUTIONS: 
Yellow summer squash can be used in place of the zucchini.
If you do not have canola oil, use vegetable oil or a light olive oil.
Confectioner's sugar, icing sugar and powdered sugar are all the same thing but they are sometimes labeled differently at the grocery store.You can use any one of them to create the glaze.
The all purpose flour can be replaced with cake flour or unbleached flour.
The granulated sugar can be replaced with pure cane sugar or light brown sugar.
If you do not have plain Greek Yogurt, plain yogurt or sour cream can be substituted.
HOW TO STORE LEMON ZUCCHINI CAKE:
You can keep the cake tightly wrapped in plastic wrap at room temperature foe 2-3 days.
You can freeze the cake wrapped in freezer wrap or in an airtight freezer bag for 2-3 months.
Defrost the cake on a wire rack until it comes to room temperature.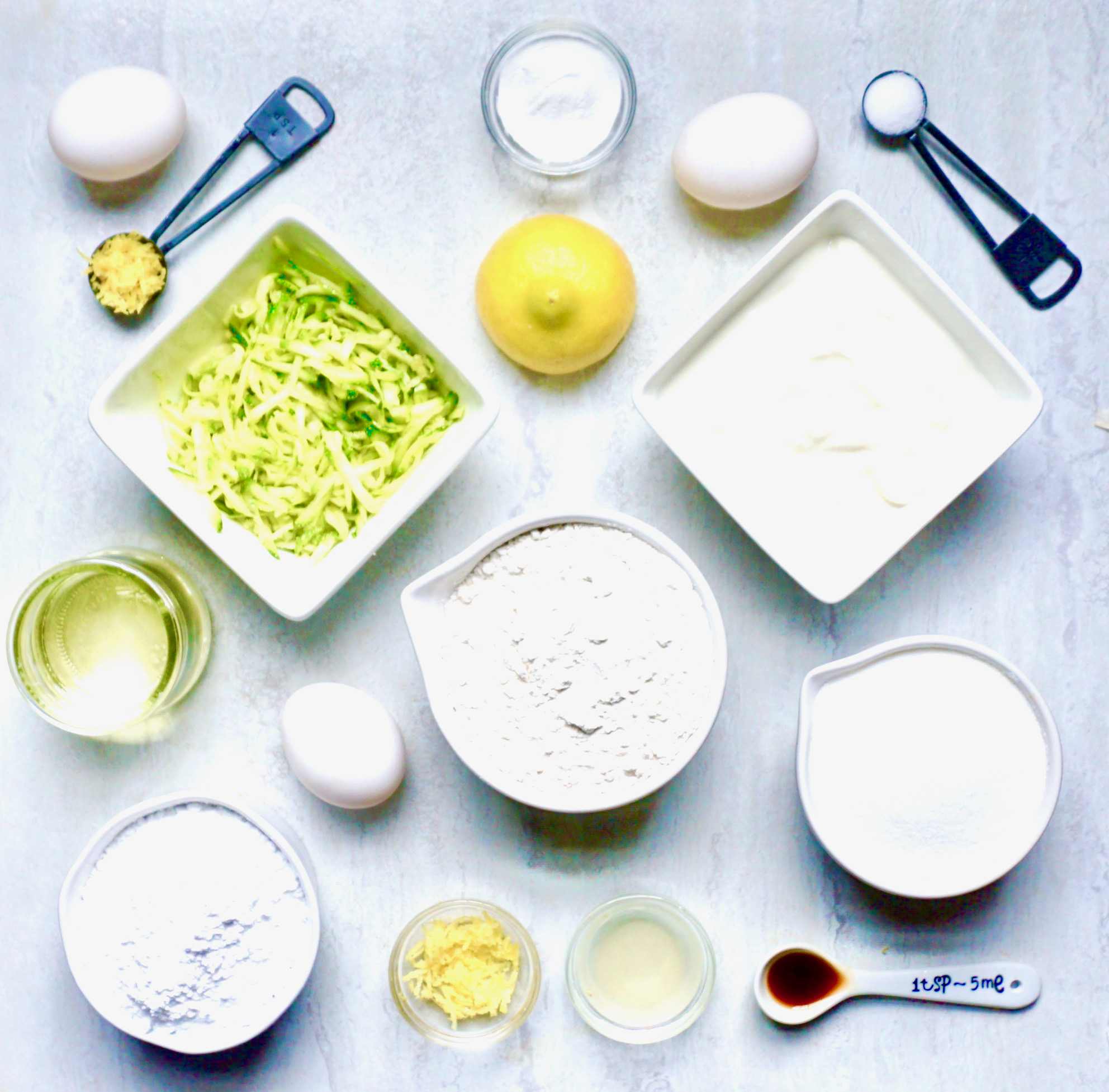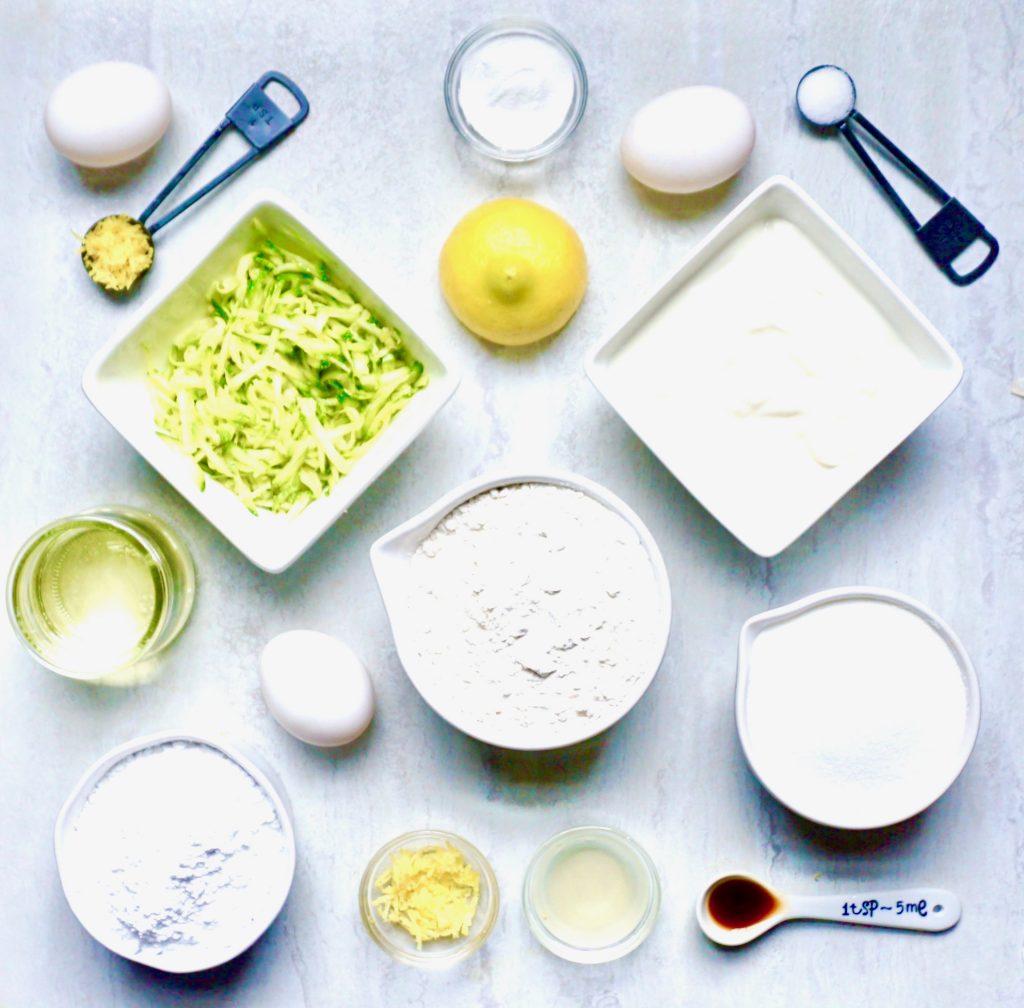 Lemon Zucchini Cake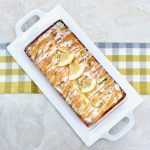 Print This
Ingredients
CAKE

1 cup sugar

1 ½ cups all purpose flour

2 teaspoons baking powder

½ teaspoon salt

½ cup canola oil

1 teaspoon vanilla extract

1 cup whole milk plain Greek yogurt

3 large eggs

¼ cup fresh lemon juice

1 teaspoon lemon zest

1 ½ cups grated zucchini

GLAZE

1 cup confectioner's sugar

2 tablespoons freshly squeezed lemon juice

1 teaspoon lemon zest
Instructions
CAKE
Preheat the oven to 350 degrees. Grease and flour a  9" x 5 "  loaf pan.
In a medium bowl, combine flour with the baking powder and salt .Stir the flour mixture well. Set aside.
In a large separate bowl, place the eggs, sugar, lemon zest, lemon juice, yogurt, and canola oil and whisk together thoroughly.
Add the dry ingredients to the wet ingredients and whisk together thoroughly. Add the grated zucchini and carefully fold it into the batter.
You could also do this using a hand mixer on low speed.
Pour the cake batter into the prepared pan and bake for approximately 50 minutes. Baking time can vary. If your oven tends to run hot, start checking the cake at 45 minutes.
Test with a cake tester into the center of the cake to make sure that it comes out dry.
Let the cake cool in the pan for several minutes then remove to a wire rack. Cool thoroughly before glazing the cake.
GLAZE:
In a small bowl, combine the confectioner's sugar, lemon juice and lemon zest. If the mixture is too thick, add 1 teaspoon of milk at a time until it is fluid.
Spoon or brush the glaze over the top of the cake.