I will be the first to admit that I sometimes overbuy at the local farmer's markets! Fresh vegetables have a pretty short shelf life and so I found myself last weekend with way more zucchini than I could use, even though these Squash Fritters are on the dinner table several times a week during the summer. Baking this Lemon Zucchini Cake was my solution to using up the excess.
I had  never actually baked a zucchini bread or cake before so I decided to experiment with making a few changes to my Blueberry Orange Yogurt Cake and see what I would get. I am a firm believer that if you have a good basic recipe that you like, it is easy to switch out a few ingredients to create an entirely different cake. By using a proven recipe you can be pretty sure ahead of time that the outcome will be good.
This Lemon Zucchini Cake is moist and delicious. The sweet and tangy glaze really lets you know that you are eating lemons! From now on I will be buying extra zucchini at the markets just to make this cake!
If you like lemon cakes, you might also like Lemon Chiffon Cake.
If you like to bake with zucchini, check out Bisquick Zucchini Bread.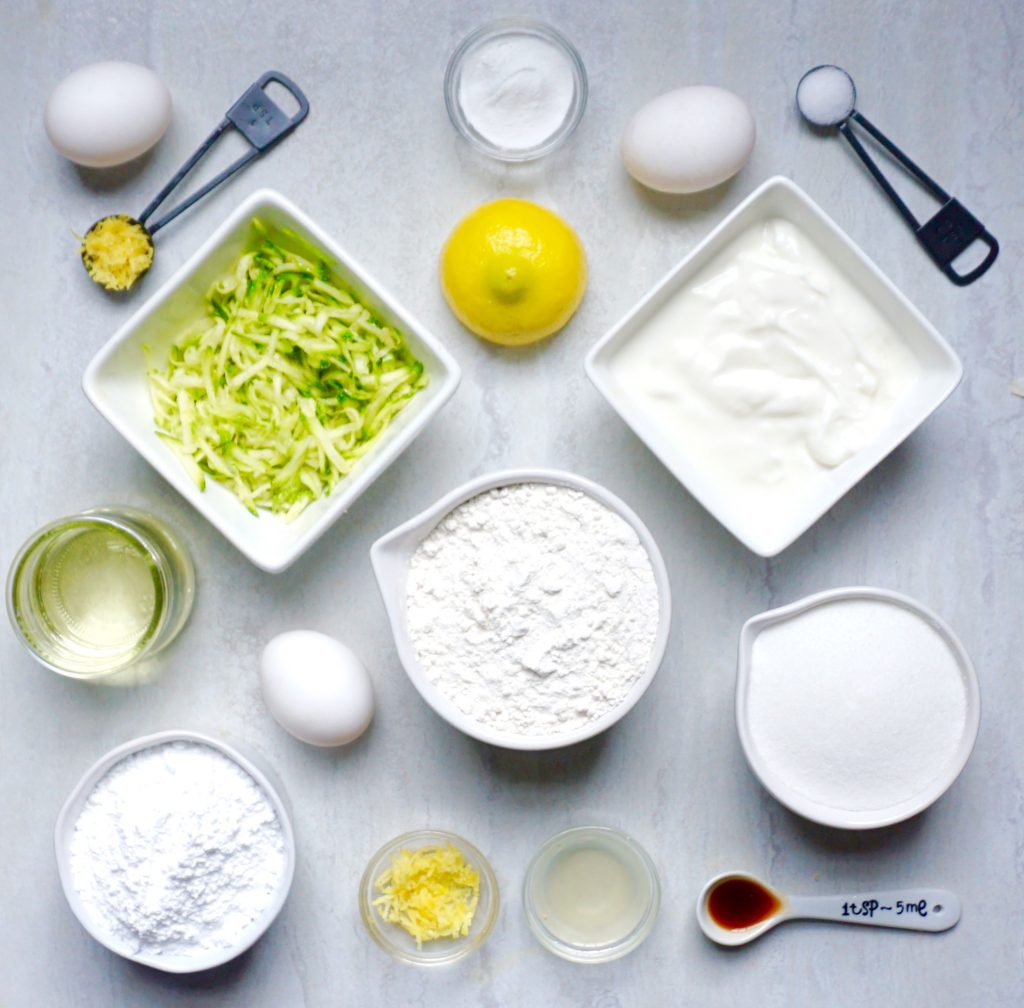 Lemon Zucchini Cake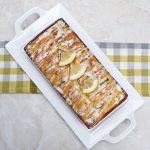 Print This
Ingredients
CAKE

1 cup sugar

1 ½ cups all purpose flour

2 teaspoons baking powder

½ teaspoon salt

½ cup canola oil

1 teaspoon vanilla extract

1 cup whole milk plain Greek yogurt

3 large eggs

¼ cup freshly squeezed lemon juice

1 teaspoon lemon zest

1 ½ cups grated zucchini

GLAZE

1 cup confectioner's sugar

2 tablespoons freshly squeezed lemon juice

1 teaspoon lemon zest
Instructions
CAKE
Preheat the oven to 350 degrees. Grease and flour a  9" x 5 "  loaf pan.
In a medium bowl, sift together the flour with the baking powder and salt. Set aside
In a large bowl, place the eggs, sugar, lemon zest, lemon juice, yogurt, and canola oil and whisk together thoroughly.
Add the dry ingredients to the wet ingredients and whisk together thoroughly. Add the grated zucchini and carefully fold it into the batter.
Pour the batter into the prepared pan and bake for approximately 50 minutes. Test with a cake tester into the center of the cake to make sure that it comes out dry.
Let the cake cool in the pan for several minutes then remove to a wire rack. Cool thoroughly before glazing the cake.
GLAZE:
In a small bowl, combine the confectioner's sugar, lemon juice and lemon zest. If the mixture is too thick, add 1 teaspoon of milk at a time until it is fluid.
Spoon or brush the glaze over the top of the cake.