Orange Olive Oil Donuts are simple donuts that are baked in molds. Olive oil makes them very moist and they have a nice orange flavor.
The batter for the donuts is mixed together in one bowl, no mixer required. They have a baking time of 16-17 minutes making them a fairly simple and fast option for a weekend breakfast.
You can serve these donuts warm from the oven on their own. You could also let them cool and simply sprinkle them with powdered sugar. The glaze adds a pretty finishing touch sprinkled with orange zest but it will take about 10 minutes to harden.
If you like these Orange Olive Oil Donuts you must try Orange Olive Oil Cake. It is a simple one bowl, no mixer needed cake that is moist and perfect for citrus season.
If you like baking donuts for breakfast and want to try another donut recipe, check out Pumpkin Baked Donuts, Bailey's Glazed Chocolate Donuts and Baked Buttermilk Donuts.
​SOME THINGS TO KNOW:FAQ'S
INGREDIENT TIPS:
Choose a good-quality extra virgin olive oil. It is  fruity and can add depth and richness to your donuts. Look for a mild olive oil if you want a more subtle olive flavor. Read The Different Types of Olive Oils and Their Uses.
Use freshly squeezed orange juice for the best flavor. Avoid using store-bought orange juice with added sugars or artificial flavors.
If you have the optional orange zest, it can add a burst of citrus aroma and flavor to your orange glaze. Be sure to wash the oranges thoroughly before zesting to avoid any bitterness from the peel..
SPECIAL EQUIPMENT NEEDED TO MAKE ORANGE OLIVE OIL DONUTS:
Large bowl to mix the batter.
A whisk is needed for thoroughly mixing the wet ingredients and creating a smooth batter.
Specialized donut baking pans are needed to shape and bake the donuts. These pans typically have round cavities with a hole in the center to create the classic donut shape. Make sure that your pans are clean and lightly greased with cooking spray to prevent sticking.
Cooling rack to allow the donuts to cool properly.
If you plan to use optional orange zest to sprinkle over the glaze, a zester or fine grater is useful for obtaining the zest from the orange peel.
SUBSTITUTIONS:
You can substitute olive oil with a neutral vegetable oil like canola oil or grapeseed oil if you prefer a milder flavor.
You can use any dairy or non-dairy milk of your choice instead of whole milk. 2% milk, skim milk, almond milk, or soy milk would all work well in the recipe.
You can use light brown sugar instead of granulated sugar for a slightly richer flavor.
If you don't have powdered sugar on hand, you can make your powdered sugar at home by blending granulated sugar in a blender or food processor until it becomes a fine powder.
If you don't have vanilla extract, you can use vanilla bean paste or scrape the seeds from a vanilla bean pod for a more natural vanilla flavor.
HOW TO STORE ORANGE OLIVE OIL DONUTS:
If you plan to eat the donuts within 1-2 days, you can store them at room temperature in an airtight container. Make sure they are fully cooled before sealing them in the  container.
If you need to store them for a longer period, you can refrigerate them. Place the donuts in an airtight container or zip-top bag and store them in the refrigerator for up to 4-5 days. Be aware that refrigeration may make the donuts slightly firmer. You may want to let them come up to room temperature before serving.
The donuts can be stored in the freezer for up to 2-3 months. Make sure the donuts are completely cooled to room temperature before freezing them.Wrap each donut individually in plastic wrap or aluminum foil. This step prevents freezer burn and preserves the freshness of each donut.Once wrapped, place the individually wrapped donuts into a heavy-duty freezer bag or an airtight freezer-safe container. Remove as much air as possible from the bag before sealing it to prevent freezer burn.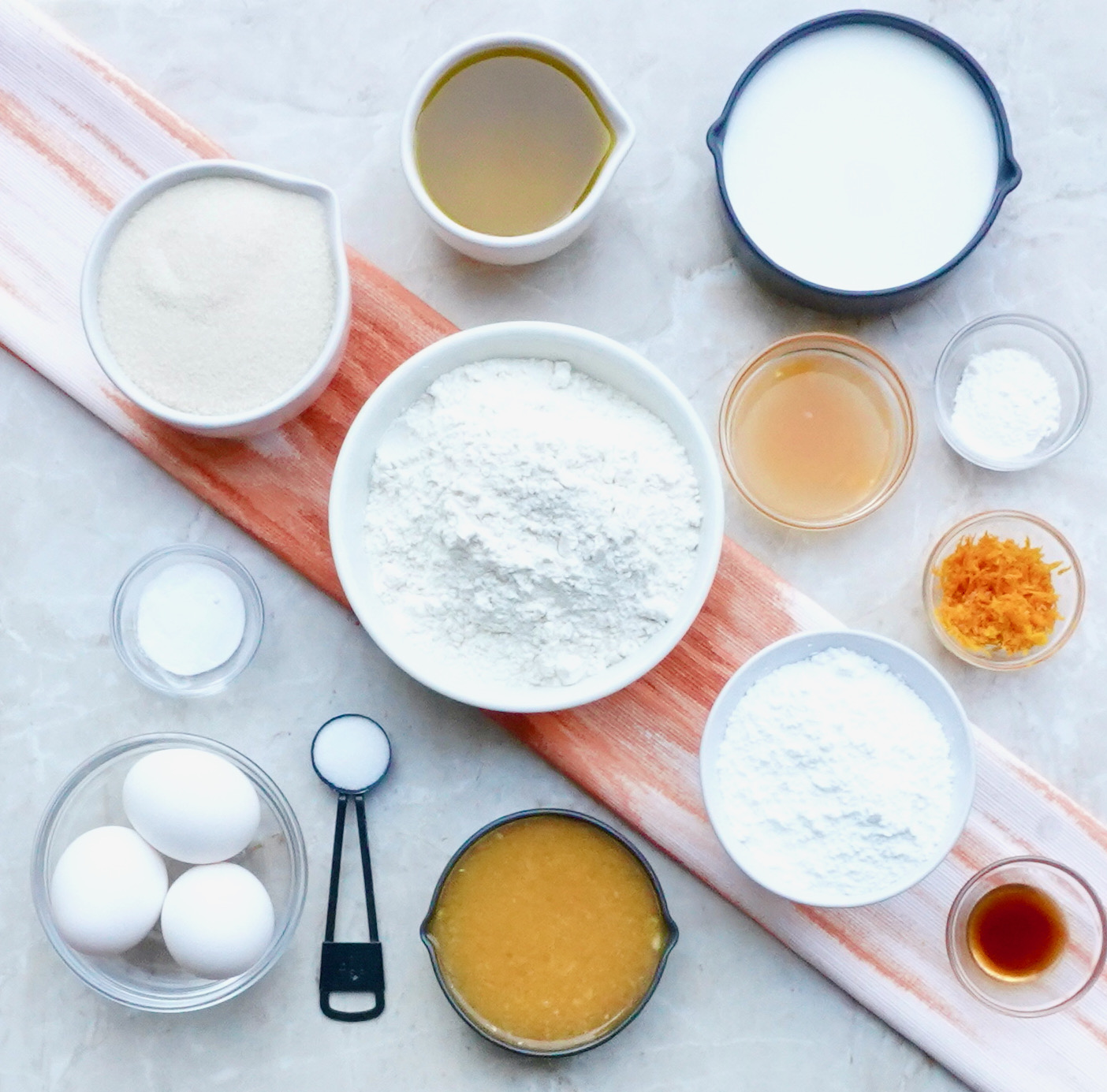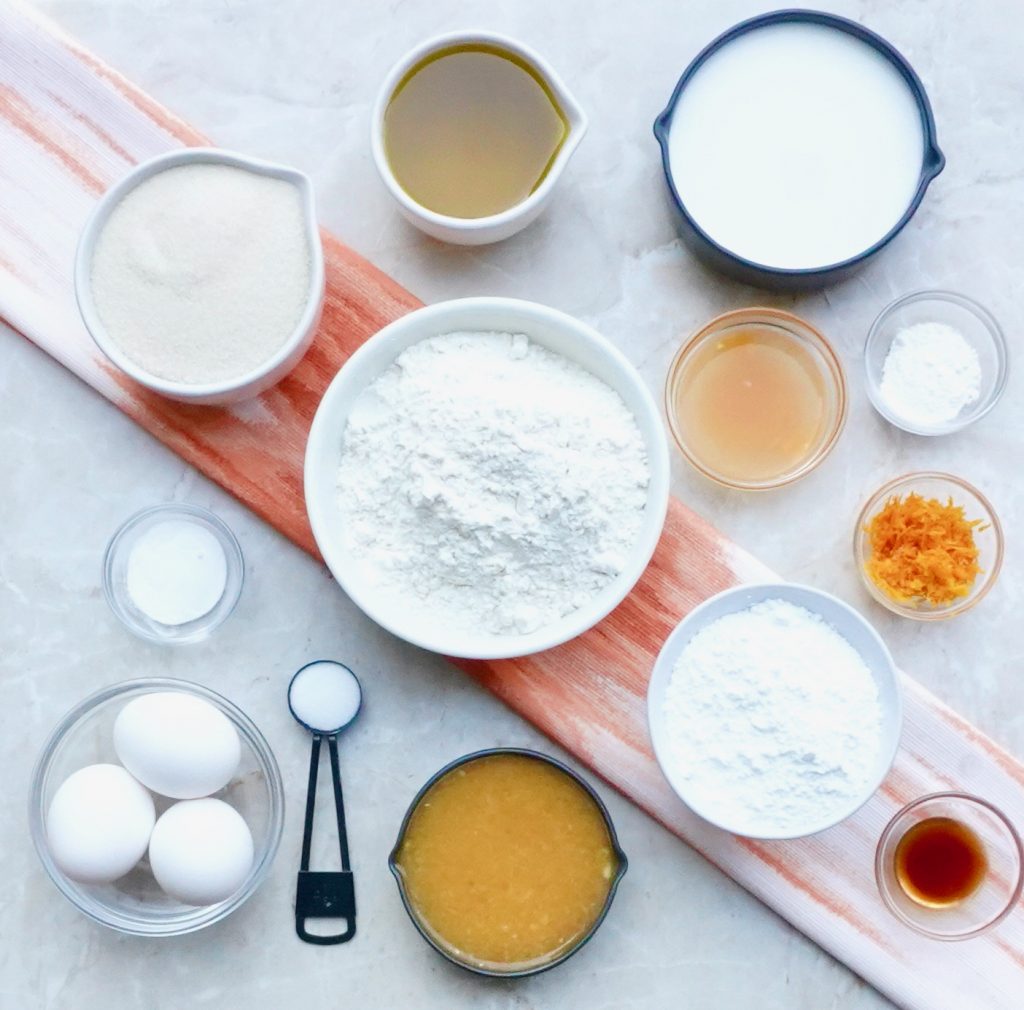 Orange Olive Oil Donuts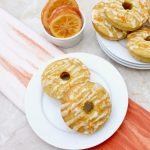 Print This
Ingredients
DONUTS:

3 large eggs

½ cup olive oil

½ cup freshly squeezed orange juice

1 cup whole milk

1 teaspoon vanilla extract

1 cup granulated sugar

2 cups all purpose flour

1 teaspoon baking powder

1 teaspoon baking soda

1 teaspoon iodized salt

* cooking spray for pans

* donut baking pans

GLAZE:

1 cup powdered sugar

2-3 tablespoons fresh squeezed orange juice

OPTIONAL:

1 tablespoon orange zest to sprinkle over the glaze
Instructions
DONUTS:
Preheat the oven to 350 degrees
Whisk the eggs in a large bowl. Add the olive oil, orange juice, milk and vanilla extract. Combine well.
Add the sugar to the bowl and whisk it into the wet ingredients.
Add the flour, baking powder, baking soda, and salt to the bowl.
Whisk the dry ingredients into the wet ingredients. Continue until the ingredients are completely mixed in and the batter is free of any lumps.
Spray your donut molds with cooking spray.
Spoon the batter into the molds evenly so they are ¾ full. If you will need to bake the donuts in batches, place the batter into the refrigerator until the first batch is completed.
Bake the donuts for 16-17 minutes on a rack placed at the top of the oven. Make sure that the tops are completely dry and golden brown.
Let them cool in the pans for 5 minutes then remove them to a wire rack to cool completely.
GLAZE:
Combine the powdered sugar  and 2 tablespoons of the orange juice. Stir it well. If it is too thick, add the additional tablespoon of juice, a little at a time. You want the glaze to be easily pourable but not runny.
Use a spoon to drizzle the glaze over the tops of the cooled donuts. This is done by slightly turning the spoon down and moving your hand back and forth over the donut letting the glaze drizzle down.
Optional toppings are sprinkles and chopped nuts.