Creamy Sun Dried Tomato Chicken is a great recipe is a to add to your collection of quick, easy weeknight dinner go-to meals. With just a few simple ingredients you can make this low carb recipe that is such an easy dinner.
Sun dried tomatoes have a rich bold flavor and impart a beautiful color to the creamy sauce. The sauce itself is flavorful, cheesy and downright comforting! The best part about this recipe though is that it can be made in 30 minutes or less from start to finish.  It's even better when the whole family loves it too!
If you want to try another simple and flavorful chicken recipe that is a quick dinner for busy weeknights, check out Chicken Dijonnaise.
If you like creamy chicken recipes that have a delicious sauce, check out Chicken Milano and Creamy Mushroom Spinach Chicken. You might also like Mexican Crema Chicken.
Check out Creamed Tomatoes for an easy tomato topping.
SOME THINGS TO KNOW:FAQ'S
SUBSTITUTIONS:
If you prefer dark meat chicken, you can substitute boneless skinless chicken thighs for the white meat chicken cutlets.
Heavy whipping cream can be used instead of heavy cream in the recipe. They are the exact same thing except they are sold by different brands under both names. Read Heavy Whipping Cream vs. Heavy Cream for the explanation.
Dry packed sun dried tomatoes can be substituted for oil packed. They will be reconstituted when they simmer in the sauce and have a lot of flavor.
If you do not have fresh basil, you can add a teaspoon of dried basil or even a teaspoon of Italian seasoning.
SERVING SUGGESTIONS:
The tomato cream sauce in this recipe just needs some simple ingredients for side dishes. You could serve it with couscous, rice, cauliflower rice, orzo or a tubular shaped penne pasta.
A green vegetable like broccoli, baby spinach or green beans would also be a good addition.
HOW TO STORE LEFTOVER CREAMY SUN DRIED TOMATO CHICKEN:
You can keep any leftovers in the refrigerator in an airtight container for 2-3 days.
The sun-dried tomato sauce can separate in the freezer as it is made with heavy cream. Freezing is not recommended.
REHEATING:
You can easily reheat this over low heat on the stovetop in a skillet. Add a bit of chicken broth or heavy cream if the sauce needs to be thinned out a bit.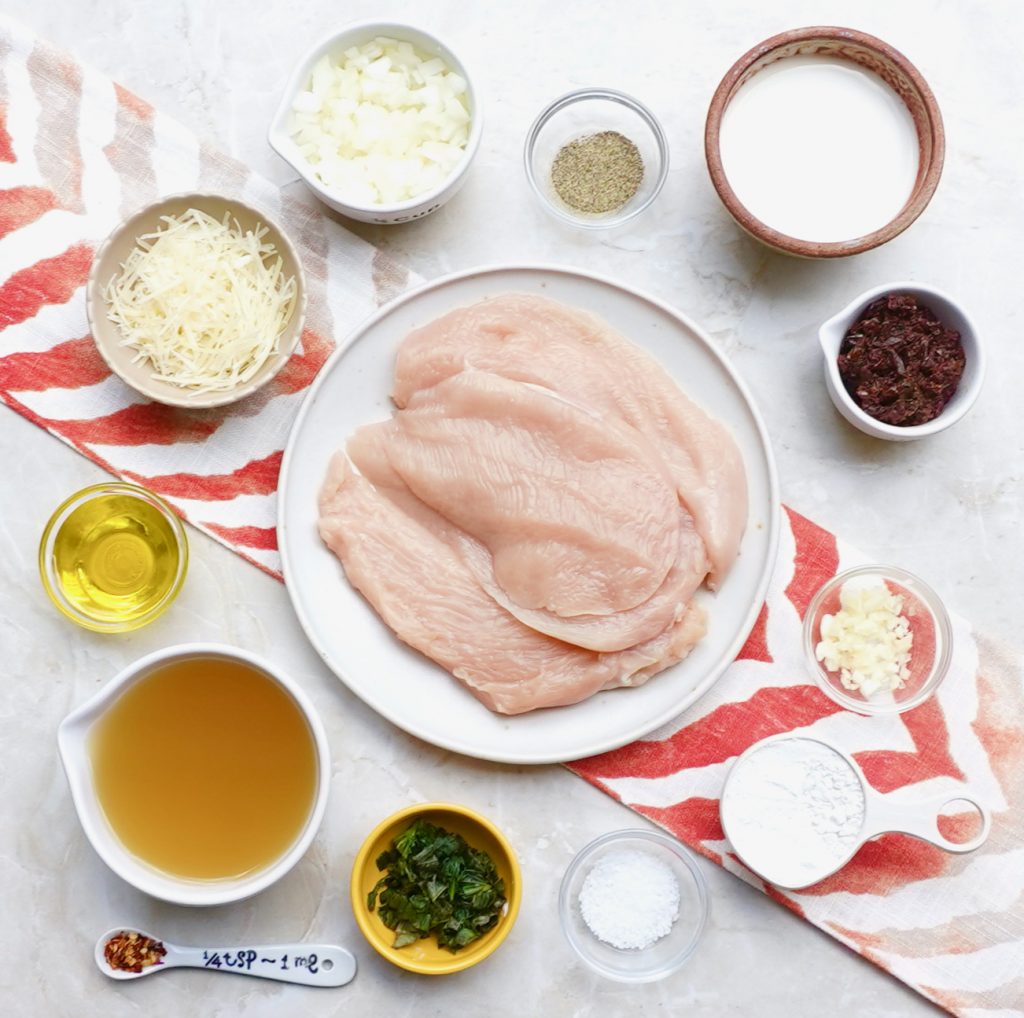 Creamy Sun Dried Tomato Chicken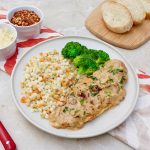 Print This
Ingredients
1 pound boneless skinless chicken breasts

¼ cup all purpose flour

½ teaspoon salt

½ teaspoon black pepper

2 tablespoons olive oil

¼ cup sun-dried tomatoes packed in oil, drained and finely chopped

½ cup yellow onion, chopped

2 garlic cloves, chopped

1 cup chicken broth

¼ teaspoon crushed red pepper flakes

½ cup heavy cream

¼ cup fresh basil, sliced

¼ cup grated parmesan cheese
Instructions
Slice the chicken breasts into thin slices and pound slightly, forming thin cutlets.
In a shallow pie plate combine the flour with the salt and pepper.
Heat the olive oil in a large skillet over medium heat. Dip each of the chicken cutlets into the flour mixture, coating completely on both sides. Add the coated cutlets to the skillet and brown on both sides. This will take 2-3 minutes per sides.
Remove the browned cutlets to a plate.
Add the sun dried tomatoes, garlic and onions to the pan. Add an additional little bit of olive oil if needed. Cook them over medium low heat until the onions are translucent. This will take between 2- 3 minutes.
Add the chicken broth and stir well, scraping up any browned bits. Add the crushed red pepper. Bring to a boil over medium high heat. Once it boils, reduce your burner to low heat to let it simmer. Add the cream and the basil and let the mixture continue to simmer it until it starts to thicken. Stir in the parmesan cheese. This will thicken the sauce.
Return the chicken to the pan and heat through for 3-4 minutes.
Notes
The easiest way to slice the basil is to take several leaves of the same size and roll them together. Make thin slices all along the roll.