Chicken Dijonnaise is a creamy, comforting recipe that is simple to make. It is fast and easy enough for a weeknight dinner, yet nice enough to serve at a dinner party. The creamy wine sauce has a subtle mustard flavor which makes this simple dish delicious.
If you would like to try some other new recipes that have white meat chicken in a creamy sauce, check out Creamy Lemon Chicken, Creamy Sun Dried Tomato Chicken, Creamy Mushroom Spinach Chicken and Chipotle Chicken Pasta.
You might also like Chicken Tomato Cream Sauce and Imperial Baked Chicken.
SOME THINGS TO KNOW: 
If you prefer chicken thighs instead of breasts, you can substitute them. Just make sure that they are boneless and skinless.
If you do not want to use butter to cook the chicken, you can substitute olive oil.
If you cannot locate heavy cream, you can use whipping cream.
The wine in the recipe can be substituted with chicken broth.
If you do not have shallots, you can use 2 tablespoons of either yellow or green onion.
If you have never pounded a chicken breast before, check out How (and When) to Pound Chicken Breast.
Chicken Dijonnaise would be great served with white rice or Risotto and Asiago Creamed Spinach.
You can prepare this up to a day ahead of time. Once you make the recipe, place each piece of chicken into a baking pan with a cover. Spoon the dijonnaise sauce over the chicken. Cover the dish and refrigerate until you are ready to serve it. Remove the baking dish from the refrigerator and let it come up to room temperature.  Place the baking dish on the center rack of the oven that has been preheated to 350 degrees. Reheat it covered for about 20 minutes until it is hot and the sauce is bubbling. If the sauce has thickened while sitting, simply stir in a few tablespoons of cream or chicken broth to thin it a bit.
You can keep any leftovers in the refrigerator for 2-3 days tightly covered.
The creamy sauce in this recipe could break down and separate in the freezer. Freezing any leftovers is not recommended.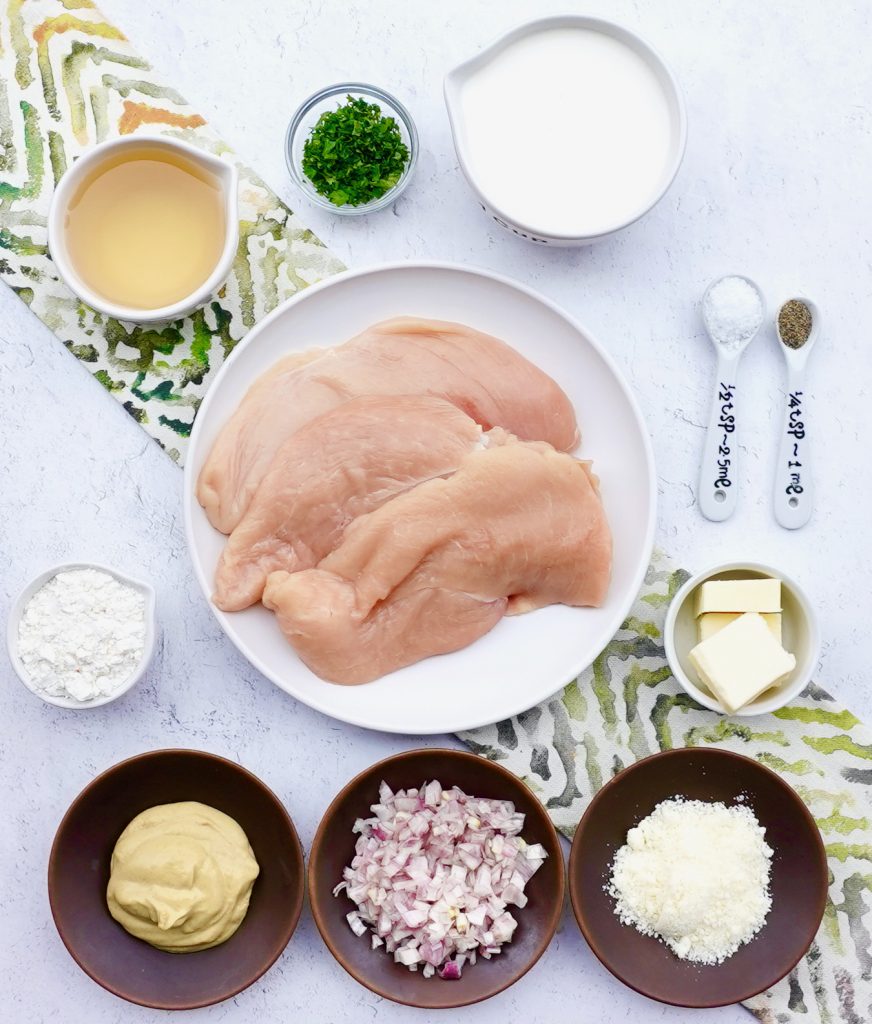 Chicken Dijonnaise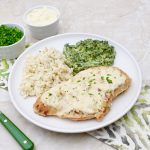 Print This
Ingredients
4 boneless skinless chicken breasts (6 ounces each)

¼ cup all purpose flour

½ teaspoon kosher salt

¼ teaspoon black pepper

3 tablespoons butter

1 large shallot, minced

1 cup heavy cream

½ cup dry white wine

3 tablespoons dijon mustard

2 tablespoon fresh parsley, chopped

2 tablespoons parmesan cheese
Instructions
Pound the chicken breasts so that they are no more than ½ inch thick.
Combine the flour, salt and pepper. This can be done in a shallow pie plate.
Place the chicken into the flour mixture, making sure that each piece is throughly coated with flour.
Melt butter over medium heat in a large skillet.
When the butter starts to bubble, add the chicken to the skillet. Cook the chicken for 3 minutes on the first side. It should be a light golden brown.
Turn the chicken over and cook for an additional 3-4 minutes until it is lightly browned and no longer pink inside. You can use a meat thermometer to check the internal temperature. It needs to at 165 degrees.
Remove the chicken to a plate.
Turn off the burner.
Check the cooking juices and make sure that there are no very dark brown bits in the skillet. If there are, gently dab at them with  a paper towel to remove them.
Turn the burner back on to medium-low heat.
Add the shallots to the skillet and cooking, stirring often for 2 minutes until they begin to soften.
Add the cream and white wine. Once it starts to simmer, let it keep cooking for 2 minutes until it starts to thicken.
Stir in the parsley and parmesan cheese. Combine thoroughly.
Add the chicken back to the skillet and let it simmer for another 2 minutes to heat the chicken through.
Taste the sauce and add an additional pinch of salt if needed.
To serve, place the chicken onto a serving platter and spoon sauce over the top of the chicken.