Imperial Baked Chicken is a deliciously simple recipe that adds a touch of elegance to your weeknight meals. This easy to make dish features chicken breasts that are coated in a flavorful parmesan cheese and bread crumb crust, baked to perfection and served with a creamy, flavorful sauce. This great recipe could easily become a family favorite!
The bread crumb topping gets an extra boost of flavor from some dried spices that you probably have in your pantry. The crumbs are combined with room temperature, softened butter which makes them easy to press on the chicken breasts and keeps the crumbs in place.
Chicken recipes made with boneless chicken breasts like Imperial Baked Chicken are a fast and easy main course for busy weeknights. If you would like to try a couple others, check out Chicken Dijonnaise, Creamy Lemon Chicken and Turmeric Chicken.
SOME THINGS TO KNOW: 
SPECIAL EQUIPMENT NEEDED:
9″ x 13″ Baking pan or baking sheet.
SUBSTITUTIONS:
If you prefer dark meat chicken, replace the chicken breasts with boneless, skinless chicken thighs.
If you do not have dried bread crumbs, you could use Panko crumbs.
You could substitute 1-2 finely chopped garlic cloves for the garlic powder.
The best Parmesan cheese substitutes for this recipe are grated Romano cheese, Asiago cheese or Pecorino cheese.
If you do not have dried parsley flakes, a tablespoon of chopped fresh parsley can be substituted.
WHAT TO SERVE WITH IMPERIAL BAKED CHICKEN:
HOW LONG CAN THE LEFTOVERS BE STORED?
You can keep any leftover Imperial Baked Chicken in an airtight container in the refrigerator for 3-5 days.
You can also freeze the chicken for 2-3 months. Place the chicken into an airtight container or freezer bag.
Defrost the chicken in the refrigerator overnight.
THE BEST WAY TO REHEAT IMPERIAL CHICKEN:
Remove the chicken from the refrigerator about 30 minutes before you plan to reheat it to take the chill off it.
Preheat the oven to 350 degrees. Place the chicken into a baking pan or onto a baking sheet.
Heat the chicken for 10-15 minutes uncovered. You want the chicken to be just heated through with the crumbs crisped. Heating it for too long can dry the chicken out.
You can also reheat the chicken in an air fryer at 350 degrees. This should only take about 5 minutes.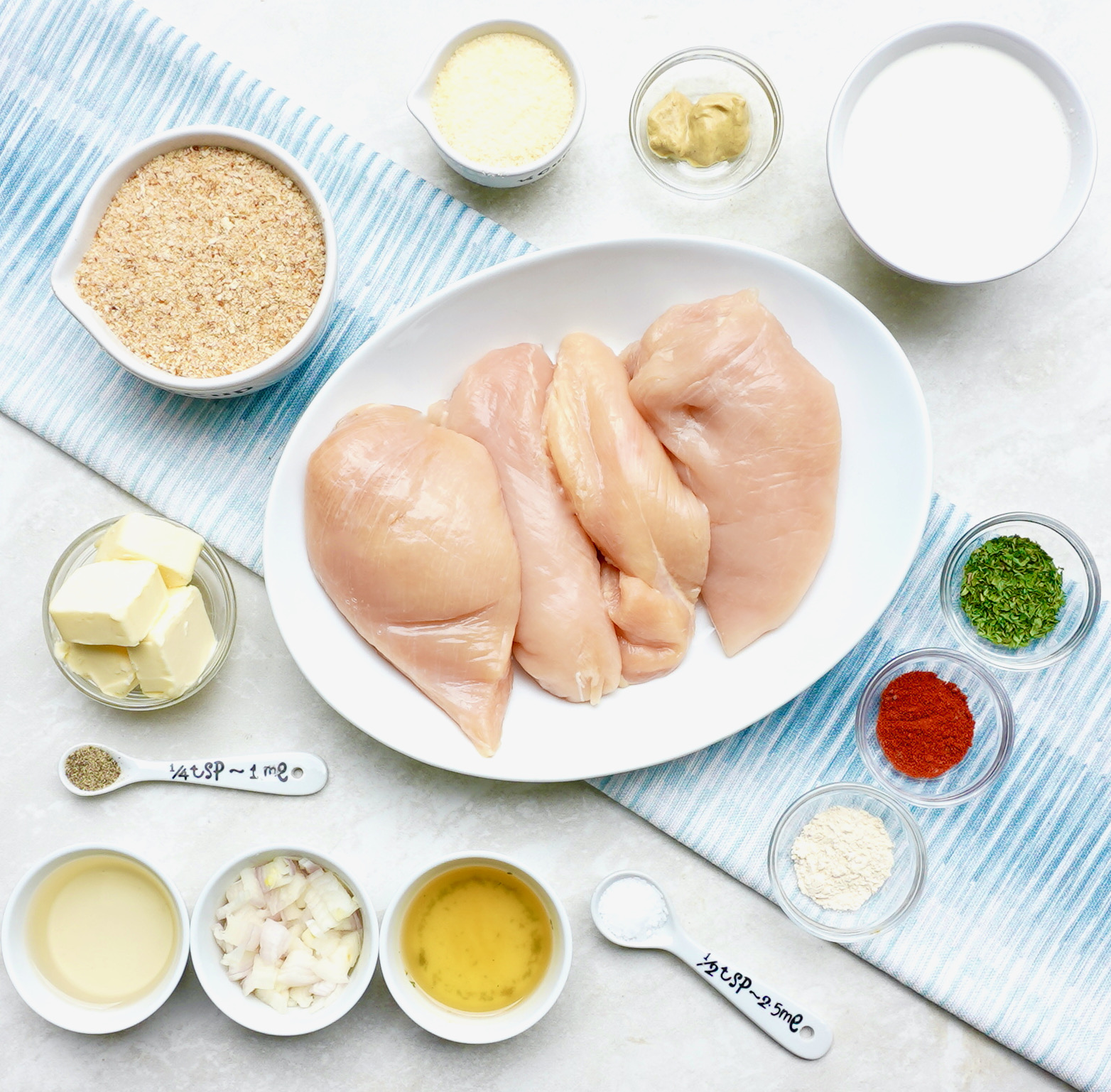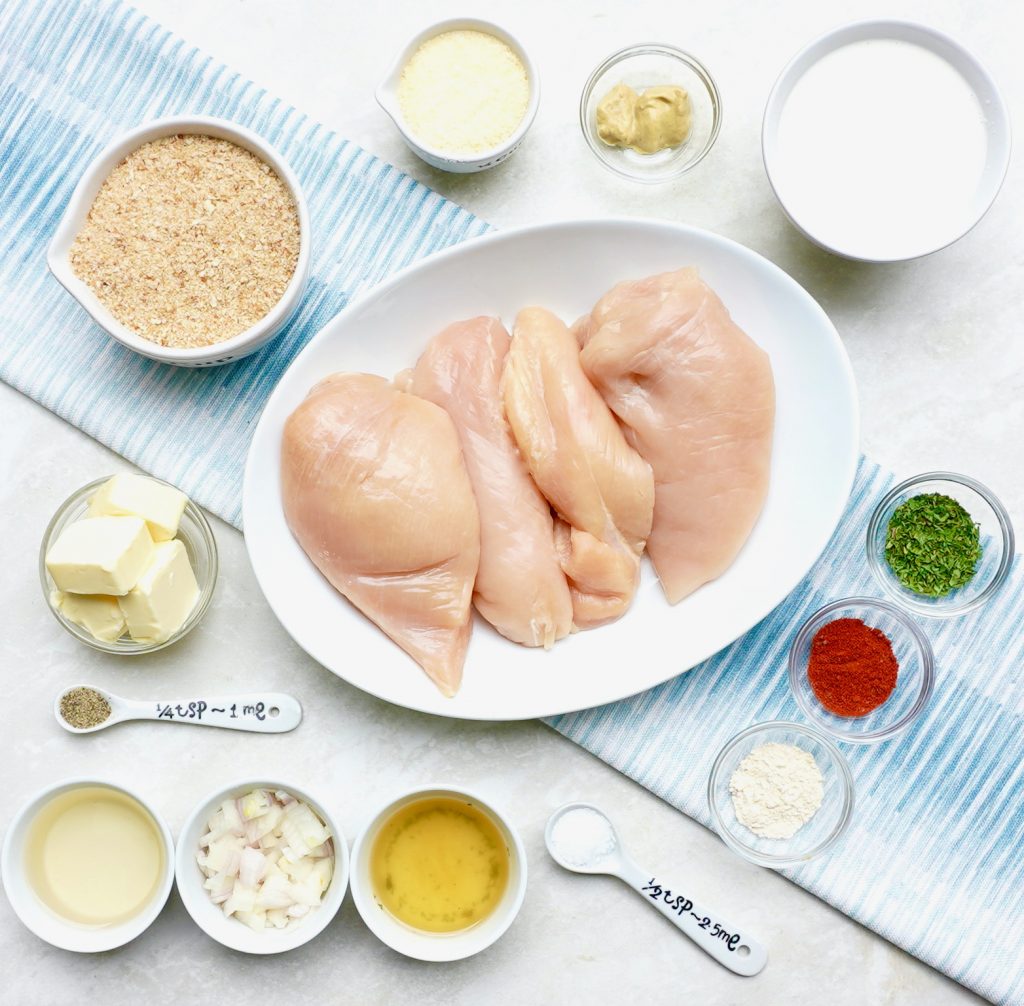 Imperial Baked Chicken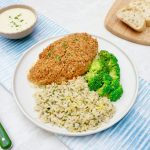 Print This
Ingredients
CHICKEN:

4 boneless skinless chicken breasts (6 oz each)

4 tablespoons butter, softened

1 cup dried plain breadcrumbs

¼ cup grated parmesan cheese

½ teaspoon kosher salt

¼ black pepper

½ teaspoon garlic powder

½ teaspoon paprika

1 teaspoon parsley flakes

SAUCE:

1 cup heavy cream

½ cup chicken broth

¼ cup white wine

1 teaspoon dijon mustard

1 small shallot, minced
Instructions
Preheat your oven to 350 degrees and lightly grease a baking sheet.
In a shallow dish, mix together the softened butter, bread crumbs, parmesan cheese, salt, pepper, garlic powder, paprika, and parsley flakes. (The butter needs to be very soft to mix in easily.) You do not want melted butter just soft and shiny room temperature butter.
Dip chicken breasts into the crumb mixture, ensuring all sides are well coated. Use your hands to press the crumbs into any spots that may have been missed.
Arrange the coated chicken breasts on the prepared baking sheet.
Bake in the preheated oven for 25-30 minutes, or until the chicken is golden brown and cooked through. The internal temperature should reach 165°F (74°C) when measured with a meat thermometer.
While the chicken is baking, prepare the sauce. In a medium saucepan, combine the heavy cream, chicken broth, white wine, dijon mustard, and minced shallot. Bring it to a simmer over medium heat, stirring occasionally.
Continue to cook the sauce for about 5 minutes, or until it has reduced and thickened slightly. Taste and adjust the seasoning, if necessary.
Once the chicken is done, allow it to rest for a few minutes before serving. Spoon the sauce over the chicken just before serving or serve the sauce on the side.
And there you have it, your Imperial Baked Chicken is ready to be enjoyed! This main dish is perfect for a family dinner or a special occasion. Pair it with a simple salad or steamed vegetables and a glass of white wine for a complete meal.