Red Pepper Green Beans is an easy side dish that is colorful, flavorful and made with simple ingredients. These spicy green beans would make a festive addition to a holiday buffet or dinner.
These easy skillet green beans can be prepared ahead of time and reheated when you are ready to serve them. They can also be served at room temperature. This is a fast recipe to make with a cook time of only 7 minutes so it is also a perfect side dish for weeknight dinners. They are a low carb fun variation on basic green beans.
Healthy vegetable side dishes are a great addition to a holiday meal. Check out Roasted Butternut Brussel Sprout Salad for another holiday option. You might also like Roasted Brussels Sprouts with Sweet Potatoes, Pomegranate Quinoa Salad, Quinoa Citrus Salad, and Roasted Butternut Squash Quinoa Salad.  They are all different ways to add healthy eating to your holiday meals and just might become your favorite side dishes.
If you want to try another green bean recipe check out Green Bean Succotash. It is a delicious side dish for the summer.
SOME THINGS TO KNOW:FAQ'S
​INGREDIENT TIPS:
Look for fresh, crisp whole green beans with a vibrant green color. Avoid beans that are limp or have brown spots. If fresh green beans are not available, frozen beans can be a good substitute as they retain most of their nutrients. Read How to Buy, Prep and Cut Green Beans so you can start with the best green beans.
Shallots have a milder and slightly sweeter taste compared to onions. Make sure they are firm and free from sprouts.
SPECIAL EQUIPMENT NEEDED:
Large Skillet: A large skillet is needed to sauté the shallots and cook the green beans. A nonstick skillet or stainless steel pan would work well.
Colander (optional): Useful for washing the green beans and draining them after cooking.
Cutting Board: For chopping the shallots, parsley, and trimming the green beans.
Chef's Knife: A sharp knife is essential for efficiently and safely cutting the vegetables and herbs.
Measuring Spoons and Cups: These are necessary for accurately measuring the olive oil, Dijon mustard, red wine vinegar, salt, and crushed red pepper.
Wooden Spoon or Spatula: To stir the ingredients while cooking, ensuring even cooking and preventing sticking or burning.
SUBSTITUTIONS:
If you cannot find fresh green beans at the grocery store, frozen green beans are a good substitute. Just be sure to thaw them before cooking.
If you do not have olive oil, you can use another neutral-flavored oil like avocado oil or vegetable oil. You could also use sesame oil or melted butter for a richer flavor.
Shallots can be substituted with a combination of onions and garlic. Use a one half of a small onion or one quarter of a medium onion, and add one clove of garlic to mimic the shallot's flavor.
If you do not  have Dijon mustard, you can use whole grain mustard for a similar tangy flavor. A bit of yellow mustard could also work, though the flavor will be slightly different.
Apple cider vinegar or balsamic vinegar can be used as substitutes for the red wine vinegar.
You can use sea salt or regular table salt in place of kosher salt. Be cautious with the amount, as table salt is finer and more salty in flavor so you might need less of it.
If you don't have crushed red pepper, you can substitute it with a pinch of cayenne pepper for heat. You can omit it if you prefer a non-spicy dish or use some ground black pepper.
Fresh bell peppers can be used in place of roasted red peppers. You can roast them yourself or simply sauté them.
If parsley is not available, dried parsley can be a substitute, You would need 2 teaspoons of dried parsley for this recipe.
HOW TO STORE RED PEPPER GREEN BEANS:
The green beans will last in the refrigerator for about 3 to 5 days.Allow the cooked green beans to cool to room temperature.Place the cooled green beans into an airtight container. You can also use a sealable plastic bag.
Properly stored, the beans can last in the freezer for up to 6 months. Make sure that the green beans are completely cooled.Place the red pepper green beans into a freezer safe, airtight container or a heavy duty freezer bag. If you are using a bag, try to remove as much air as possible before sealing.
Defrost the green beans overnight in the refrigerator.
HOW TO REHEAT RED PEPPER GREEN BEANS:
You can warm the beans in a large saucepan on the stovetop over medium heat, stirring occasionally, until heated through.
You can also reheat the beans in a microwave oven. Place the beans into a microwave-safe dish, cover, and heat for 1-2 minutes or until heated through.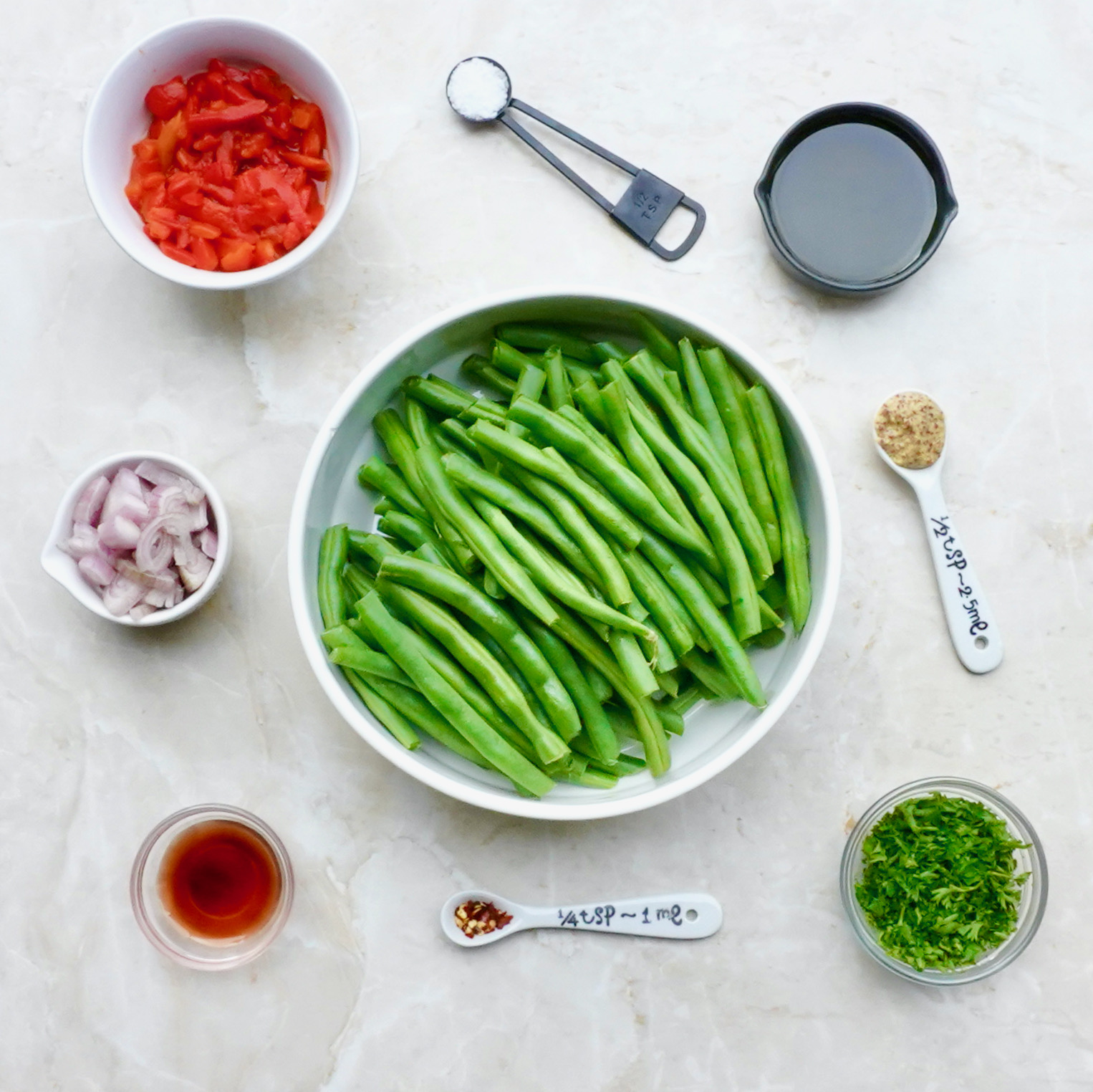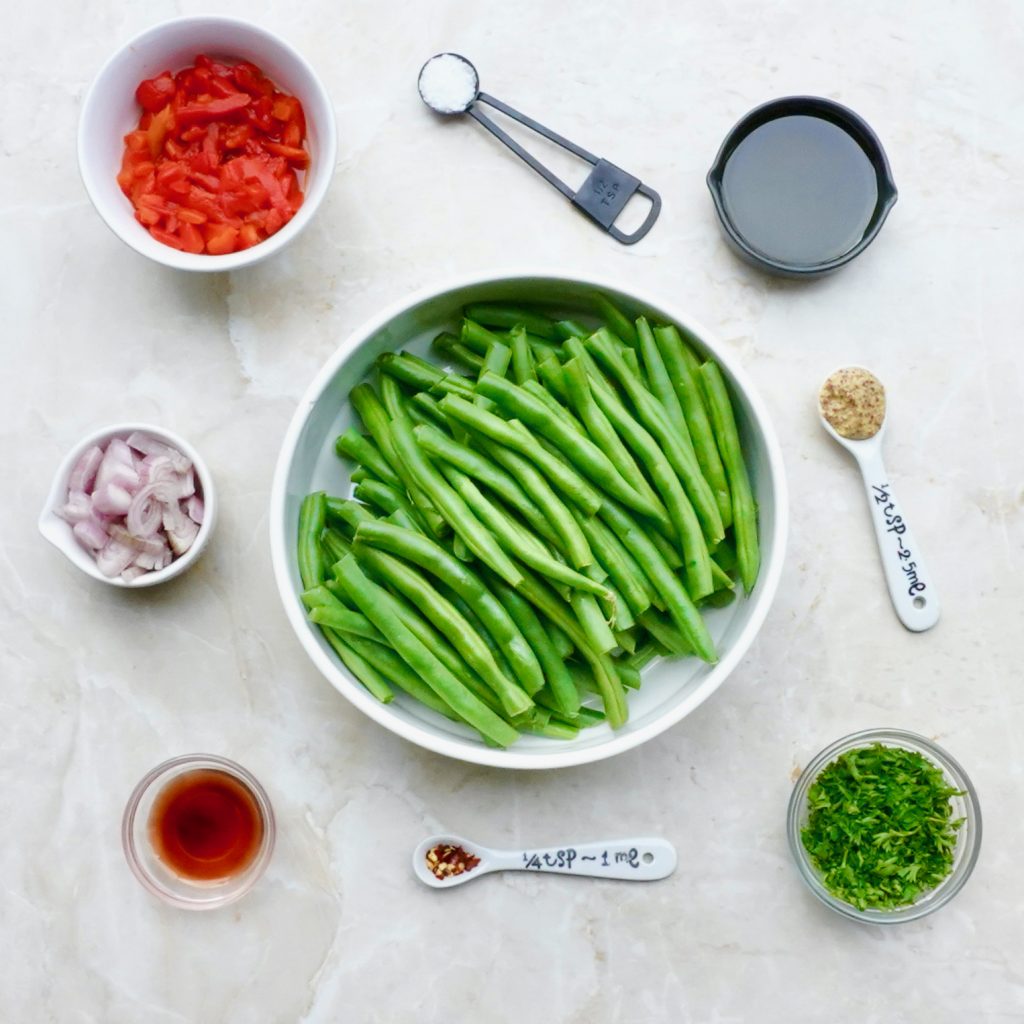 Red Pepper Green Beans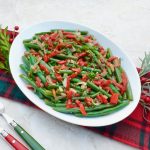 Print This
Ingredients
1 pound thin green beans, ends trimmed

2 tablespoons olive oil

1 small shallot, minced

½ teaspoon Dijon mustard

1 teaspoon red wine vinegar

½ teaspoon kosher salt

¼ teaspoon crushed red pepper flakes

1 roasted red bell pepper, sliced (prepared, jarred peppers)

2 tablespoons fresh parsley, chopped.
Instructions
Bring a large skillet of water with a little salt to a boil over medium-high heat.
Add the green beans. Reduce the heat to medium low and simmer, uncovered for 5 minutes until they are tender but still slightly crisp and bright green.
Drain beans and place them into a bowl of ice water to stop the cooking process.
Place the beans onto paper towels to dry.
Add the olive oil to the pan and heat over medium low heat.
Add the shallots and cook, stirring occasionally until they just begin to soften.
Turn off the heat and stir in the Dijon mustard, red wine vinegar, salt, and crushed red pepper. Combine well.
Add the beans back to the pan.
Add the roasted red peppers. Stir to combine everything well.
Turn the heat to medium low to heat the beans through. This will take 2-3 minutes.
Remove the beans from the heat, stir in the parsley and serve.
These can be prepared a day ahead of time. Place them covered into the refrigerator.
If you are planning on serving them warm, simply wait to do the last step of reheating until you are ready to serve them.
If you are serving them at room temperature, remove them from the refrigerator 2 hours before serving.