Roasted Brussels Sprouts and Sweet Potatoes is one of those simple side dishes that would be great for a weeknight dinner and it could also make an appearance on your Thanksgiving menu or holiday table.
This delicious side is a healthy addition to your holiday dinner. Roasted veggies are combined with a bit of maple syrup and balsamic vinegar to make this gluten – free recipe. It is pretty and colorful and would go with just about any protein you would be serving. The veggies can be prepped ahead of time and the roasting process is easy.
If you want to try another sweet potato recipe, check out Twice Baked Sweet Potatoes. If you would like to try another Brussels sprouts recipe, check out Roasted Butternut Brussel Sprout Salad.
SOME THINGS TO KNOW:
You will need to trim the brown base at the bottom of the Brussels sprout. This is where it was attached to the plant and it is tough. If you have never prepared fresh Brussels sprouts before, check out How to Trim and Cut Brussels Sprouts.
There are two types of sweet potatoes that are most commonly found in the US. Beauregard sweet potatoes have a purplish red skin and a deep orange interior. Jewel sweet potatoes have a lighter color skin and an orange interior. You could use either one in this recipe. When selecting sweet potatoes you want to make sure to choose small to medium-sized sweet potatoes between 4-8 ounces. This size tends to be less starchy than the larger sweet potatoes and moister. Make sure that the skin is smooth and that there are no bruises, spots or cracks on them.
You can substitute the red onion with yellow onion, Spanish onion or sweet onion.
You can partially prepare this several hours before you are ready to roast it. Peeled and cut sweet potatoes do not turn brown as fast as white potatoes. You can combine all the ingredients up to the red onion and keep them in a bowl or on a large baking sheet covered until you are ready to roast them.
You can store any Roasted Brussels Sprouts and Sweet Potatoes leftovers in the refrigerator for 2-3 days. Place them into an airtight container.
You can also freeze any leftovers in an airtight freezer container for 2-3 months.
To reheat the defrosted vegetables, place them onto a baking sheet in a preheated 350 oven for about 10 minutes until heated through. They can also be reheated in an air fryer set to 350 degrees in under 5 minutes.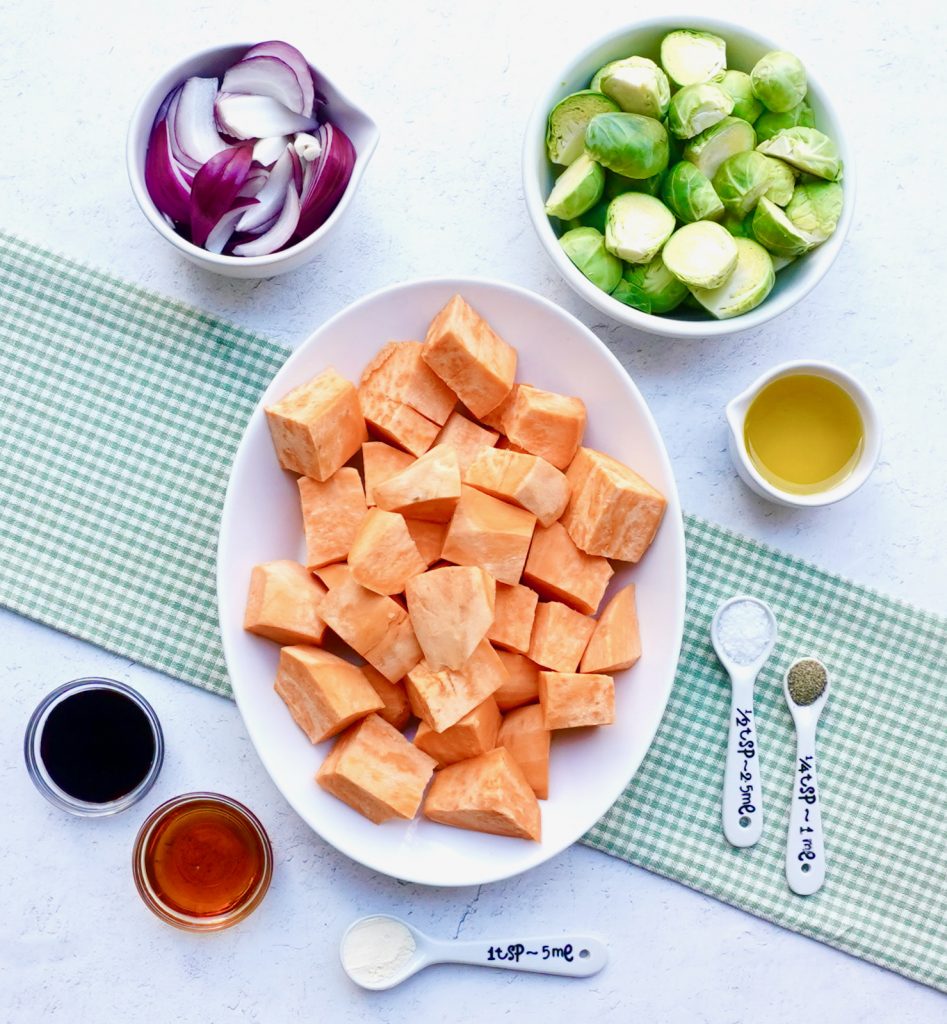 Roasted Brussels Sprouts and Sweet Potatoes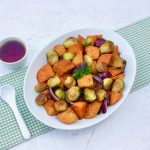 Print This
Ingredients
16 ounces fresh Brussels sprouts, bottom removed and cut in half
20 ounces sweet potatoes, peeled and cut into 1 inch cubes (chose 4-8 ounce potatoes)
¼ cup extra-virgin olive oil
1 teaspoon garlic powder
1 teaspoon kosher salt
½ teaspoon black pepper
½ cup red onion, sliced ½" thick
1 tablespoon balsamic vinegar
1 tablespoon maple syrup
Instructions
Preheat the oven to 400 degrees.
Place the Brussels sprouts into a large bowl. Add the sweet potatoes, olive oil, garlic powder, salt and pepper. Stir to combine.
Line a large sheet pan with either parchment paper or aluminum foil. This will make clean up nice and easy. You could also use a 9″ x 13″ baking dish.
Place the vegetable mixture onto the sheet pan in a single layer.
Roast the vegetables for 20 minutes.
Remove the sheet pan from the oven and add the red onions. Stir them into the Brussels sprouts and sweet potatoes.
Place the pan back into the oven for an additional 15 minutes.
In a small bowl, whisk together the balsamic vinegar and maple syrup. Pour the mixture over the roasted vegetables and stir to combine.