Summer is here and the stores are full of those pretty seedless watermelons ripe and ready to go. You could buy one and make this Watermelon Cooler.
My friend Thom, who is my coworker and fellow foodie brought me this recipe a couple weeks ago and told me that I should make it and post it on the blog. He is an amazing cook and baker so if he tells me something is good, I will  always try it.
I made the Watermelon Cooler and I think it is the perfect summer drink. It is slushy and cold. It has a nice watermelon flavor with a undertone of cucumber and it is not overly sweet. It is also a very pretty drink which would be a nice to serve for summer entertaining. This recipe is non alcoholic but you could certainly add some vodka, gin or rum if you want to turn it into a cocktail.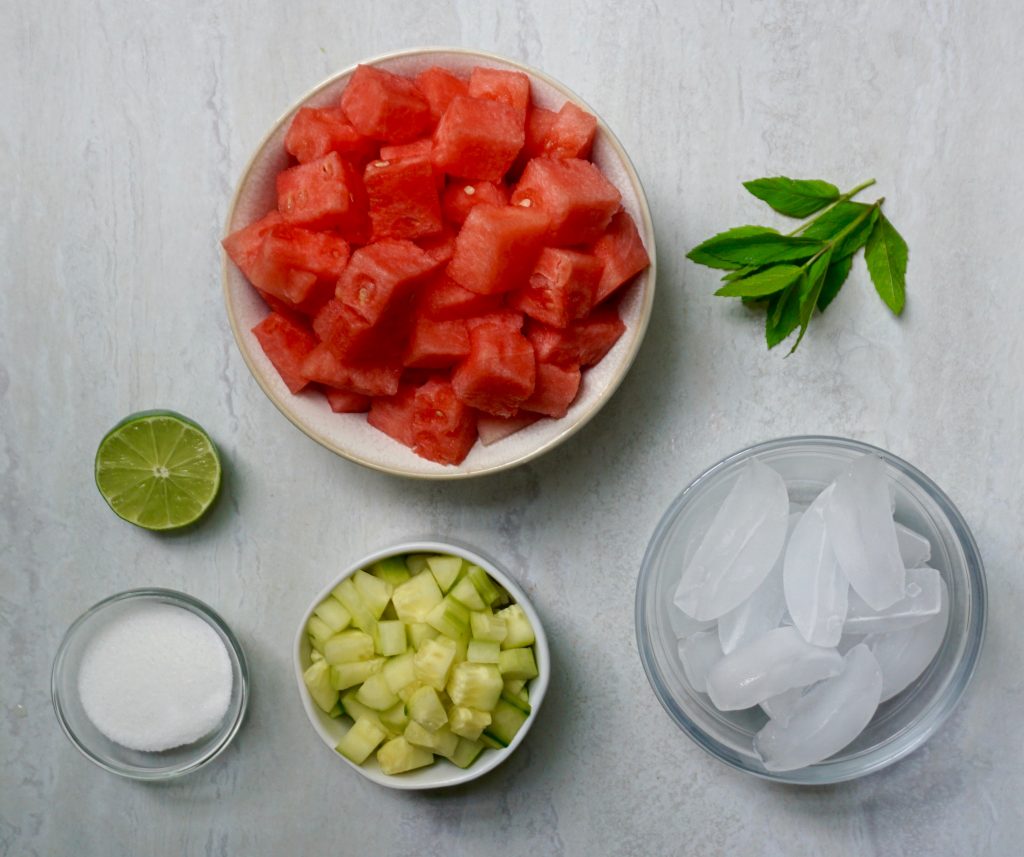 Watermelon Cooler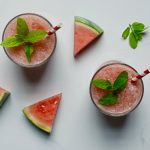 Print This
Ingredients
5 cups seedless watermelon, cut into 1 inch cubes
1/2 cucumber, peeled and cut into 1 inch cubes
10 mint leaves, chopped
3 tablespoons granulated sugar
1 tablespoon fresh lime juice
pinch of salt
3-4 cups ice cubes
Mint leaves for garnish
Optional:
1 shot vodka, gin or rum added to each glass
Instructions
Place the watermelon cubes, cucumber cubes, mint, sugar, lime juice and salt into your blender. Process until the mixture is smooth.
Pour the mixture through a sieve or strainer over a large bowl. Press down on the pulp with a spoon to get all of the liquid out. Discard the pulp that remains in the sieve.
Place the mixture back into the blender and add your ice cubes. Process until the mixture is thick and slushy.
Pour into four 8 ounce glasses and add 1 shot glass of alcohol if you are using it. Stir. Garnish with fresh mint leaves and straws.