There is nothing like a delicious, flaky Pumpkin Cream Cheese Puff Pastry Braid to set the mood for autumn. Perfect for entertaining or a cozy night in, this simple recipe captures all the flavors we love about the season.
This recipe calls for frozen puff pastry which makes the process easy. The pumpkin cream cheese filling is made with a few simple ingredients and it comes together fast. The flaky puff pastry and pumpkin filling are a good combination.
Pumpkin Cream Cheese Pastry Braid makes an easy dessert but this pumpkin pastry could also be served for breakfast or at brunch during the holiday season with some maple syrup.
If you like the combination of pumpkin, cream cheese and pumpkin spice check out Cream Cheese Pumpkin Bread. If you want to try some other easy recipes with pumpkin, check out Pumpkin Martini, Pumpkin Panna Cotta, Pumpkin French Toast and Pumpkin Spice Ricotta Cookies. They are all delicious treats for fall.
SOME THINGS TO KNOW: FAQ'S
INGREDIENT TIPS:
Read about how to make your own Pumpkin Puree if you want to try to make it yourself.
Puff Pastry is a flaky pastry made from laminated dough. Click the link to read about it.
SPECIAL EQUIPMENT NEEDED:
Baking sheet
Parchment Paper
Large bowl
Electric mixer or whisk
Pastry brush
SUBSTITUTIONS:
If you're out of  store -bought puff pastry, you can use a sheet of pie dough as a base. The texture will be different but still delicious.
Fresh pumpkin puree works just as well as canned pumpkin puree.
Substitute with ¼ cup of granulated sugar and a teaspoon of molasses for the brown sugar.
Allspice or pumpkin pie spice can be used in place of the cinnamon and nutmeg.
HOW TO STORE PUMPKIN CREAM CHEESE PUFF PASTRY BRAID:
If you plan to eat the braid within a day or two, you can store it at room temperature. Simply cover it loosely with aluminum foil or plastic wrap and place it in a cool, dry area. Avoid sealing it too tightly, as this can make the pastry become soggy.
For longer storage you can refrigerate the braid. Place it in an airtight container to keep it from absorbing other flavors in the fridge. It should remain fresh for up to 5 days when stored this way.
The braid can also be frozen. Let the braid cool completely before freezing. Wrap it tightly in aluminum foil and then place it in a resealable plastic bag. Squeeze out as much air as possible before sealing the bag. Properly stored, Pumpkin Cream Cheese Puff Pastry Braid can last up to 2-3 months in the freezer.
HOW TO REHEAT PUMPKIN CREAM CHEESE PUFF PASTRY BRAID:
To serve, you can reheat it in the oven at 350°F (175°C) for about 5-7 minutes to regain some of its flakiness.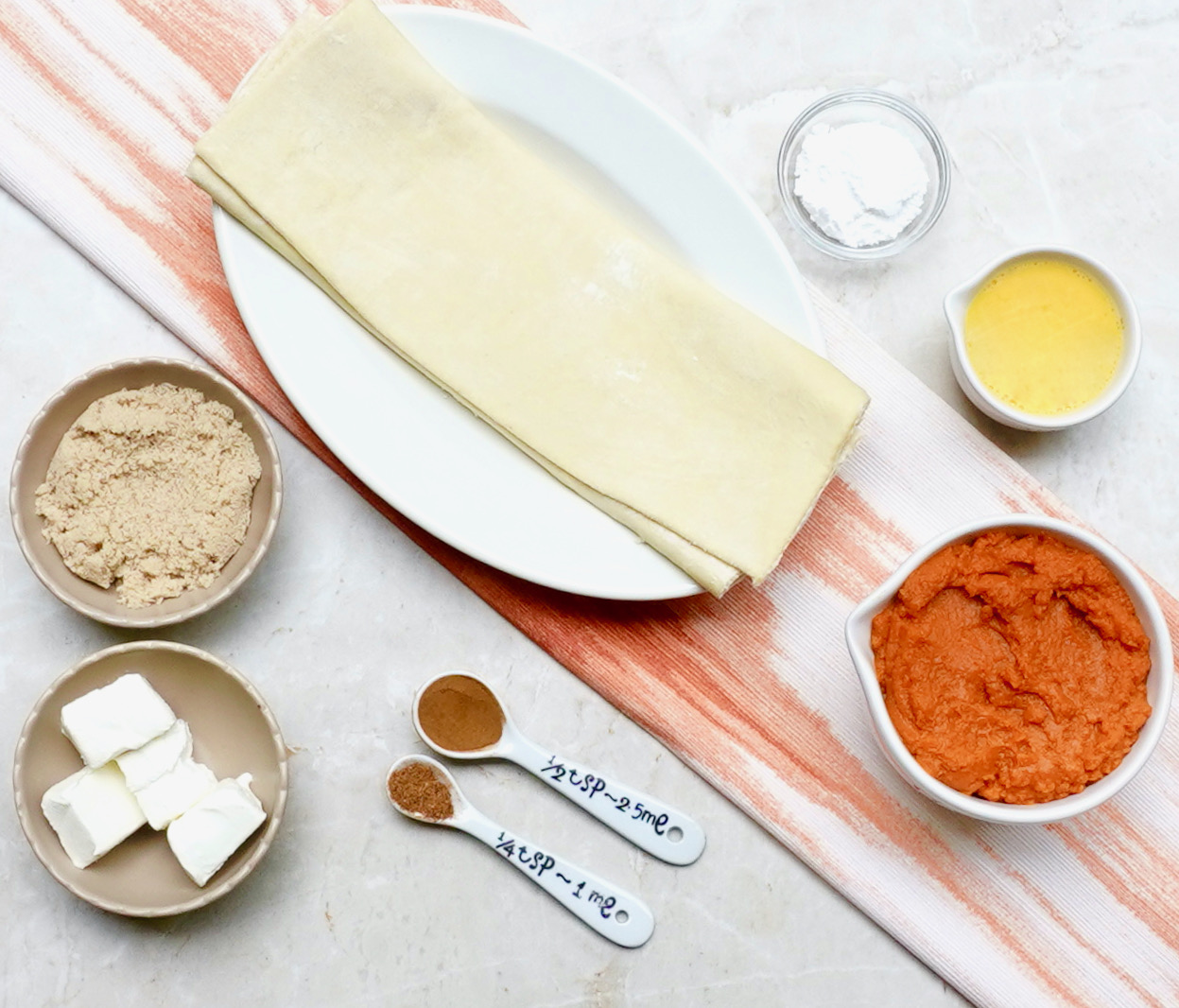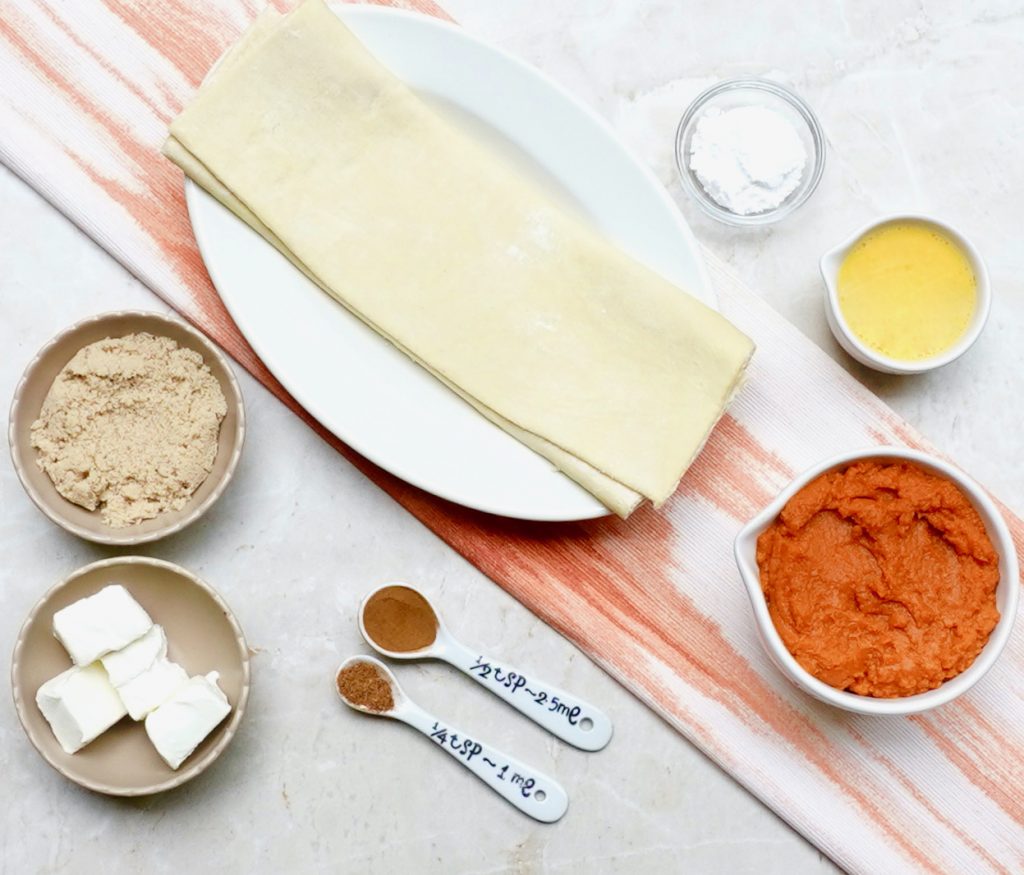 Mix together the cream cheese and brown sugar. Add the pumpkin, cinnamon and nutmeg.​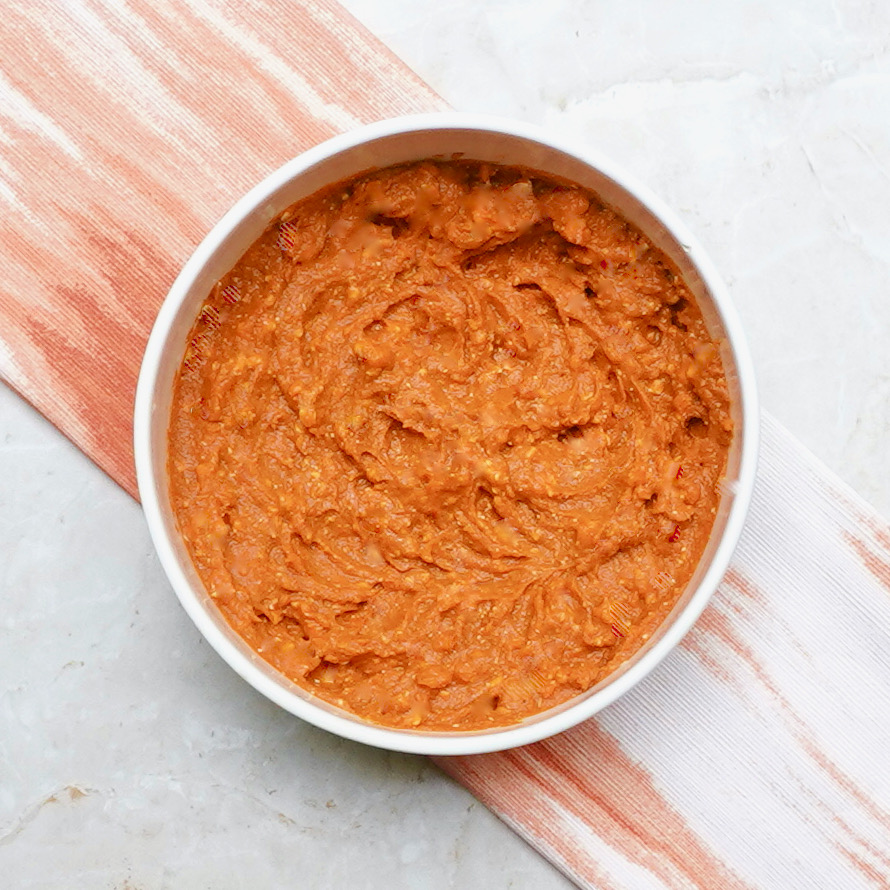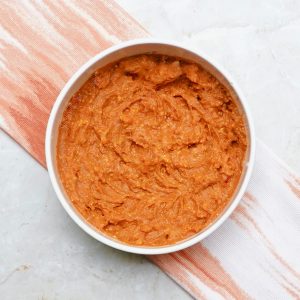 Unfold the puff pastry on a parchment paper lined baking sheet. Spoon the pumpkin over the center section. Cut 1″ strips down each side of the dough. Fold the strips over the pumpkin filling.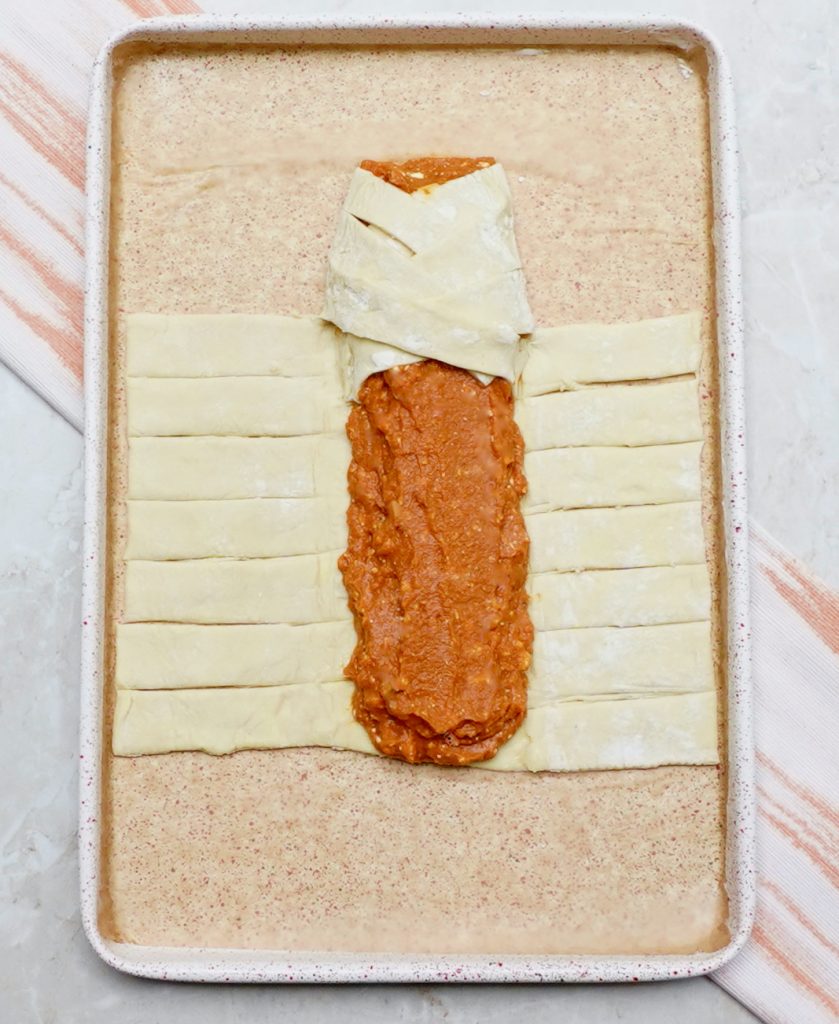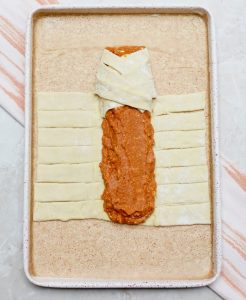 Brush the egg wash over the entire braid.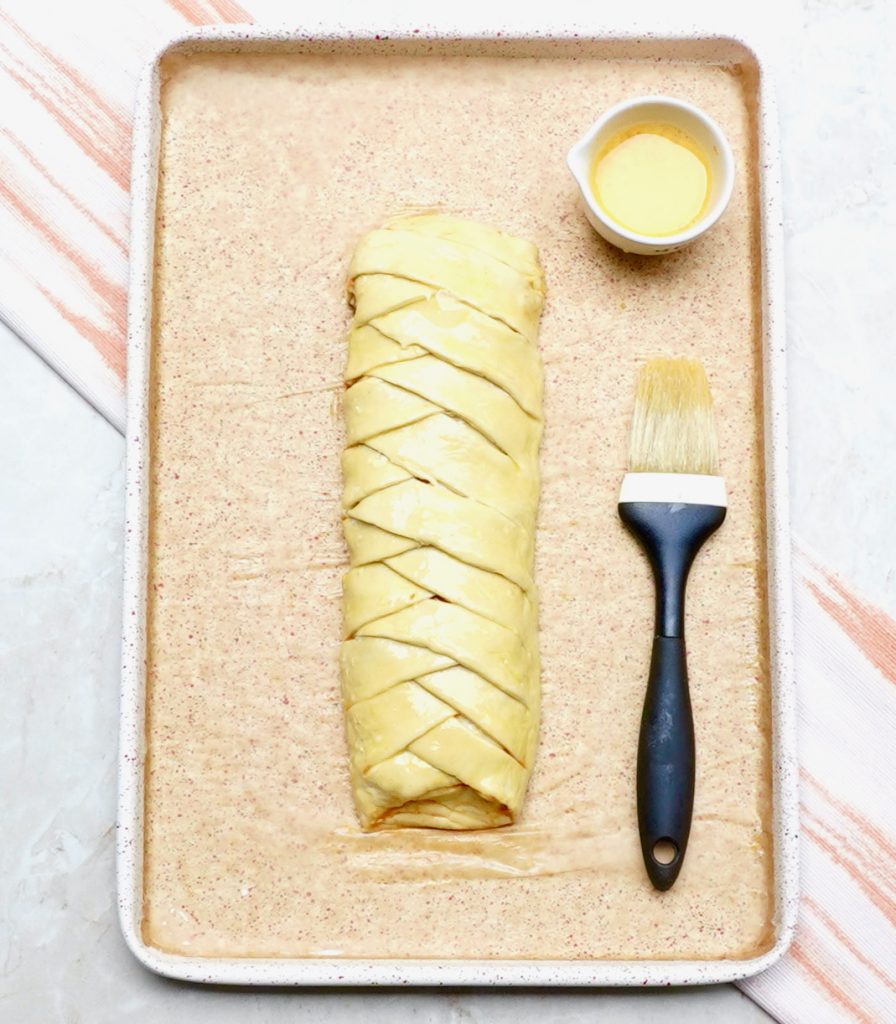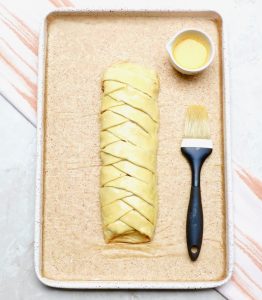 Pumpkin Cream Cheese Puff Pastry Braid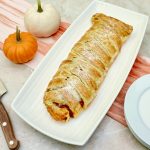 Print This
Ingredients
1 sheet of puff pastry, thawed

1 cup canned pumpkin puree

¼ cup cream cheese

¼ cup of brown sugar

½ teaspoon ground cinnamon

¼ teaspoon ground nutmeg

1 egg, beaten

Optional: 1 tablespoon of powdered sugar for dusting
Instructions
Start by preheating your oven to 400°F (200°C).
In a mixing bowl, combine the the cream cheese and brown sugar. Mix the cream cheese mixture together well until light and fluffy.
Add the pumpkin puree, ground cinnamon, and ground nutmeg. Mix until well incorporated.
Line a baking sheet with a sheet of parchment paper.
Place the puff pastry dough onto the parchment paper lined baking sheet and unfold it. You will see 3 equal parts created where the dough was folded.
Spread the pumpkin mixture over the middle third center of the dough.
Use a sharp knife or pizza cutter to cut strips along the outer thirds of the pastry in 1-inch intervals.
Fold strips over the pumpkin in the center filling area, alternating sides to create a braided effect.
Beat the egg with a fork, making sure that the egg yolk and egg whites are thoroughly combined. Brush the beaten egg over the top of the dough and sides of the braided pastry for a golden finish.
Place the braid into the 400 degree oven and bake for 25-30 minutes, or until the pastry is golden brown.
Allow the braid to cool for a few minutes to room temperature before dusting with powdered sugar, if using. Slice and serve.