Banana Chocolate Chip Sheet Cake is a simple tender cake made with very few ingredients. It is easy to make, serves a group and has delicious banana flavor.
The key to this cake and any recipe that requires bananas is the ripeness of the bananas. Long after you think you should throw bananas away, they become perfect for baking. Overripe bananas have intense flavor.
Banana Chocolate Chip Sheet Cake is one of those casual cakes that you can bring to a picnic, potluck or for special occasions. You can make the glaze to finish it off or skip that and still have a delicious dessert.
If you like the combination of bananas and chocolate chips check out Chocolate Chip Banana Bread  and Banana Chocolate Chip Muffins. They both have similar flavors to a banana chocolate chip cake.
If you would like to try another chocolate chip cake, check out Mini Chip Layer Cake. You might also like Chocolate Chip Sugar Cookies. If you like chocolate cake check out Chocolate Guinness Cake.
SOME THINGS TO KNOW:FAQ'S
INGREDIENT TIPS:
If you don't have a blender or food processor, you can mash the bananas using a fork. It will give a chunkier texture, which some people prefer.
If you have leftover pureed banana, store it in an airtight container in the refrigerator and use it for smoothies or as a topping for oatmeal or yogurt.
You might want to read Can Bananas Ever Be Too Brown For Baking? so you start off with perfectly ripe bananas.
SPECIAL EQUIPMENT NEEDED TO MAKE BANANA CHOCOLATE CHIP SHEET CAKE:
9″ x 13″ baking pan or cake pan: one that can accommodate the batter and allow it to spread evenly.
Parchment Paper (Optional): Using parchment paper can help prevent sticking and makes cleanup easier. You can also lightly grease the cake pan if you do not have parchment paper.
Medium bowl: For mixing the dry ingredients.
Large Bowl: For blending the wet ingredients and eventually combining them with the dry ingredients.
Electric Mixer: This helps to blend the butter and sugar effectively. If you don't have an electric mixer, a manual hand whisk and some elbow grease will do, but it may take longer to get the butter and sugar creamy.
Rubber Spatula: For scraping down the sides of the bowl and spreading the batter evenly in the cake pan.
Toothpick or Skewer: For checking the doneness of the cake. When inserted into the center of the cake, it should come out clean or with just a few crumbs, indicating the cake is done.
Wire Rack: To cool the cake evenly.
SUBSTITUTIONS:
You can replace half of the all-purpose flour with whole wheat flour for a denser texture and nuttier flavor.
The brown sugar can be replaced with granulated sugar.  It will  give a lighter flavor to the cake.
The butter can be substituted with margarine. Coconut oil can also be used though it can provide a slight coconut flavor.
Semisweet chocolate chips can be substituted with chocolate chunks for bigger pockets of melted chocolate. You can also use cacao nibs for a less sweet, more bitter crunch.
HOW TO STORE BANANA CHOCOLATE CHIP SHEET CAKE:
The cake should remain fresh for up to 2-3 days at room temperature.Once the cake has completely cooled to room temperature, cover it with plastic wrap or aluminum foil to prevent it from drying out.Store it in a cool, dry place away from direct sunlight.
Stored in the refrigerator, the cake will stay fresh for up to 5 days. Place the cake in an airtight container or wrap it tightly in plastic wrap or aluminum foil to prevent it from absorbing other odors in the fridge.Before serving, you might want to let it come to room temperature for the best flavor and texture.
The cake can be frozen for up to 3 months. If the cake is already glazed, first place it on a baking sheet pan and freeze until the glaze is firm (about 1-2 hours). Wrap it tightly in plastic wrap, making sure there are no exposed areas. For an extra layer of protection, you can then wrap it in aluminum foil or place it inside a freezer-safe zip-top bag. This helps prevent freezer burn and the cake absorbing any odors.
When ready to serve the frozen cake, it's best to thaw it slowly in the refrigerator to maintain its moisture and prevent it from becoming soggy.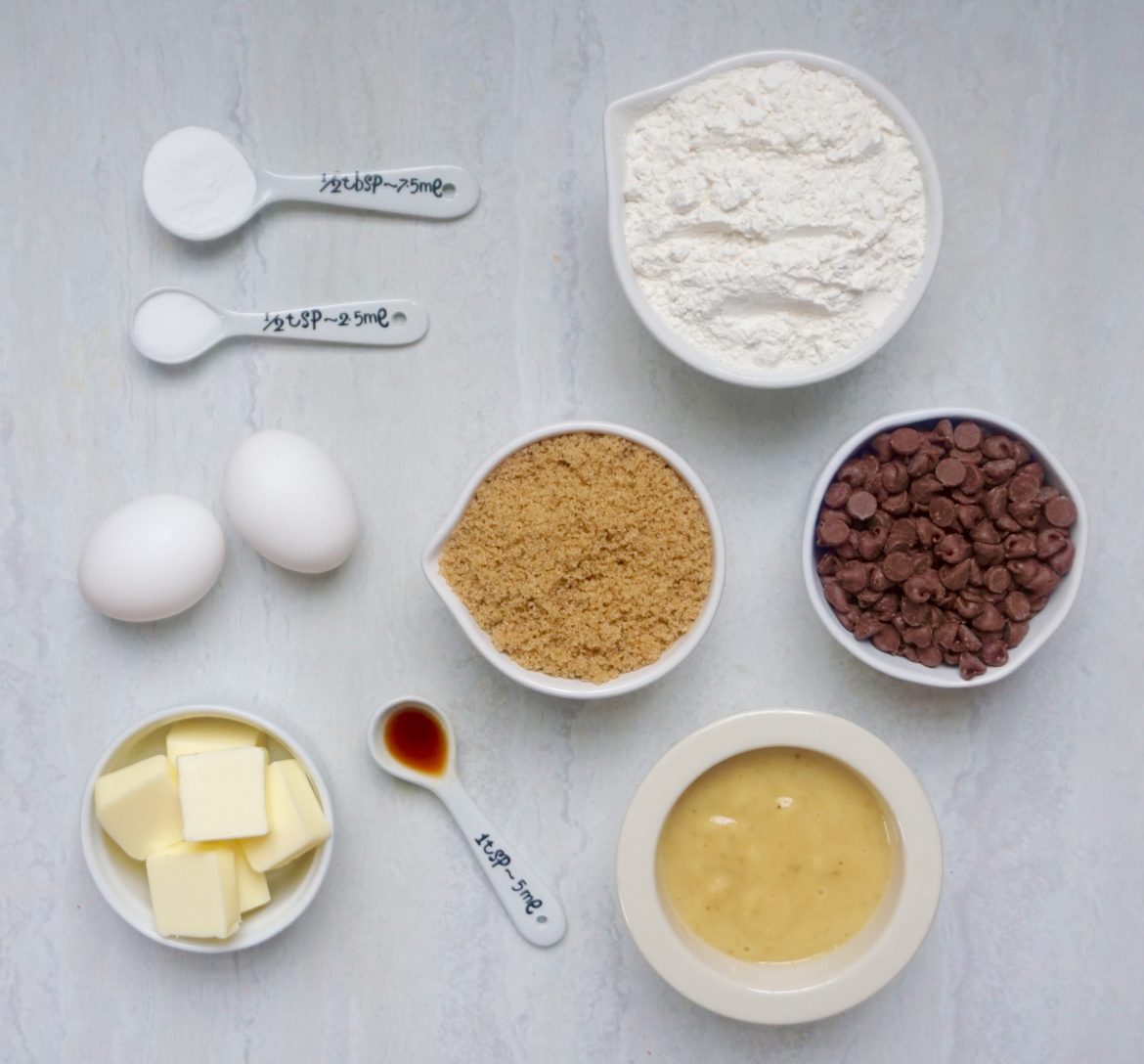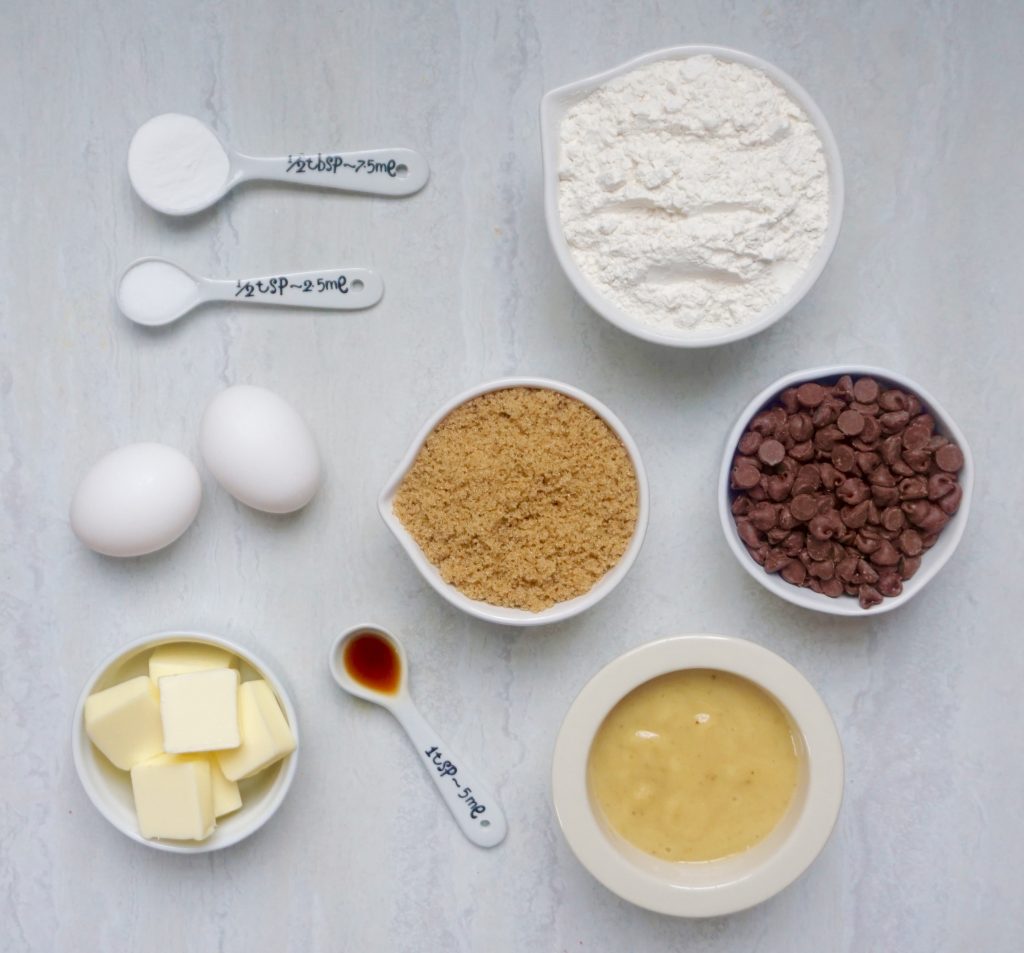 Banana Chocolate Chip Sheet Cake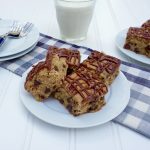 Print This
Ingredients
CAKE:

1 ¾ cup all purpose flour

1 ½ teaspoons baking powder

½ teaspoon salt

1 ¼ cup packed brown sugar

¾ cup unsalted butter, softened (1 and ½ sticks)

2 large eggs

1 teaspoon vanilla extract

1 ½ cups pureed banana (3 bananas) *see note

2 cups semisweet chocolate chips

OPTIONAL GLAZE:

1 cup confectionary sugar

1 tablespoon cocoa powder

1 tablespoon light corn syrup

1 tablespoon milk
Instructions
Preheat the oven to 350 degrees
Grease a 9 x 13 baking pan.
Mix flour, baking powder and salt in a small bowl. Combine well and set aside the dry ingredients.
Beat the butter and sugar in a large mixing bowl with an electric mixer on low speed until creamy. Beat in the eggs, one at a time. Add vanilla extract.You can also do this in the bowl of a stand mixer with a paddle attachment.
Mix in the mashed banana and mix well. Slowly beat in the flour mixture.
Add the chocolate chips and stir them into the batter.
Pour the cake batter into the prepared pan. Bake for 20- 25 minutes until the top is golden brown and the cake is set.
Cool in the pan for a few minutes then, remove it from the pan and place it onto a wire rack.
If you are glazing the cake, let it cool completely to room temperature before adding the glaze.
OPTIONAL GLAZE:
Combine the confectionary sugar and cocoa powder. Add the corn syrup and milk. Stir. You want a thick liquid that can be drizzled but is not so thin that it will slide off the cake. If the glaze is too thick, add more milk, one teaspoon at a time. Stir well after each addition until you get the right consistency.
Drizzle the glaze using back and forth motions. Let the cake sit for about 30 minutes until the glaze hardens.
Cut the cake into 2 inch squares or the portion size that you prefer.
Notes
To get the best results you need very ripe bananas. The skin should be turning slightly dark and the banana should be very soft inside with a deep golden color.