When I started baking on a snowy day a couple of weeks ago, I did not intend to bake a Banana Chocolate Chip sheet cake. I was trying to create a chocolate chip cookie bar with bananas. I had a lot of bananas that were very ripe and I wanted to use them up.  Overripe bananas are perfect to bake with.
I found my old recipe for chocolate chip blondies and began changing some of the ingredient measurements. I cut back on the butter as I thought that the bananas would compensate for the removal of some of the fat. I also cut back on the chocolate chips as I thought the bananas would add a lot of extra sweetness. Then I took a guess on how many bananas to use.
I totally struck out. I ended up with a dry, sheet cake instead of a cookie type bar. The chocolate chips were not dense enough. It didn't taste like bananas. It was pretty bad.
Luckily I had a lot of bananas. Not to be deterred, I tried again. This time I added an extra banana. Then I added back the butter and chocolate chips that I had I removed and remade the bars. Well I thought they were going to be bars…
I didn't get bars the second time either. What I got was this incredibly moist sheet cake that has a rich banana and chocolate flavor.  I am so glad that I kept at it!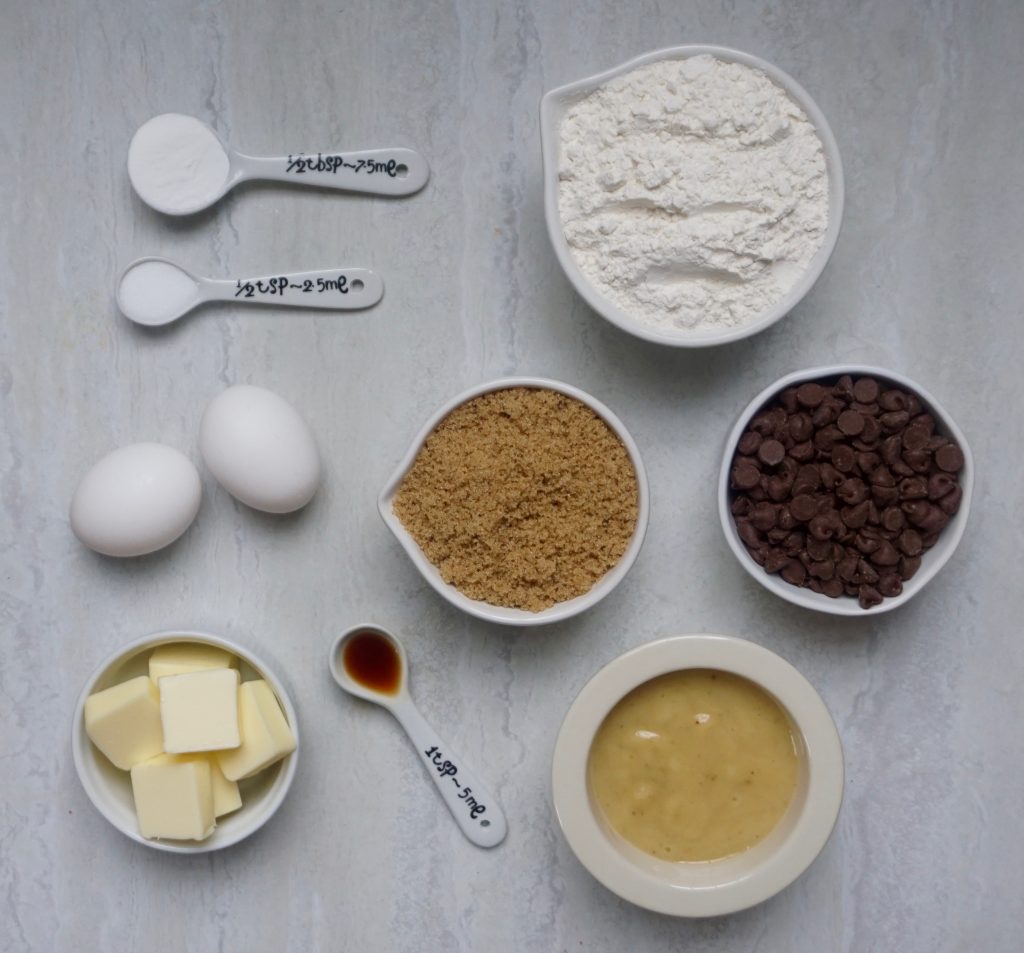 Banana Chocolate Chip Sheet Cake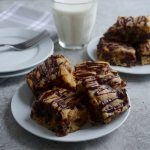 Print This
Ingredients
CAKE:

1 ¾ cup all purpose flour

1 ½ teaspoons baking powder

½ teaspoon salt

1 ¼ cup packed brown sugar

¾ cup butter, softened (1 and ½ sticks)

2 large eggs

1 teaspoon vanilla extract

1 ½ cups pureed banana (3 bananas) *see note

2 cups semisweet chocolate chips

OPTIONAL GLAZE:

1 cup confectionary sugar

1 tablespoon cocoa powder

1 tablespoon light corn syrup

1 tablespoon milk
Instructions
Preheat oven to 350 degrees
Grease a 9 x 13 baking pan
Combine the flour, baking powder and salt in a small bowl. Set aside
Beat the butter and sugar in a large bowl with an electric mixer until creamy. Beat in the eggs, one at a time. Add vanilla extract.
Mix in the pureed bananas and mix well. Slowly beat in the flour mixture.
Add the chocolate chips and stir in.
Pour the batter into the greased baking pan. Bake for 20- 25 minutes until the top is golden brown and the cake is set.
Cool in the pan on a wire rack. Cut into square and glaze if desired.
OPTIONAL GLAZE:
Combine the confectionary sugar and cocoa powder. Add the corn syrup and milk. Stir. You want a thick liquid that can be drizzled but is not so thin that it will slide off the cake. If the glaze is too thick, add more milk, one teaspoon at a time. Stir well after each addition until you get the right consistency.
Drizzle the glaze using back and forth motions. Let the squares sit for about 30 minutes until the glaze hardens.
Notes
To get the best results you need very ripe bananas. The skin should be turning dark and the banana should be very soft inside with a deep golden color.