There's something incredibly comforting about a warm, hearty pasta dish, especially when it's bursting with flavors. Roasted Eggplant Ziti is just that. It is a delicious combination of roasted vegetables, savory tomato sauce, and cheesy goodness. Not only is this dish satisfying, but it's also a healthy meal that incorporates the nutritious benefits of eggplant with its meaty texture.
Roasted Eggplant Ziti is an easy to make, vegetarian pasta dish. It is filling and flavorful. If you are looking to add more vegetable based recipes into your diet, this would be a good one to try.
The eggplant is roasted with a little olive oil, salt and pepper. While the eggplant is roasting you can start the tomato sauce. This is a simple sauce made with onions, garlic, basil and oregano. When the eggplant is finished roasting  it is added into the sauce and then mixed with ziti pasta.
Roasted Eggplant Ziti is simple enough to make for a weeknight dinner and great for easy entertaining. You could also serve it as a side dish. If you are interested in other vegetarian pasta dishes check out Mushroom Bolognese and Roasted Cherry Tomato Penne. You might also like Rotelle Ratatouille and Penne with Vodka Sauce.
If you want to try some other eggplant recipes check out Eggplant Cutlets, Roasted Eggplant Dip and Eggplant Parmesan made with eggplant slices.
If you like baked ziti, check out Tuscan Chicken Baked Ziti and Baked Feta Ziti.
SOME THINGS TO KNOW:FAQ'S
INGREDIENT TIPS:
SPECIAL EQUIPMENT NEEDED:
Large pot to cook the pasta
Large Skillet
Baking Sheet
SUBSTITUTIONS:
Zucchini or yellow squash can be a great substitute for eggplant.
Canola or avocado oil are good alternatives for olive oil.
Use diced tomatoes or tomato sauce if you do not have crushed tomatoes.
Fresh herbs can be used at a 3:1 ratio compared to dried oregano and basil.
Penne or rigatoni can also be used in place of the ziti.
Pecorino Romano or Asiago cheese are good substitutes for Parmesan cheese.
HOW TO STORE LEFTOVER ROASTED EGGPLANT ZITI:
Allow the Roasted Eggplant Ziti to cool down to room temperature.Place the leftovers in an airtight container, sealing it tightly to prevent moisture loss and spoilage. Store the container in the refrigerator for up to 3-4 days.
This can also be stored in the freezer for up to 2-3 months.Ensure the dish has cooled down to room temperature before you begin the freezing process.Place the pasta into airtight freezer-safe containers or heavy-duty freezer bags. Make sure to eliminate as much air as possible to reduce the risk of freezer burn.
For the best results, thaw the frozen Roasted Eggplant Ziti in the refrigerator overnight before reheating.
HOW TO REHEAT ROASTED EGGPLANT ZITI:
To reheat the ziti in the oven preheat your oven to 350°F (175°C). Place the Ziti in an oven-safe dish, cover with aluminum foil, and bake for 15-20 minutes or until heated through.
If you're short on time, you can reheat it in a microwave oven. Place a portion in a microwave-safe dish covered and heat at medium power for 2-3 minutes, stirring halfway through.
You could also reheat this on the stovetop in a large saucepan over medium heat, stirring occasionally.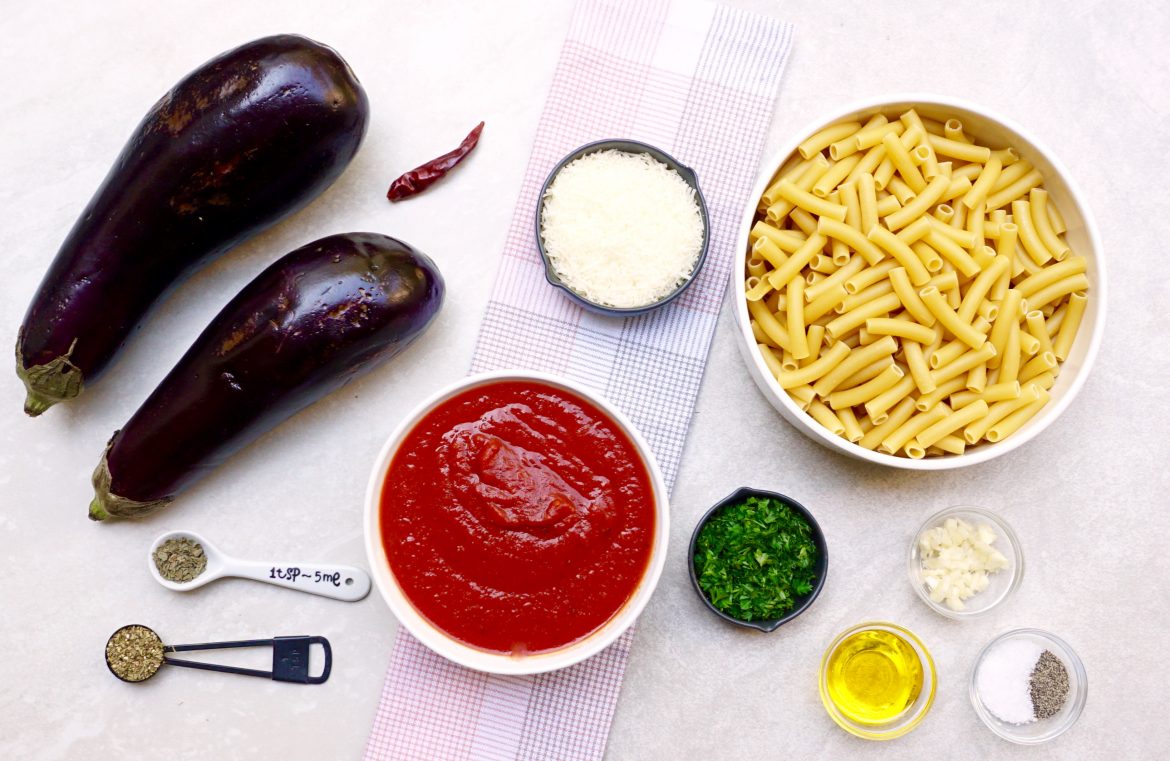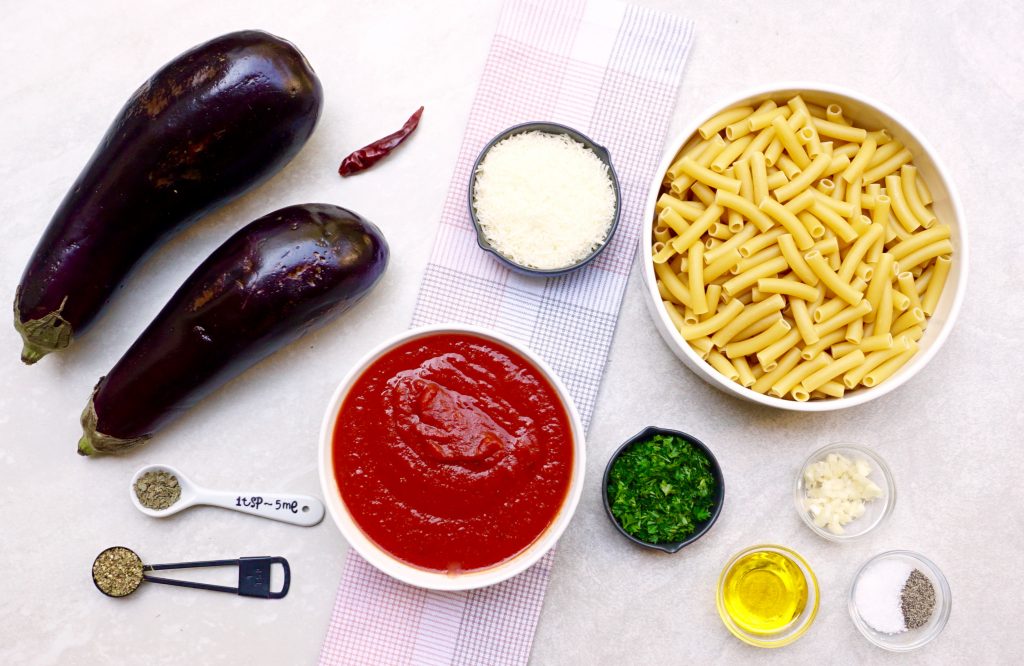 Roasted Eggplant Ziti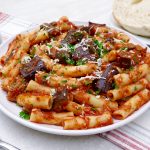 Print This
Ingredients
1 ½ pounds eggplant, cut into 1-inch cubes

3 tablespoons olive oil, divided

kosher salt

black pepper

3 cloves garlic, minced

28 ounce can crushed tomatoes

1 teaspoon dried oregano

1 teaspoon dried basil

1 dried red chili pepper, optional or red pepper flakes

1 pound ziti pasta

½ cup reserved pasta cooking water

½ cup freshly grated parmesan cheese

¼ cup fresh parsley chopped
Instructions
Preheat the oven to 400 degrees.
Line a baking sheet with foil and add the eggplant cubes in an even layer. Toss the eggplant with 2 tablespoons of the olive oil. Sprinkle lightly with salt and pepper.
Roast the eggplant pieces for 10 minutes. Remove them from the oven and stir. Place the eggplant back into the oven and roast for an additional 10 minutes.
Heat the remaining tablespoon of olive oil in a large skillet over medium low heat. Add the garlic and cook for 1 minute until it softens but do not let it brown.
Add the crushed tomatoes, oregano, basil, and chili pepper. Raise the heat to high to bring the sauce to a boil. Reduce the sauce to medium-low heat and simmer for 10 minutes.
Bring a large pot of salted water to a boil over medium-high heat to cook the ziti.
Remove the cooked eggplant from the oven and it add to the tomato sauce. Stir it in well and continue to simmer the sauce for an additional 10 minutes. If the pasta sauce becomes too thick, add a bit of water, ¼ cup at a time, to thin it out slightly.
Add the ziti to the boiling water and cook according to the package directions for al dente.
Reserve ½ cup of the pasta cooking water and drain the ziti.
Add the ziti to the sauce. Stir in the parmesan cheese and parsley.
If the sauce needs to be thinned a bit, add some of the reserved pasta water and stir in well.
Serve in a large bowl with some extra parmesan cheese on the side.
Notes
Adding the whole red chili pepper will infuse a warmth, but not a spicy heat. You can skip it entirely or substitute ¼ teaspoon crushed red pepper flakes for a similar effect.