Eggplant Parmesan is a great Italian baked dish. Eggplant slices are breaded and fried then layered with marinara sauce, mozzarella and parmesan cheese. This is hearty enough to be a meatless meal but can also be served as a side dish.
This recipe is going to take you some time to put together. I am recommending that you salt the eggplant to remove the moisture and cut down the bitterness. This will require 40 minutes. You will be amazed at the amount of moisture that is extracted.
If you are a fan of baked marinara sauce based dishes, check out Baked Ricotta Gnocchi, and Lasagna Roll Ups.
For more eggplant recipes check out Roasted Eggplant Dip, Roasted Eggplant Ziti and Eggplant Cutlets.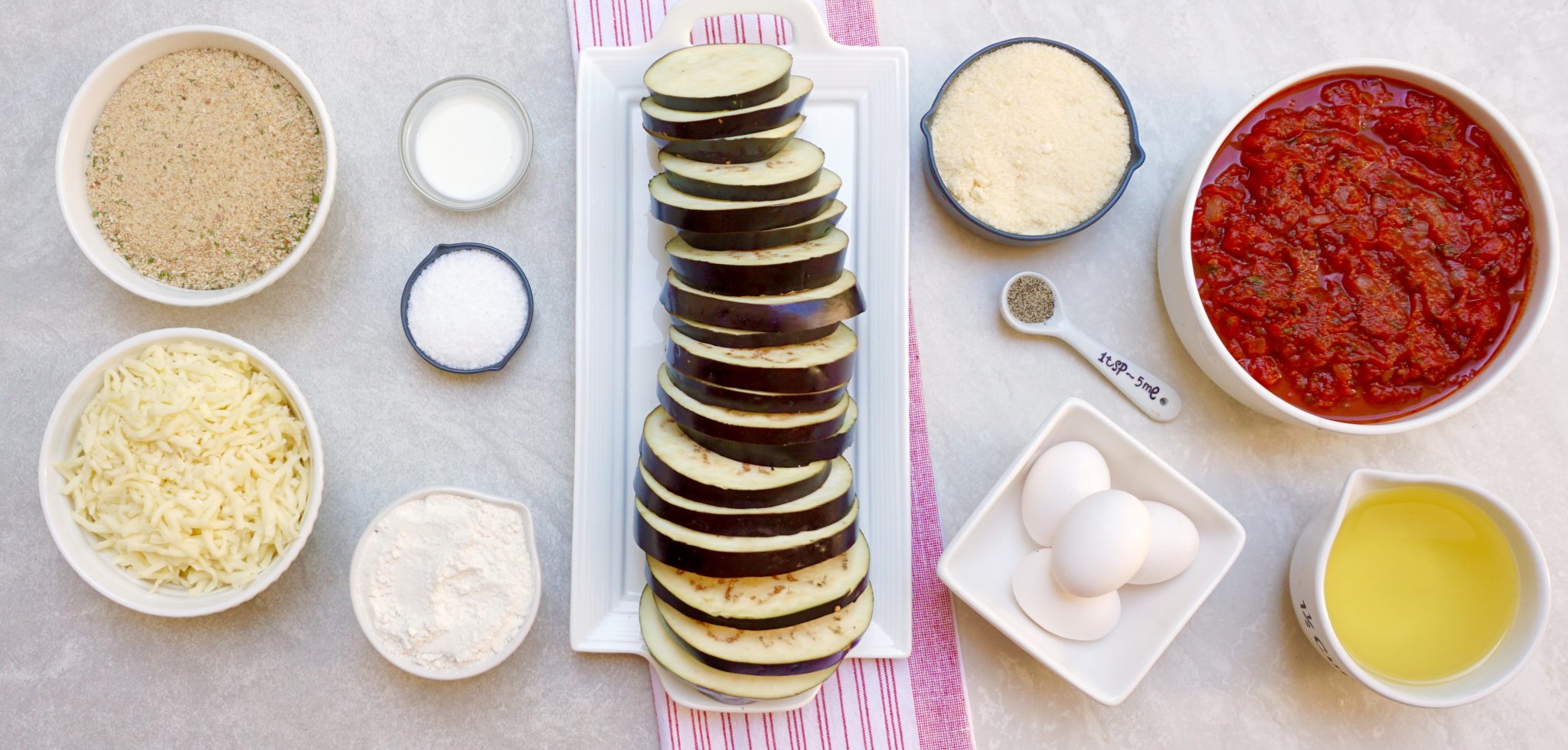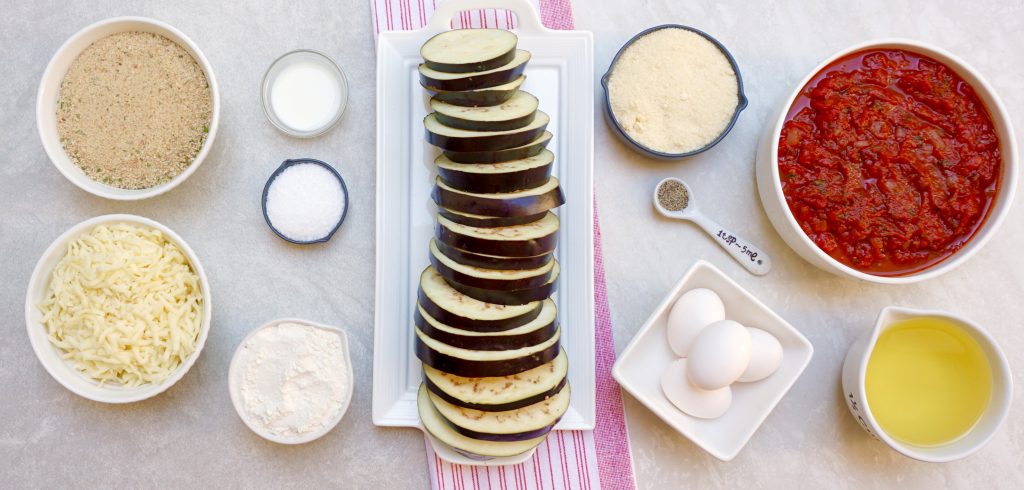 Eggplant Parmesan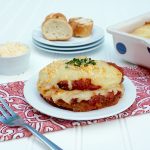 Print This
Ingredients
2 medium eggplant, sliced ½ inch thick

¼ cup kosher salt, divided

1 cup all purpose flour

1 teaspoon black pepper

4 large eggs beaten

2 tablespoons milk

4 cups dried Italian seasoned breadcrumbs

1-2 cups canola oil

6 cups marinara sauce, homemade or jarred

4 cups shredded mozzarella cheese

1 cup parmesan cheese
Instructions
Remove 1 teaspoon of salt and set it aside.
Arrange the eggplant slices on baking sheets. Sprinkle both sides of the eggplant slices lightly with the remaining salt. Let them sit for 40 minutes.
Rinse the salt off the eggplant slices.
Place the flour into a pie plate with 1 teaspoon salt and pepper. Combine well.
Place the beaten eggs and milk into a pie plate. Combine well.
Place the breadcrumbs into a pie plate.
Dip each eggplant slice first into the flour mixture, coating well. Then dip it into the egg mixture, again coating the entire slice. Last, dip the slice into the breadcrumbs making sure that the entire slice is covered all over.
Repeat the process until all of the slices are breaded. Line them up on a sheet of waxed paper or a baking sheet until you have finished them all.
Preheat the oven to 350 degrees.
Pour the oil into a very large skillet. You want it to be ¼ inch deep. Heat the oil over medium heat until it starts shimmering. You can drop a breadcrumb into it to test and see if it starts cooking.
Place as many eggplant slices into the oil as you can in a single layer. Cook for 2 minutes on each side until they are golden brown. Remove the slices to paper towels to blot the oil. Repeat the process until all of the slices are fried.
Spread 2 cups of marinara sauce into a 9″x 13″ baking pan. Place half of the eggplant slices in a single layer over the sauce.
Spread 2 cups of marinara over the slices. Sprinkle 2 cups of mozzarella evenly over the sauce. Sprinkle ½  cup of the parmesan evenly over the mozzarella.
Add another layer of eggplant slices. Cover with the remaining marinara, mozzarella and parmesan cheese.
Place uncovered into the oven. Bake for 30- 35 minutes until heated through and golden brown.