Farmers Market Orzo is a simple summer side dish with fresh vegetables that are in season right now and you can find at your local farmers market.
Summer corn, ripe fresh tomatoes, zucchini and yellow squash are cooked with shallots in olive oil and butter, then combined with orzo. Parmesan cheese, basil and the reserved pasta cooking water finish it off and make a light and flavorful sauce.
Orzo is a type of pasta that resembles a grain of rice. It is very versatile and light. It makes a perfect side dish, but Farmers Market Orzo is hearty enough to be a complete vegetarian meal.
If you are a fan of orzo, and summer vegetables you may also like Orzo Salad which is a vegetarian orzo salad made with bell peppers or Orzo with Mint and Feta which is made with grape tomatoes and feta cheese. You might also like Orzo Risotto made with lemon juice and lemon zest.
 If you like to grill vegetables from the farmers market check out, Aioli Grilled Vegetables.
Check out 15 Simple Summer Squash Recipes for more ways to cook with seasonal squash.
SOME THINGS TO KNOW:FAQ'S
INGREDIENT TIPS:
SPECIAL EQUIPMENT NEEDED:
Large pot to cook the orzo.
Large skillet
SUBSTITUTIONS:
Red onion or yellow onions can be substituted for the shallots.
You can use canola oil or vegetable oil in place of the olive oil.
Ditalini Pasta or Broken Spaghetti are good substitutes for orzo.
If fresh basil is not available, 2 teaspoons of dried basil can be substituted.
HOW TO STORE LEFTOVER FARMERS MARKET ORZO:
You can store the leftover orzo in an airtight container or covered tightly with wrap for 3-5 days.
You can freeze the orzo in an airtight freezer container for 2-3 months. The consistency of the vegetables may change slightly when frozen.
HOW TO REHEAT FARMERS MARKET ORZO:
You can reheat the orzo covered in the microwave in a microwave safe dish. Cook at 1-2 minute intervals until heated through.
You can reheat the orzo in a saucepan on the stovetop over medium low heat, stirring occasionally. Add a few tablespoons of reserved pasta water to moisten it.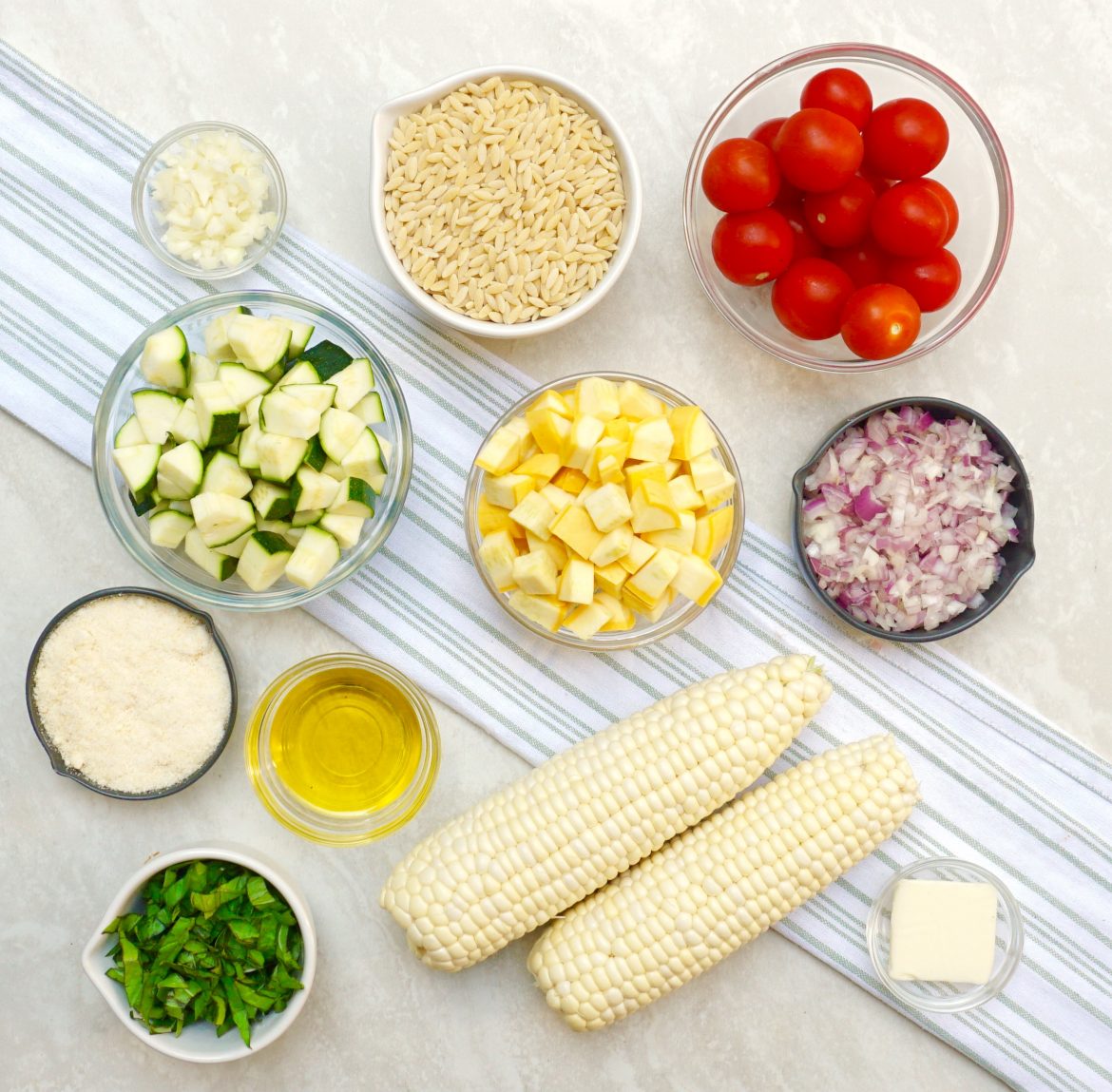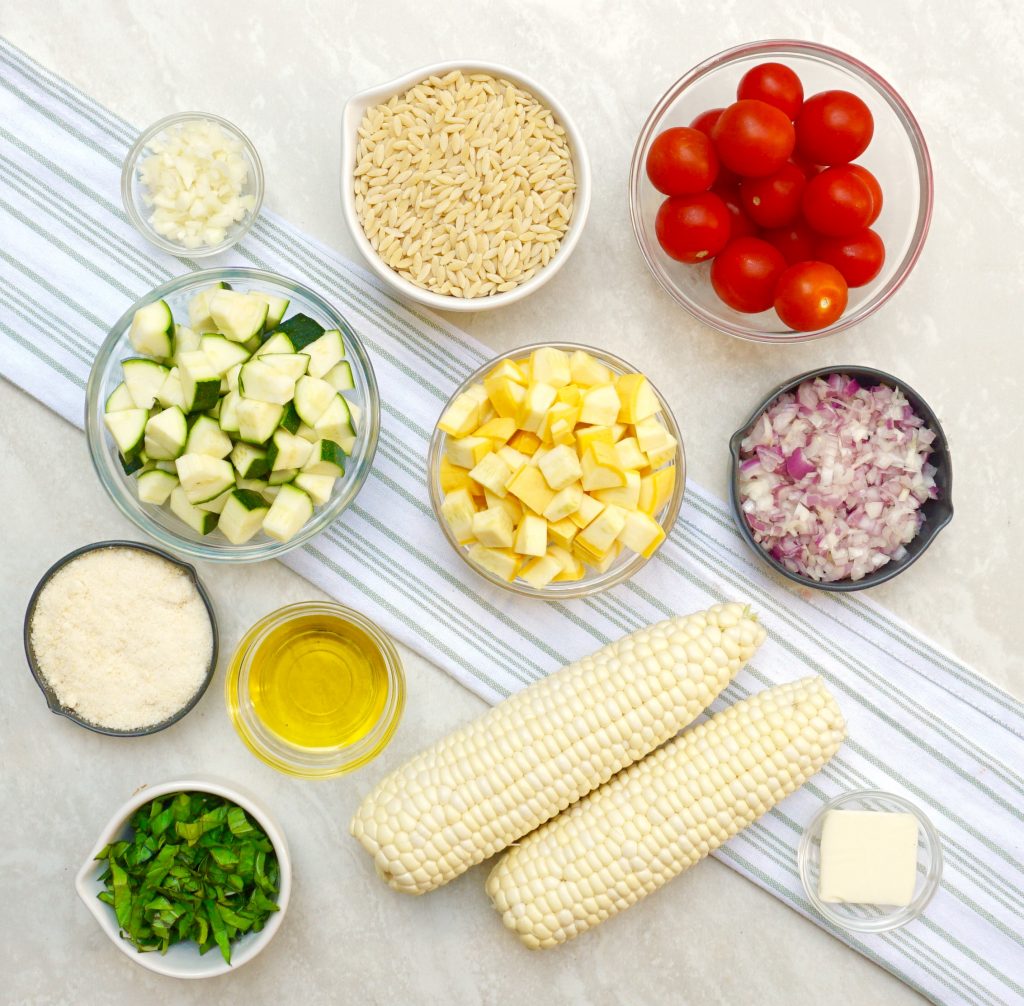 Farmers Market Orzo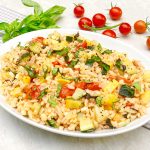 Print This
Ingredients
3 tablespoons extra virgin olive oil

1 tablespoon butter

½ cup shallots, chopped

2 garlic cloves,minced

1 cup yellow squash, diced

1 cup zucchini,diced

2 large ears corn, kernels removed

1 cup cherry tomatoes

1 cup orzo pasta

½ cup reserved pasta cooking water (reserve an extra ½ cup if you will be reheating the orzo)

½ cup grated parmesan cheese

½ cup fresh basil leaves,chopped

½ teaspoon kosher salt

¼ teaspoon pepper
Instructions
Bring a large pot of cold water with a teaspoon salt to a boil and cook the orzo according to the directions on the box. Make sure that you reserve ½ cup of the pasta cooking water before you drain the orzo. Drain and return the orzo to the pot.
While the orzo is cooking, heat the butter and olive oil  in a large skillet over medium low heat. Add the yellow squash, zucchini and corn and cook for 3 minutes.
Add the shallots and tomatoes to the skillet and cook for an additional 5 minutes  or until the vegetables are soft.
Add the vegetables to the pot with the drained orzo. Stir in the reserved cooking water, parmesan cheese and basil. Combine well. Taste and add the salt and black pepper as needed.
Serve in a large bowl, warm or at room temperature.