This summer I had a lot of fun exploring the art of roasting. I have been slow roasting plum tomatoes during the winter months for many years, but this was the first time I was going to incorporate it into my summer routine. I started by roasting strawberries, and they were amazing. Next I roasted blueberries and again got such a great result. My latest foray is this Roasted Tomato Soup.
I like roasting the tomatoes because it intensifies the flavor. As they roast the tomatoes become caramelized, the water evaporates and you are left with a tender tomato with a concentrated flavor. Preparing them in this manner creates a  deep red color and  a delicious soup that is bursting with flavor.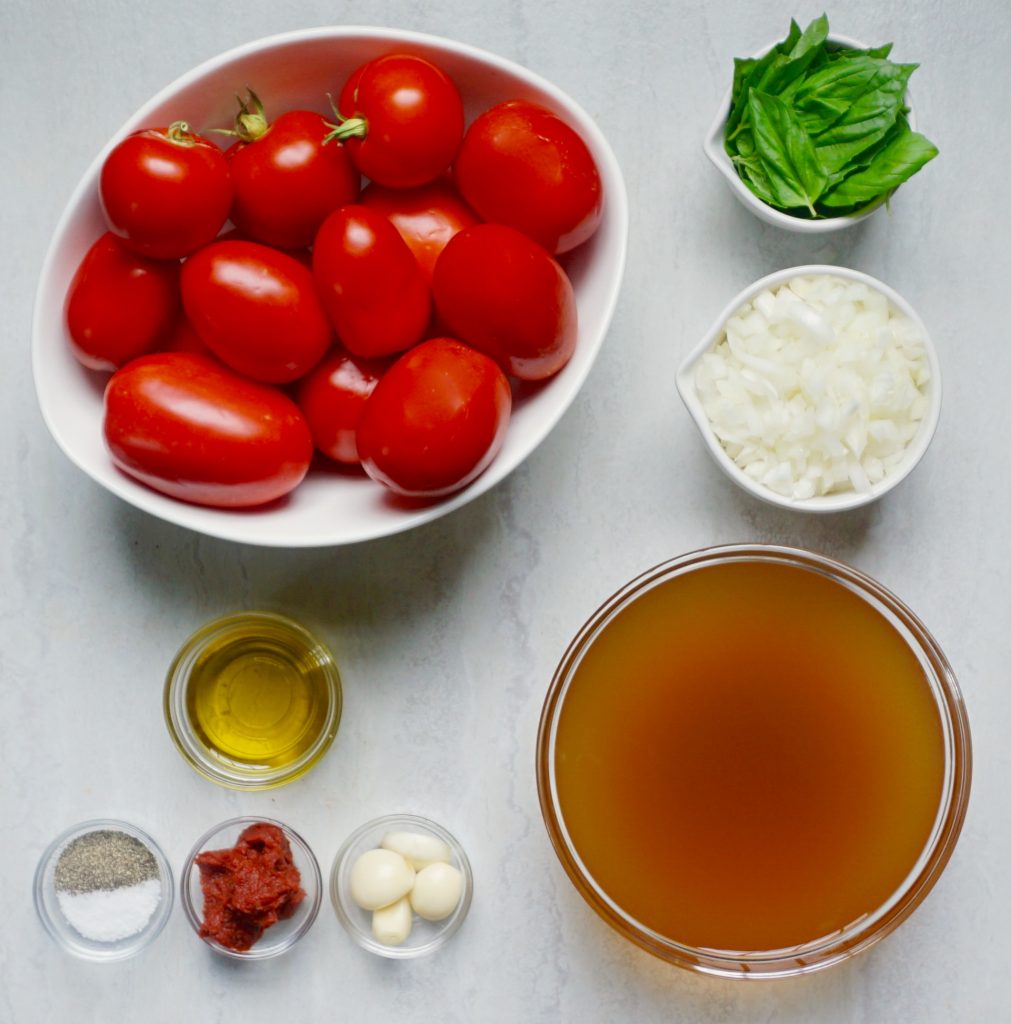 Tomatoes are cut into similar size pieces and placed on a baking sheet with garlic, olive oil, salt and pepper.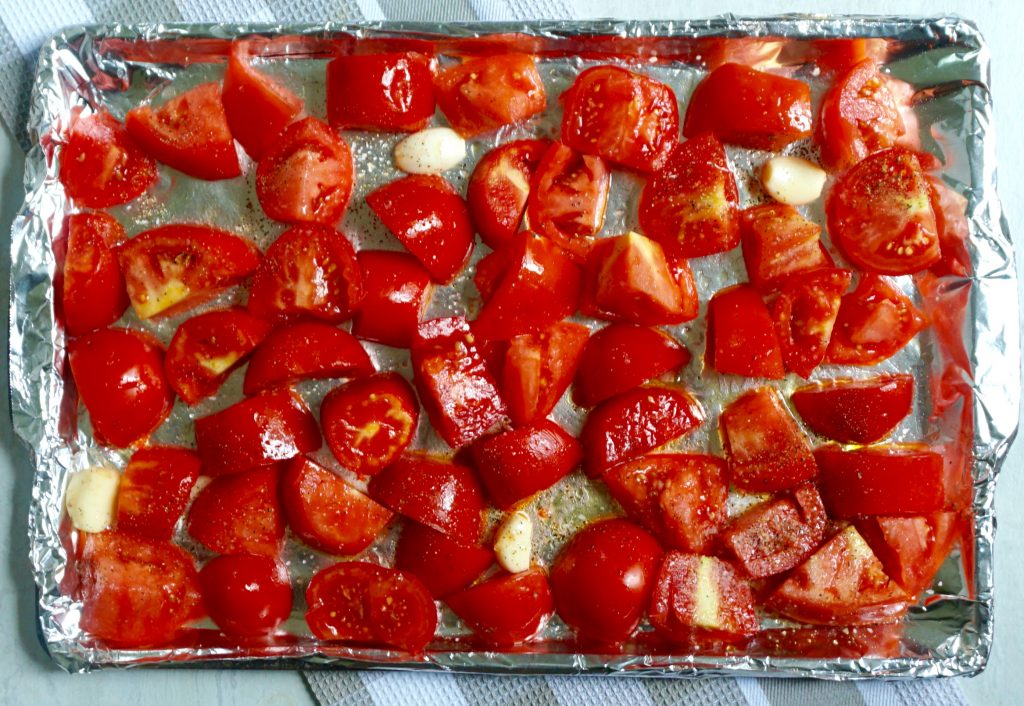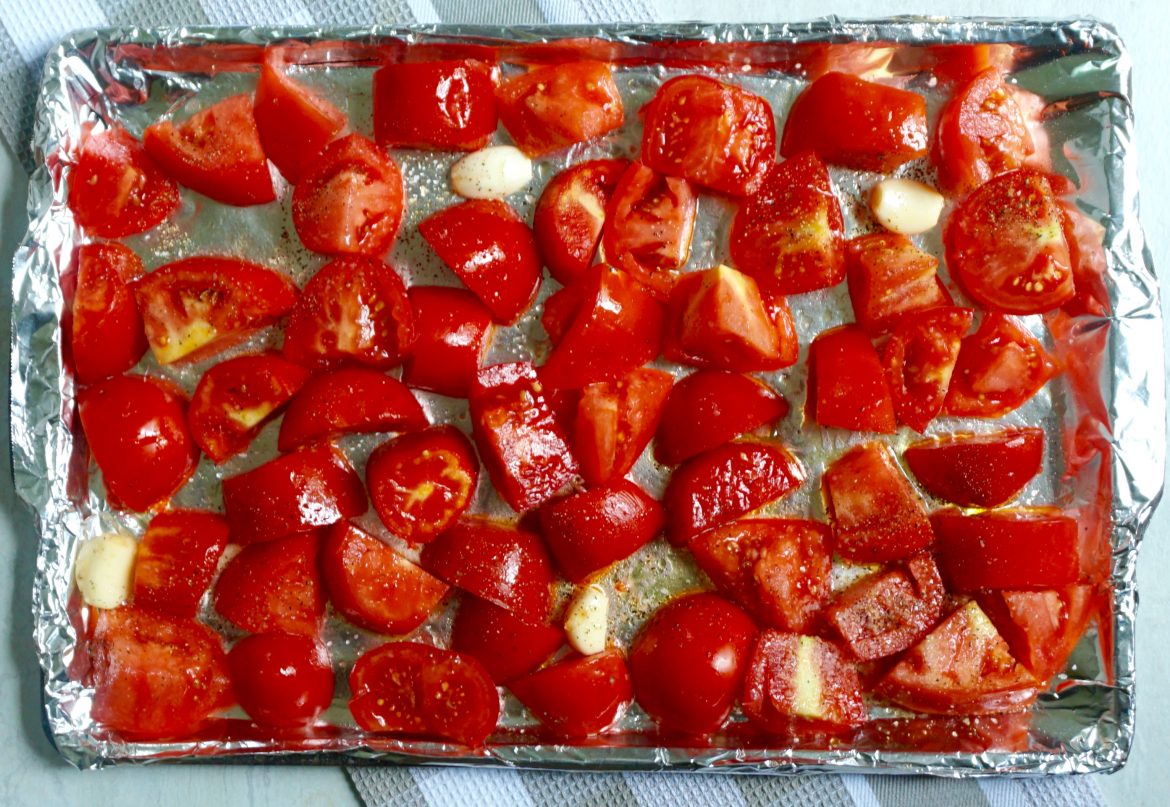 Roasted tomatoes are slightly caramelized and concentrated.
Roasted Tomato Soup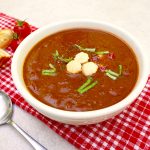 Print This
Ingredients
2 1/2 pounds tomatoes, can be assorted

4 cloves garlic, peeled and left whole

1 small yellow or sweet onion,chopped

1/2 cup fresh basil leaves, chopped

3 tablespoons olive oil, divided

1 quart vegetable stock

2 tablespoons tomato paste

kosher salt and black pepper
Instructions
Preheat your over to 400 degrees.
Line a 9″ x 12″ baking sheet with foil. Cut the tomatoes into halves or quarters, depending on the size. You want them to be as consistent in size as you can get them. Place the tomatoes and garlic cloves on the baking sheet and pour 1 tablespoon of olive oil over them. Sprinkle salt and pepper over them and stir well so that all the tomatoes are coated with oil.
Roast for 35 minutes until the tomatoes have started to caramelize.
While the tomatoes are roasting, add the remaining 2 tablespoons of olive oil to a large stock pot. Heat the oil over low heat. Add the onions and cook for 10 minutes, stirring occasionally until they are soft but not browned. Remove from the heat and set aside.
When the tomatoes and garlic are ready, remove them from the oven and place then in either a blender or food processor. Puree them until they are completely smooth.
Add the tomato puree to the stock pot. Add the vegetable stock, tomato paste and basil. Bring to a boil and the reduce the heat to low. Simmer for 10-15 minutes. Season with salt and pepper to taste.