One Pan Taco Skillet combines taco seasoned beef with veggies and cheese in a flavorful skillet dish. Things that you might typically use as taco toppings are cooked right in with the beef for a complete meal that you could eat on it's own.
You will need to season the beef with taco seasoning for this skillet. You can purchase ready made taco seasoning or use my directions to make your own. If you have a fairly large spice collection, you possibly have all of the ingredients on hand to make it.
If you want a low carb meal, simply eat this on a plate. Topped with green onions and a bit of sour cream, it is delicious. You could also spoon it into a taco shell or tortilla.
If you are a fan of taco flavored ground beef you should check out Loaded Beef Nachos and Taco Salad. They all start with the same seasoned beef base.
If you would like to try another taco seasoned, one skillet meal, check out, Salsa Chicken Rice Skillet.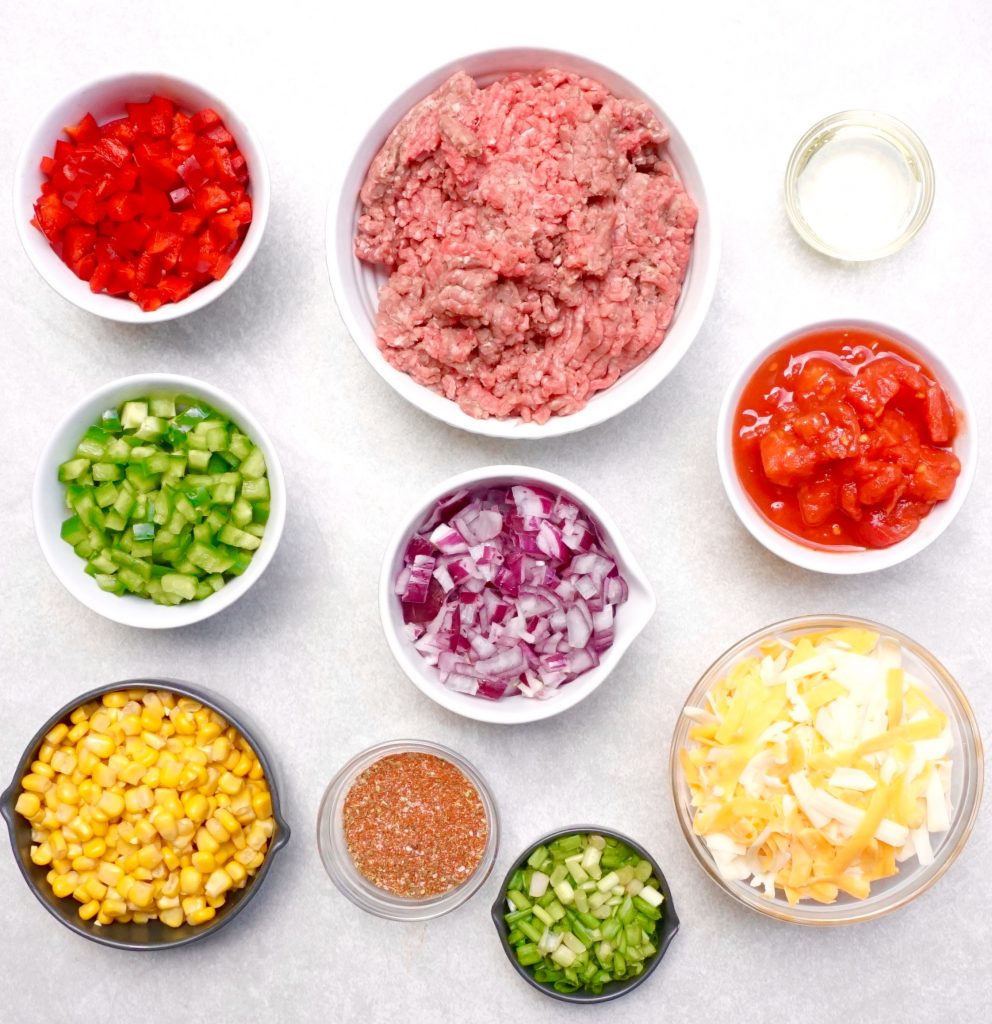 One Pan Taco Skillet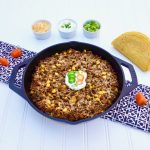 Print This
Ingredients
SKILLET:

2 tablespoons canola oil

1 medium green bell pepper, diced

1 medium red bell pepper, diced

1 medium red onion, diced

1 pound very lean ground beef

15 ounce can diced tomatoes

2 tablespoons,plus 1 teaspoon taco seasoning, packaged or follow recipe below

1 cup frozen corn kernels

2 cups shredded Mexican cheese blend

¼ cup green onions

TACO SEASONING:

1 tablespoon chili powder

1 teaspoon cumin

½ teaspoon dried oregano

½ teaspoon garlic powder

½ teaspoon onion powder

1 teaspoon kosher salt

½ teaspoon black pepper
Instructions
If you are making the taco seasoning from scratch, simply stir them together in a small bowl.
Heat the olive oil in a large skillet over medium low heat. Add the green bell pepper, red bell pepper, and red onions.
Cook, stirring occasionally for 3 minutes, until the just begin to soften.
Add the ground beef to the skillet, breaking it up with a fork and knife as it cooks to get it as smooth as you can. Cook until it is completely browned. This will take about 5 minutes.
If you see any fat in the mixture, blot it out using a paper towel. Just press the towel lightly into the grease and it will absorb it.
Add the diced tomatoes and taco seasoning and stir to combine. Let the mixture simmer over medium low heat for 5 minutes.
Add the corn kernels and simmer for an additional 5 minutes.
Sprinkle the Mexican Cheese blend evenly over the top of the beef mixture. Let it cook for a couple minutes until the cheese has melted.
Remove from the heat and sprinkle the green onions over the top.
Serve with sour cream, taco shells or tortillas.