Taco Salad is a traditional Mexican salad that is typically served in a fried tortilla shell. This recipe is for a healthier version of the classic salad made without the shell. It is low carb and gluten free.
You can use very lean ground beef to make this or if you want to save a few calories, go ahead and substitute ground turkey for the beef. The taco seasoning for the beef is made from scratch so there are no preservatives or excess salt and the dressing is a low fat avocado dressing made with greek yogurt.
Taco Salad is full of flavorful ingredients. Black beans, tomatoes, and green onions mix in with the romaine and the salad is topped shredded cheese. It's all the taste that we love in a taco!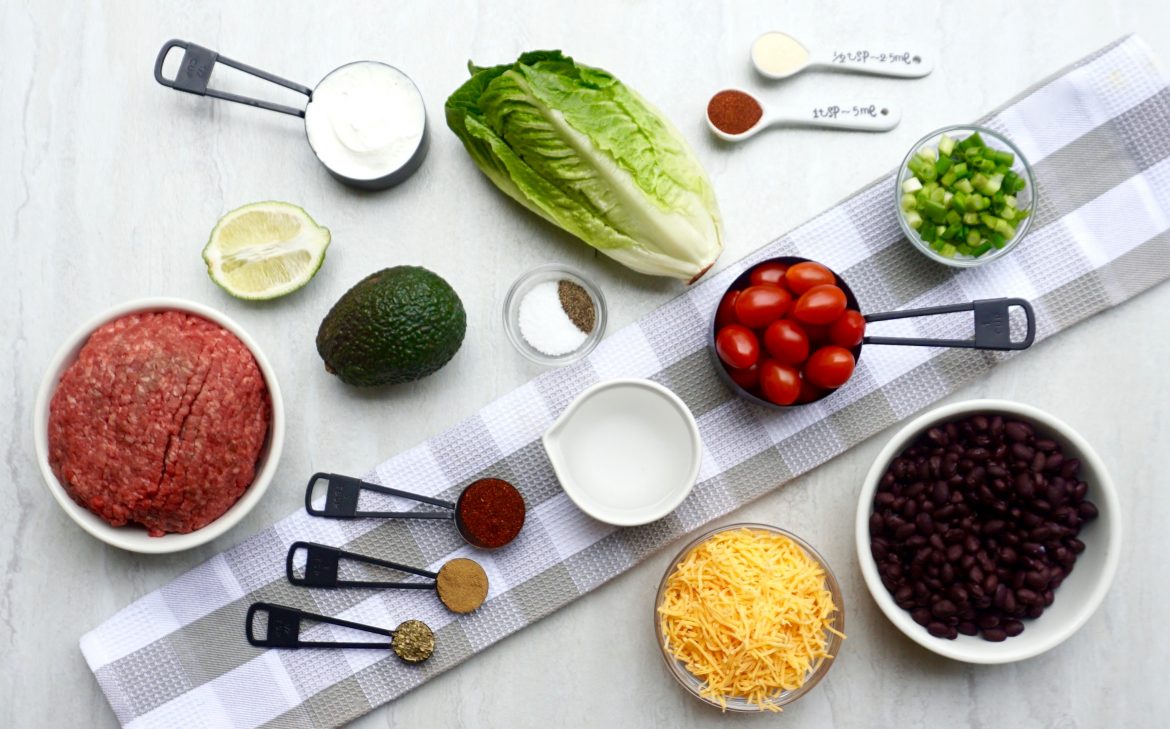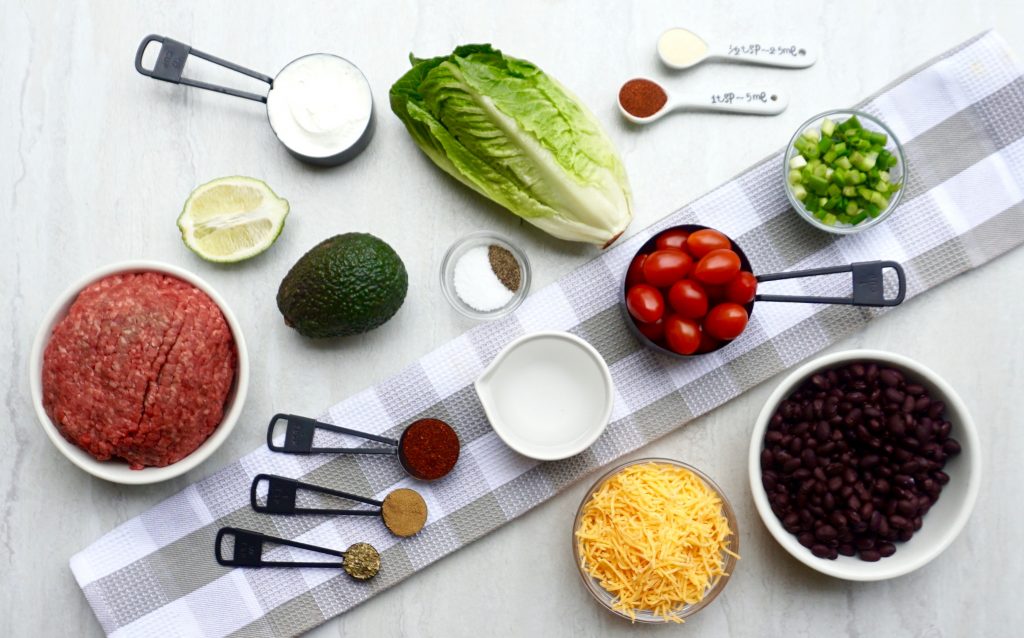 Taco Salad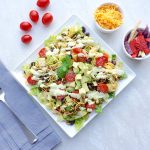 Print This
Ingredients
SALAD:

1 pound lean ground beef

1 tablespoon chili powder

1 teaspoon cumin

½ teaspoon dried oregano

½ teaspoon garlic powder

½ teaspoon onion powder

½ teaspoon paprika

1 teaspoon kosher salt

1 teaspoon black pepper

½ cup water

15 ounce can black beans, drained and rinsed

1 cup cherry tomatoes

½ cup green onion, chopped

4 cups romaine lettuce, chopped

1 cup shredded cheddar cheese

DRESSING:

½ cup Greek yogurt

1 avocado

1 tablespoon lime juice

¼ teaspoon kosher salt

¼ teaspoon black pepper
Instructions
Place the ground beef in a large skillet over medium low heat. Cook until the meat is no longer pink, breaking it up with a fork as it cooks so it is smooth. Drain off any fat.
In a small bowl, mix the chili powder, cumin, oregano, garlic powder, onion powder, paprika, salt and pepper. Add to the cooked ground beef with ½ water. Mix well. Simmer on low for 10 minutes or until all the water is absorbed.
Peel the avocado and cut into cubes. Place in a food processor with the Greek yogurt, lime juice, salt and pepper. Process until smooth. If the mixture is too thick to pour, add water a tablespoon at a time, processing after each addition until it is at the consistency you want.
TO SERVE:
Mix together the black beans, cherry tomatoes, green onion, romaine lettuce and seasoned ground beef. Divide between four large plates. Sprinkle each plate with shredded cheese and drizzle dressing over the top.
Garnish with additional avocado cubes if desired.
Notes
* If you do not have all seasoning ingredients in your pantry for the meat, you can use 3 tablespoons of prepared taco seasoning instead.