Salsa Chicken Rice Skillet is an easy one pan meal that is perfect for busy weeknights. It is a delicious meal, full of flavor that you can have on the table in 35 minutes from start to finish! This simple recipe is a rice casserole dish that you cook on the stovetop in one pan. It is a Mexican flavored rice recipe that is a quick dinner and a complete meal in one skillet with your protein, carbs and vegetables included.
There are several minutes of prep required for chopping for this salsa chicken and rice recipe, but the cooking goes by fast. This meal should be ready with 20 -25 minutes cooking time. This cheesy chicken dish one pot meal would be great for any night of the week.
If you are a fan of one pot meals like Salsa Chicken Rice Skillet that are easy on you and the whole family will like, check out One Pan Taco Skillet, One Pot Chicken Penne, and Chili Mac Cheese.
SOME THINGS TO KNOW: 
SUBSTITUTIONS:
This recipe calls for a fresh salsa mixture. Fresh salsa can be found in the produce section of your grocery store and is sold as a mild salsa, medium salsa, hot salsa or chunky salsa. Depending on the amount of heat that you like in your food, you can choose the salsa you like. You can also use jarred salsas, salsa verde or whatever your favorite salsa happens to be.
It is not recommended that you use brown rice for this recipe unless you are familiar with cooking it and can make the necessary adjustments to this recipe to be successful. Brown rice requires a longer cooking time and additional liquid. If you want to use it, please check the package directions and adjust the recipe. The same thing would apply if you choose to use converted rice which would cook faster. The rule of thumb here is check the cooking time and liquid requirement for whatever type of rice you are using and adjust to that. The other ingredients will not be affected. Check out How to Cook Rice for guidance.
You can use store bought taco seasoning or you can make Taco Seasoning yourself by following the directions in this recipe. It is a simple mix of chili powder, garlic powder, cumin, oregano, onion powder, salt and pepper.
STORAGE:
You can save any leftovers for 3-5 days in the refrigerator in an airtight container.
You can also freeze the leftovers in an airtight freezer container which makes this a good meal prep recipe.
Defrost overnight in the refrigerator.
To reheat, the microwave will be best, covered for 2-3 minutes depending on the quantity.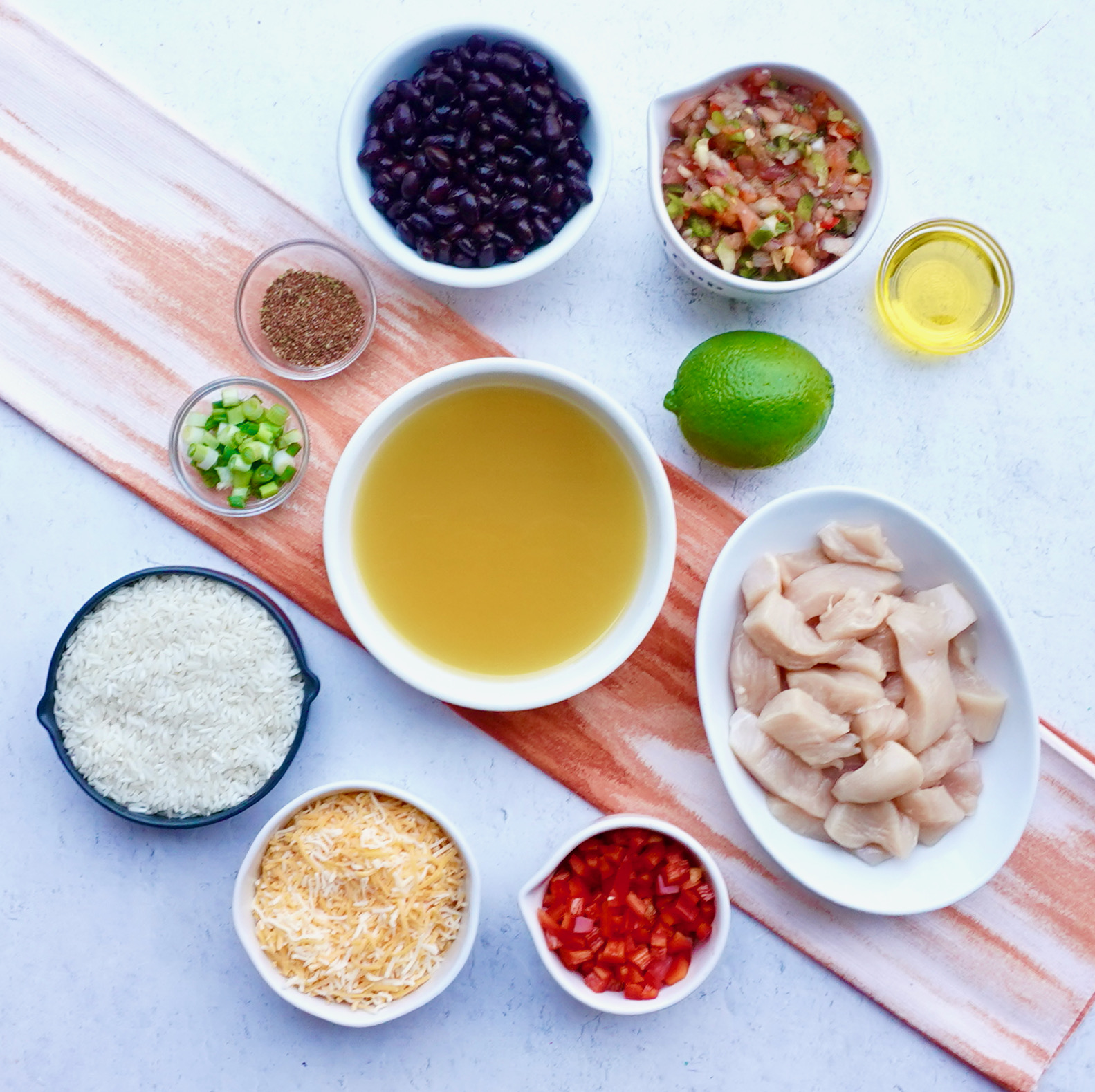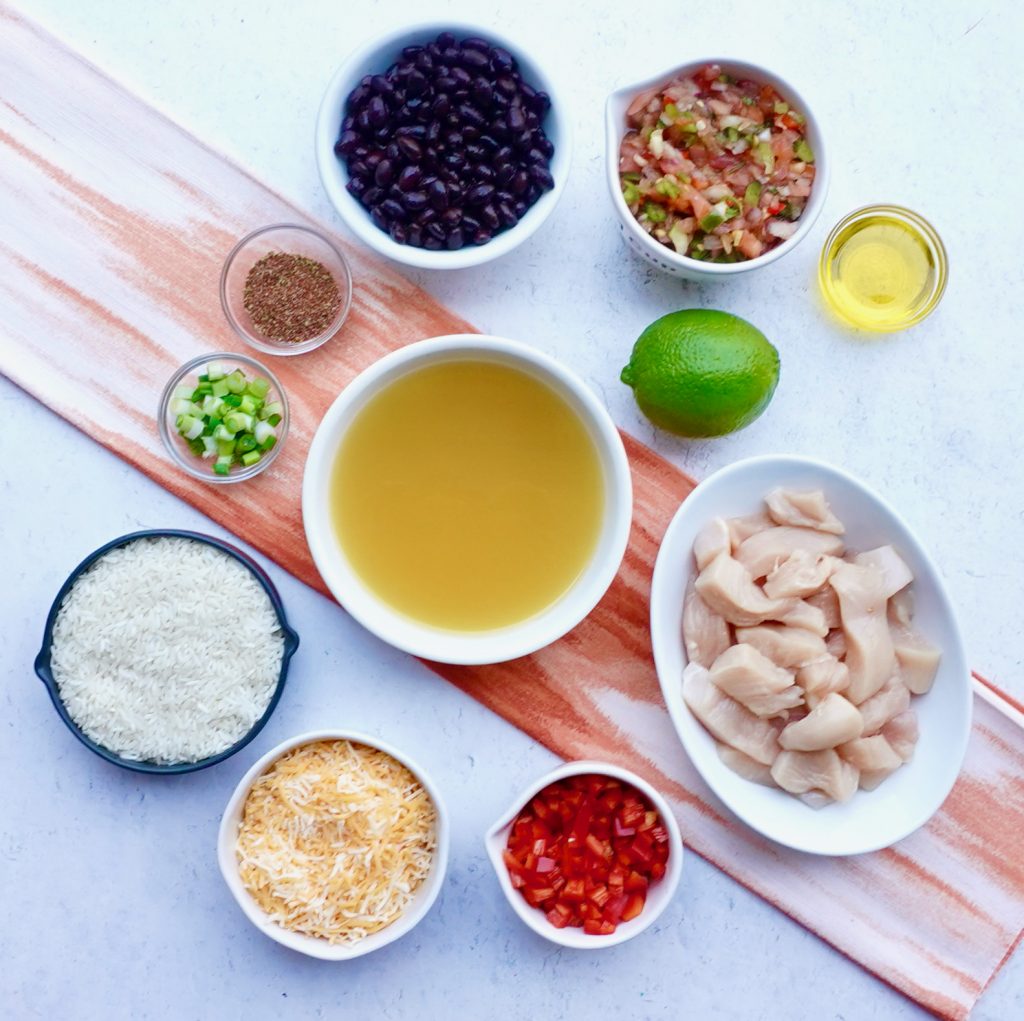 Salsa Chicken Rice Skillet is made in one pan for easy clean up.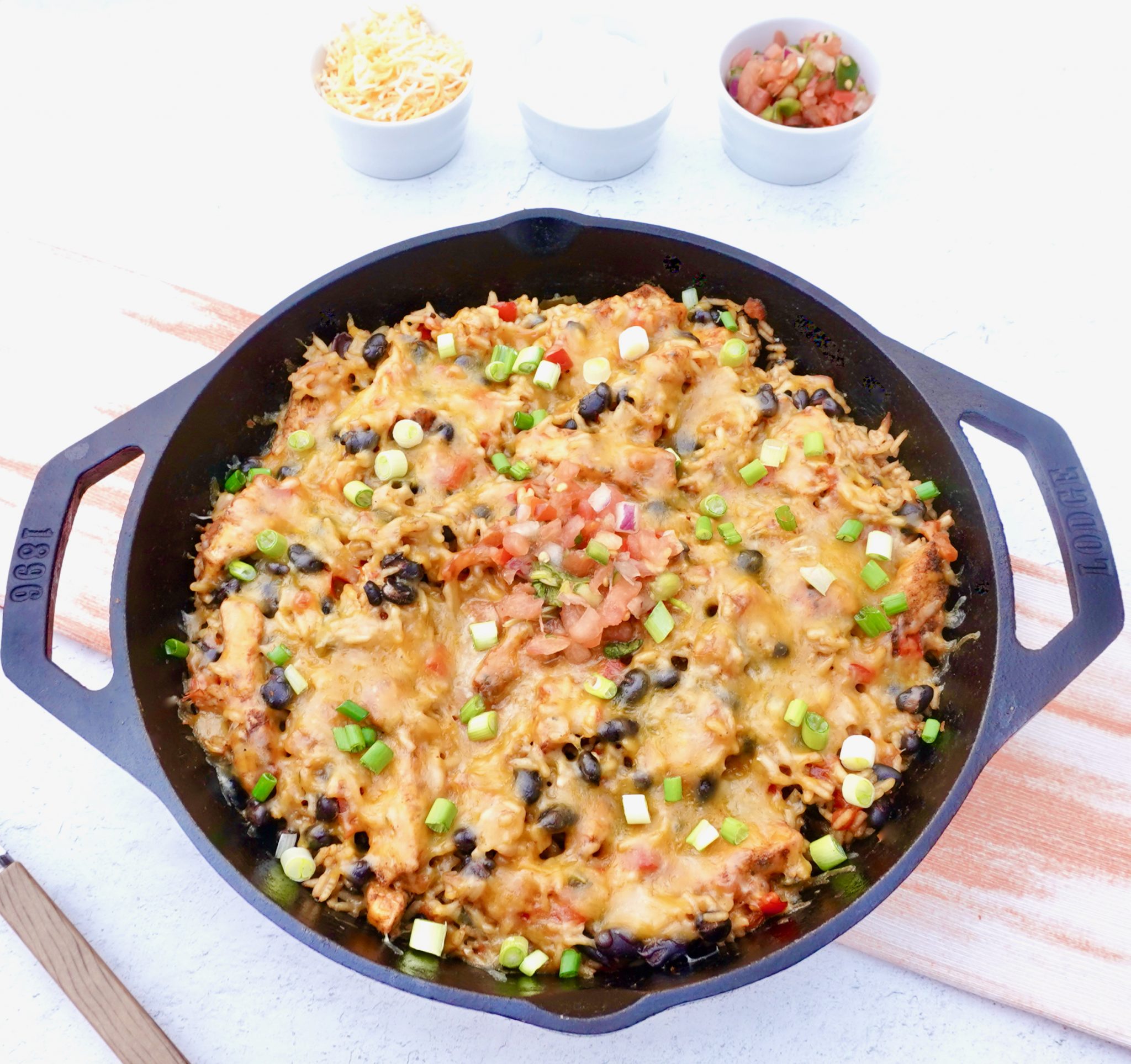 Salsa Chicken Rice Skillet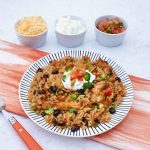 Print This
Ingredients
1 pound boneless, skinless chicken breasts cut into 2 inch strips (½ inch wide)

1 tablespoon taco seasoning

2 tablespoons olive oil

½ cup bell peppers, diced small (red, green, orange or yellow)

1 cup white rice (use a long grain rice)

2 cups chicken stock or chicken broth

1 cup fresh salsa

2 tablespoons fresh lime juice

15.5 ounce can black beans, drained and rinsed

1 cup shredded cheese (Mexican blend)

2 green onions, chopped

Optional:

Sour Cream for serving

Fresh chopped cilantro for garnish
Instructions
Place chicken strips into a medium size bowl.
Add the taco seasoning to the bowl and stir the chicken strips so that they are evenly coated with the seasoning.
Heat the olive oil in a large skillet over medium heat.
Add the chicken strips to the skillet in a single layer. Cook them for 3 minutes on the first side until they are golden brown. Turn them over and continue to cook on the other side for an additional 2 minutes.
Add the bell pepper to the skillet and cook for 2 minutes stirring occasionally.
Add the rice to the skillet and stir it until it is completely covered in the oil.
Add the chicken stock, salsa, lime juice and black beans to the skillet. Combine well.
Increase the burner to medium-high heat to bring the mixture to a boil.
Once it boils, reduce the heat to the low setting and tightly cover the skillet. It needs to cook for 15 minutes covered.
Stir the mixture once about halfway through. Resist the temptation to remove the cover too often as it releases steam which is need to properly cook the rice.
The liquid should be absorbed and the rice fully cooked at 15 minutes. If liquid remains, cover the skillet and let the rice cook for a few more minutes.
Remove the cover and sprinkle the cheese evenly over the top of the rice. Replace the cover and let it cook for 2 minutes so the cheese melts.
Sprinkle the top of the cheese with the chopped green onions.
If you are adding the fresh cilantro, sprinkle that over the cheese as well.
Serve with sour cream, shredded cheese and additional salsa.