Tomato Basil Quiche would make a great choice for any meal of the day! This french tart is filled with a savory egg custard, cheeses,  fresh tomatoes and fresh basil. Quiche is so very versatile and can be served hot from the oven, warm or even at room temperature. It is a great make ahead dish for a special brunch.
You can use a store bought crust for this recipe or if you want to get your rolling pin out and make your own, check out Foolproof Pie Dough.
If you are interested in a couple other breakfast quiches, check out Asparagus Quiche and Spinach Mushroom Quiche. If you want some crustless quiche recipes check out Western Crustless Quiche and Vegetable Frittata.
SOME THINGS TO KNOW:
SUBSTITUTIONS:
Gruyere cheese is a flavorful hard cheese from Switzerland that melts well.  It can sometimes be hard to find or be pricey. Some good substitutes for this quiche would be some other hard cheeses such as Swiss cheese or Jarlsberg cheese, You could also use crumbled Feta cheese.
This recipe calls for cherry tomatoes. You could also use grape tomatoes or a cup of tomato slices.
SPECIAL INSTRUCTIONS: 
This recipe calls for blind baking the pie crust. While this is optional, it is a step that will help to ensure that the crust does not get soggy. If you are not familiar with this process, check how How To Blind Bake a Pie Crust.
STORAGE:
This Tomato Basil Quiche recipe can be made ahead of time. You can store it in the refrigerator covered with plastic wrap for 2-3 days. You can store any leftovers the same way.
You can freeze this quiche tightly covered in freezer wrap for 2-3 months. It should be defrosted in the refrigerator.
REHEATING:
The best way to reheat an entire quiche is in the oven. Preheat the oven to 350 degrees and cover the top of the quiche with foil. Place the quiche into to oven and reheat it for 15-20 minutes.
Slices of quiche can easily be reheated in an air fryer or toaster oven.  For the toaster oven heat the quiche, covered in foil at 350 degrees for 10 minutes. For the air fryer, set the fryer to reheat at 325 degrees. Place the quiche slices covered in foil in to the air fryer for 4-5 minutes.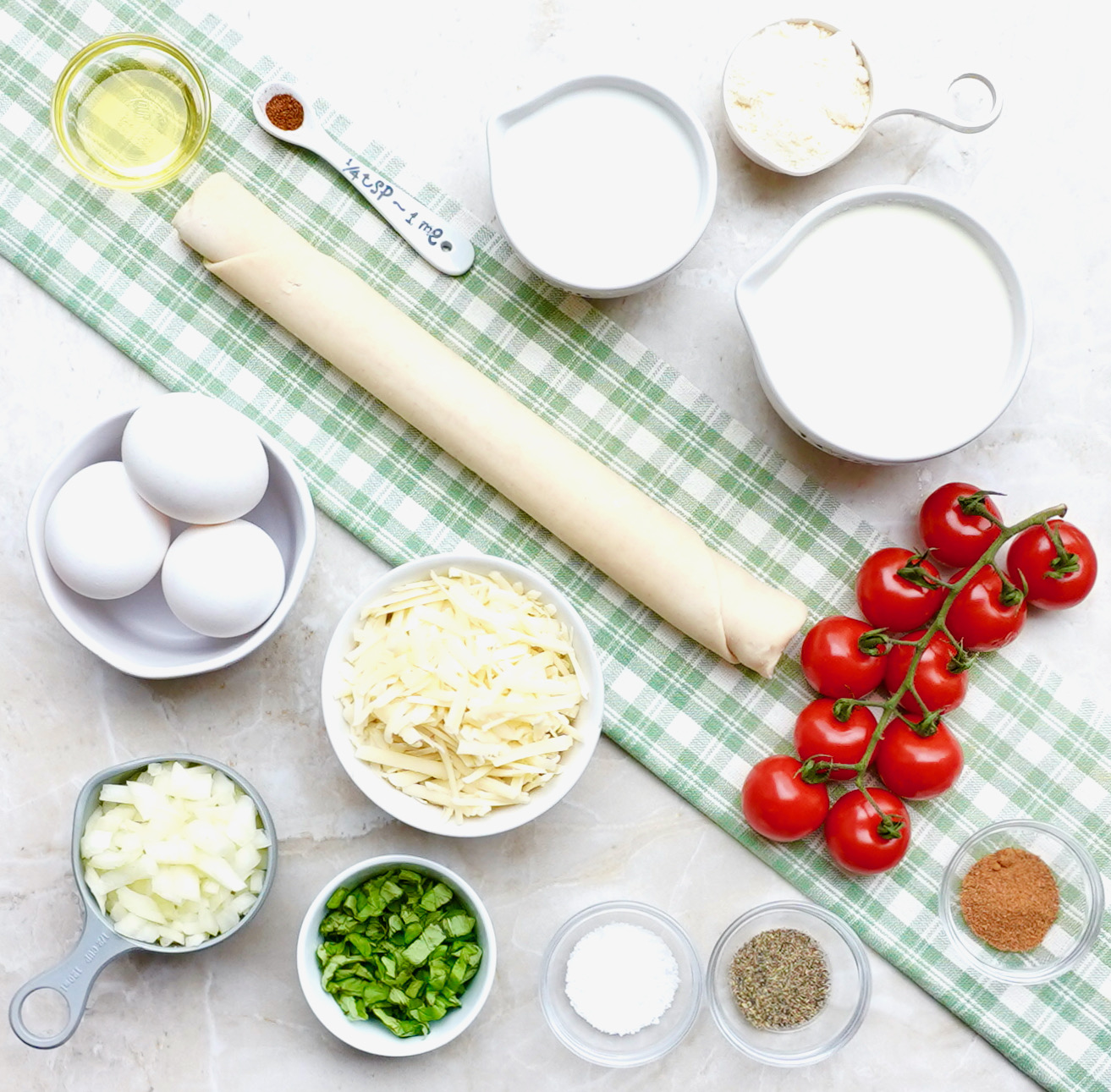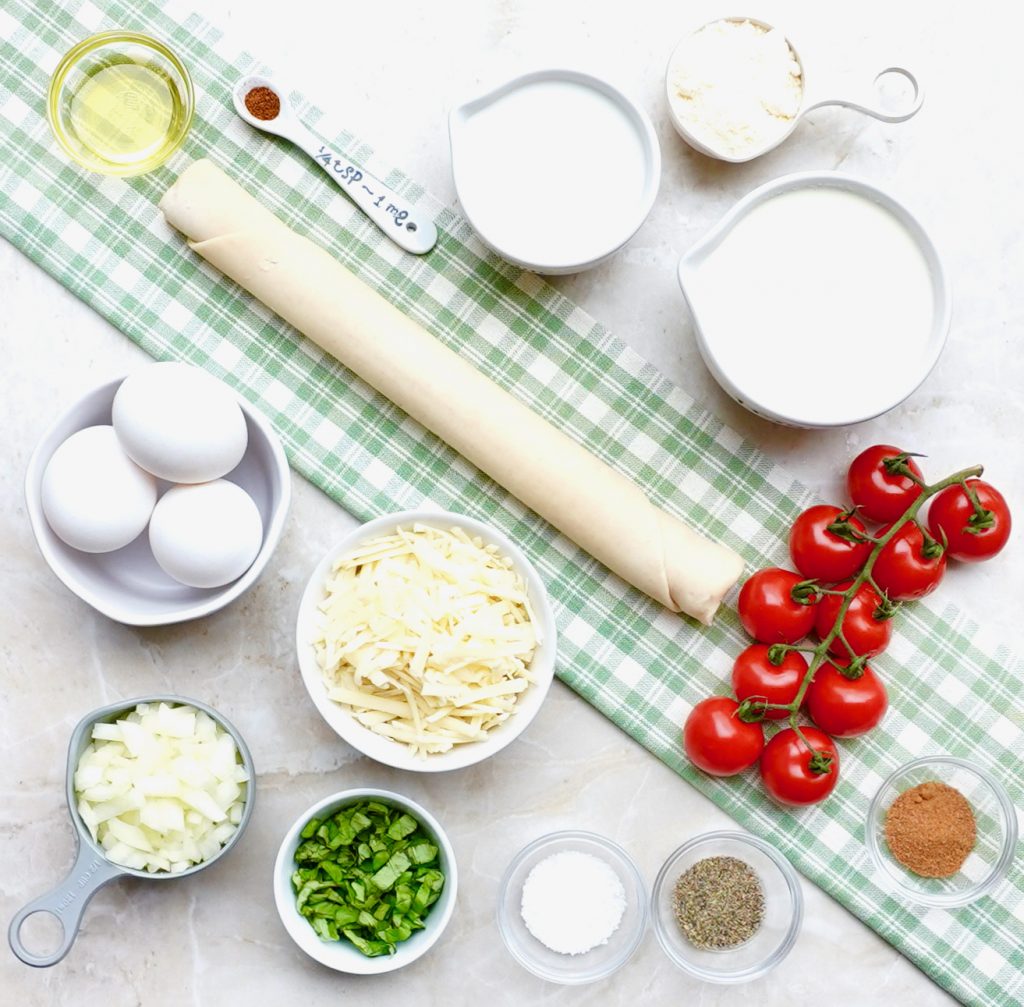 Tomato Basil Quiche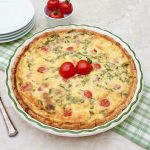 Print This
Ingredients
1 tablespoon olive oil

½ cup yellow onions, chopped

3 large eggs

1 cup heavy cream

½ cup whole milk

½ teaspoon ground nutmeg

½ teaspoon kosher salt

½ teaspoon black pepper

pinch cayenne red pepper

1 cup Gruyere cheese, finely chopped or grated

¼ cup parmesan cheese, grated

1 cup ripe cherry tomatoes , cut into quarters

¼ cup fresh basil, stems removed and chopped

1- 9 inch unbaked pie crust
Instructions
Pre- heat oven to 350 degrees.
Press your unbaked pie crust into a 9 inch pie plate, crimping the edges. There is no need to grease the pie plate.
Line the pie shell with some parchment paper then place some pie weights or dried beans onto the bottom of the pie shell.
Place the crust into the preheated oven.
Bake the crust for 10-12 minutes until the edges of the crust are set and a very light golden brown.
Remove the pie weights and parchment paper from the pie dish. Using a fork, pierce the bottom of the crust in several places. This will keep the crust from puffing up. Set the crust aside while you make the filling.
Place the cut cherry tomatoes onto a paper towel. Pat them with another paper towel. Let them sit like this until you are ready to add them to the batter. You want to remove the moisture from the tomatoes.
Heat the olive oil in a skillet over medium heat. Add the onions to the skillet. Saute onion for 1-2 minutes until they just begin to soften. Do not let them brown.
In a medium bowl, whisk eggs then add in the cream and milk. Mix well. Add the nutmeg, salt, pepper and cayenne. Mix well.
Stir in the Gruyere and Parmesan cheeses.
Add the onion mixture, tomatoes and basil to the egg mixture and stir in thoroughly.
Pour the egg mixture into the par-baked pie shell.
Bake for 45- 50 minutes until the quiche is completely set and lightly browned.
Let it sit for several minutes so it can cool slightly  before cutting into wedges.
If you are serving this later, place the quiche onto a wire rack to cool completely.