What's easier that a one pot meal? One Pot Chicken Penne is a simple to make, quick fix meal that is flavorful, creamy and delicious.
Made in one pot, with a cook time of about 20 minutes, One Pot Chicken Penne is an easy weeknight meal. Sun dried tomatoes, onions, garlic and basil add a lot of flavor. Parmesan cheese and cream, make it creamy and rich. The addition of baby spinach really completes the meal ,which can easily be served on its own.
One pot pasta meals really are so good for a busy day. Simple to make and very easy clean up! A win win for busy people. Check out French Onion Ziti, Creamy Pea Shell Pasta, One Pot Asparagus Gnocchi, Tomato Broccoli One Pot Pasta, and  Lemon Asparagus Pasta for some other one pot meals.
SOME THINGS TO KNOW:
You can substitute regular penne pasta for the whole wheat penne pasta. If you cannot find penne you can substitute ziti, rigatoni, or mostaccioli.
This recipe must be made with dried pasta. Fresh pasta cooks too fast to absorb all the liquid.
The penne will not cook quite as fast this way as it would in boiling water.
You can keep leftovers in the refrigerator for 2-3 days.
This should not be frozen.
You can reheat this covered in the microwave for a few minutes until heated through.
It can also be reheated on the stovetop in a covered pan. Add a couple of tablespoons of water or broth before heating and stir often until it is hot.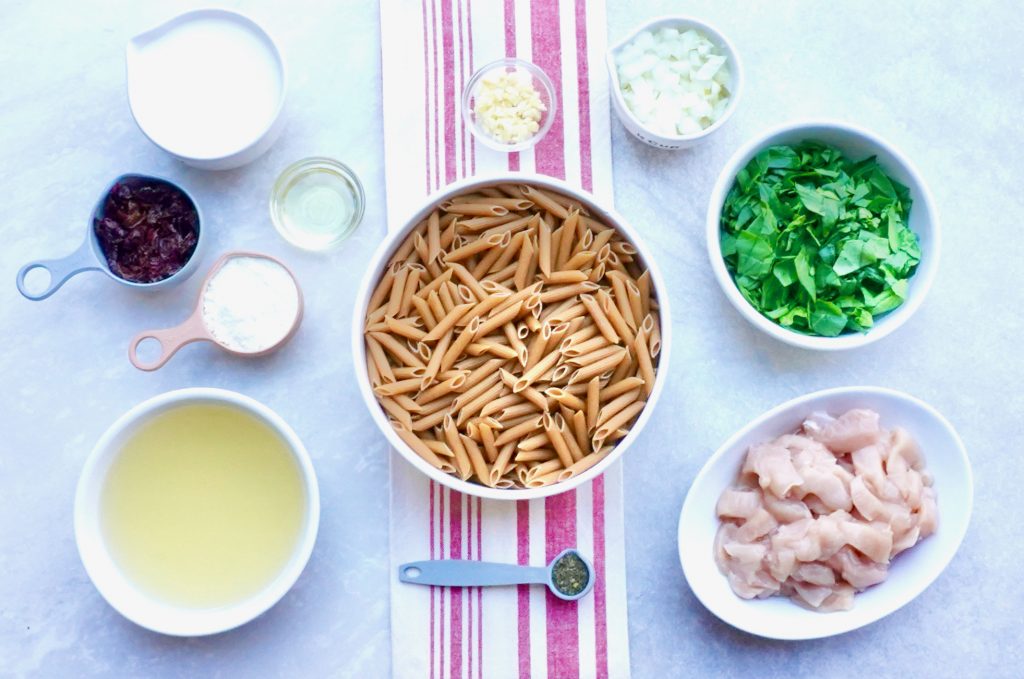 One Pot Chicken Penne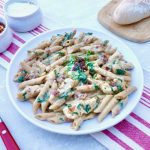 Print This
Ingredients
2 tablespoons olive oil

1 pound boneless chicken breast, cut into 1" x ½ " strips

pinch each, salt and pepper

½ cup sun dried tomatoes in oil, drained and chopped

½ cup yellow onion, chopped

2 cloves garlic, minced

4 cups chicken broth

1 cup heavy cream

1 teaspoon dried basil

1 pound whole wheat penne pasta

2 cups baby spinach, stems removed and chopped

½ cup parmesan cheese, grated
Instructions
In a large pot, heat the olive oil over medium low heat.
Sprinkle the chicken with salt and pepper and add it to the pan. Let it cook for a couple minutes on the first side then turn it over. You want it to be browned and cooked through. This will take between 5 and 7 minutes.
Once cooked through, remove the chicken to a plate.
Add the tomatoes, onions and garlic to the pan. Cook for 2-3 minutes until the onions begin to soften.
Add the chicken broth, heavy cream, basil and penne pasta.
Raise the heat to the high setting to bring the mixture just to a boil.
Lower the heat to between low and medium low. You want it to be at a gentle simmer. Cook uncovered,  according to the directions on the package for the tenderness you prefer. ( cooking the pasta in this way may take a couple extra minutes more than if it were boiled in water)
Make sure you stir the pasta while it is cooking every couple of minutes.
Check your timing and test the pasta for tenderness. The liquid should be mostly absorbed at this point. If it is not tender enough, continue to cook for a couple additional minutes.
If the pasta is not tender and the liquid is entirely absorbed, add another ¼ cup of chicken broth or water.
Stir in the spinach and stir until it wilts.
Add the chicken back to the pan.
Add the parmesan cheese.
Let it cook stirring for another minute or so until the chicken is heated through.