Vegetable Lasagna is one of those recipes that once you try it, you will make it over and over again. It is a creamy dish that is made with three cheeses, carrots, broccoli, baby spinach and a creamy bechamel sauce.
This recipe provides eight servings so it is perfect for large dinner parties.  Isn't it great to make a dish that you can put together ahead of time, then sit and enjoy the people you are with while it's baking?
Vegetable Lasagna is a different twist on lasagna because it does not use any red sauce. It is delicate and full of flavor with the vegetables providing  beautiful color. If you like a creamy lasagna made with bechamel sauce, you might also like Pesto Chicken Lasagna.
If you like vegetarian pasta recipes check out Mushroom Bolognese and Mushroom Asparagus Tortellini.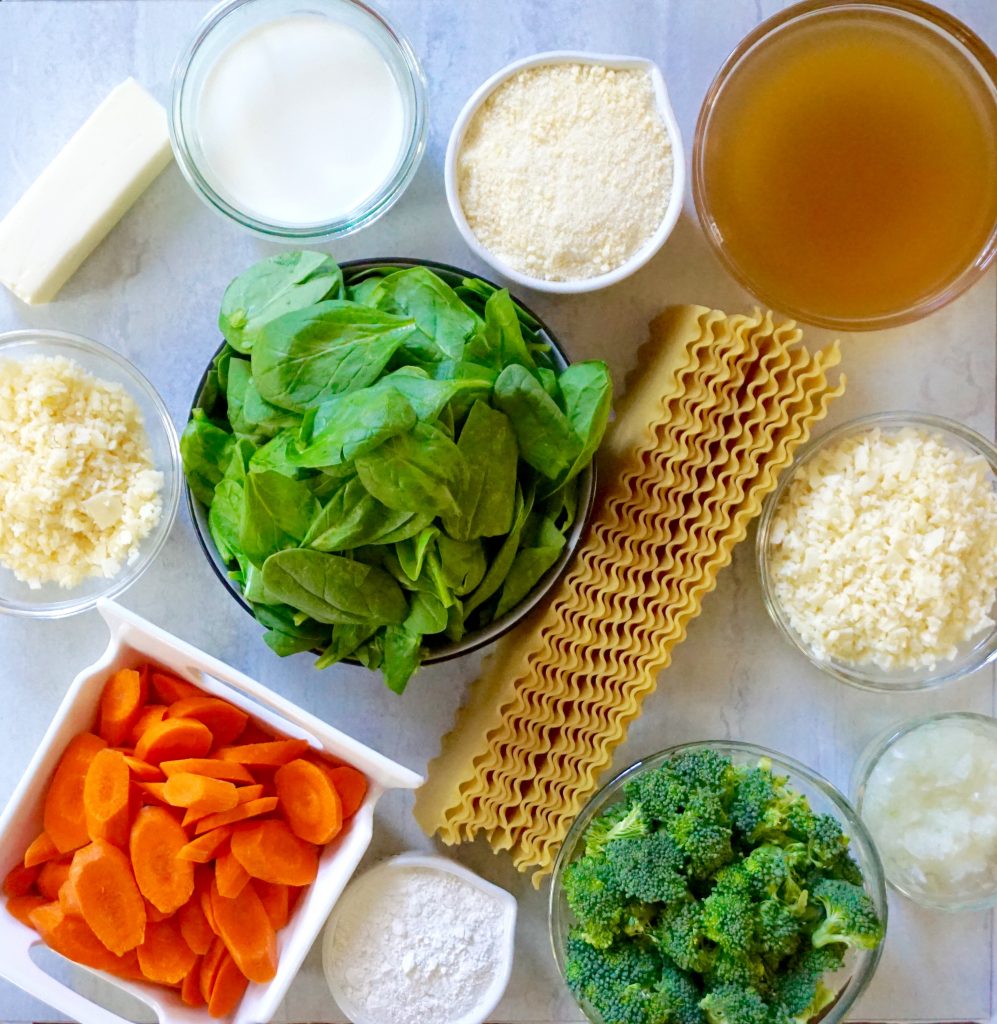 Vegetable Lasagna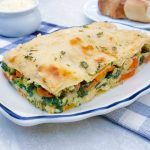 Print This
Ingredients
1 six ounce bag fresh baby spinach
1 pound carrots, peeled and sliced 1/2 inch thick
2 cups broccoli flowerettes
1/2 cup onion, chopped
2 cups organic vegetable broth
1 cup whole milk
6 tablespoons salted butter
1 tablespoon olive oil
1/2 cup all purpose flour
1 cup grated Parmesan cheese
1 cup (4 ounces) Swiss cheese, shredded
1 cup (4 ounces) Provolone cheese, shredded
15 lasagna noodles, cooked and drained
butter, or vegetable oil to grease the pan
Instructions
Preheat oven to 350 degrees. Grease a 9 x 13 baking pan.
In a large pot, cook the lasagna noodles according to the directions on the box. They should be cooked for the minimum time as the baking process will continue to soften them.
In a skillet, heat the olive oil over medium low heat. Add the spinach and stir until it is wilted. Remove from heat.
Steam or boil the broccoli and carrots until they are slightly tender.  This should take about 8-10 minutes for the carrots and 3-5 minutes for the broccoli. Combine the spinach, carrots and broccoli and set aside.
Combine the Swiss, Provolone and Parmesan cheeses and set aside.
In a medium saucepan, combine the milk and vegetable broth. Heat over medium heat until it is just warm.
To make the bechamel sauce:
In a large skillet, melt the butter and add the chopped onion. Sauté the onion until tender but do not let it brown. Add the flour and cook for one minute, stirring constantly. Add the warm broth mixture and simmer until the mixture is thickened and bubbling, stirring constantly.
To assemble: Arrange 5 lasagna noodles in the bottom of the baking pan. Layer one third of the bechamel sauce, one half of the vegetables and one cup of the cheese mixture. Add another 5 lasagna noodles and again layer one third of the bechamel sauce, the other half of the vegetables and 1 cup of the cheese. Cover the top with the remaining 5 lasagna noodles, the remaining bechamel sauce and the last cup of cheese.
Bake for 45 minutes until bubbly and lightly browned.