Mushroom Asparagus Tortellini is an easy quick fix dinner as well as a Meatless Monday option. The vegetables are sautéed, simmered in a simple cream sauce and served over tortellini.
It's always good to have some easy and fast recipes in your lineup that are delicious as well! Mushroom Asparagus Tortellini is a great choice. The sauce can be made while you are heating water and cooking the tortellini. This entire meal will cook in under 15 minutes. Isn't that the kind of dinner that we need on weeknights after a long day?
If you are a fan of asparagus and easy to make meatless meals make sure you check out Lemon Asparagus Pasta.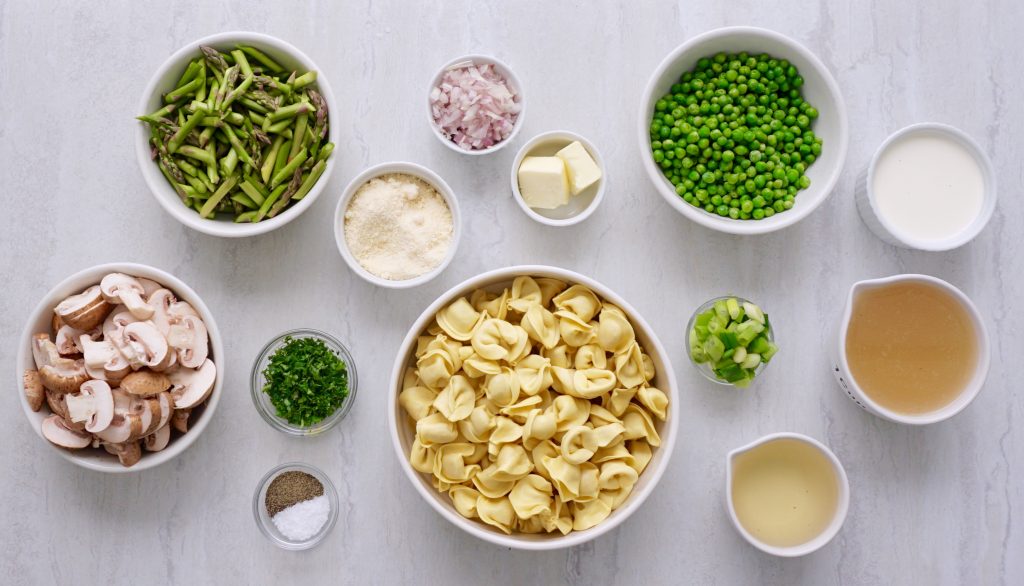 Mushroom Asparagus Tortellini
Print This
Ingredients
1 pound tortellini pasta
2 tablespoons butter
1 large shallot, minced
8 ounces Baby Bella mushrooms, sliced
1 pound fresh asparagus, sliced into 1 inch pieces, tough ends discarded
½ cup white wine
1 cup vegetable broth
½ cup heavy cream
1 cup frozen peas, defrosted
1 cup grated parmesan cheese
3 green onions, sliced into small pieces
2 tablespoons fresh parsley, chopped
Instructions
Heat a large stockpot of water to boiling over high heat. Cook the tortellini according to the directions on the package for the tenderness that you want. Drain the tortellini and return it to the pot.
Melt the butter in a large skillet over medium low heat. Add the shallots, mushrooms and asparagus and cook stirring occasionally until the mushrooms have rendered all of their liquid, 5-6 minutes.
Add the wine and simmer over medium low until it has reduced by half. Add the broth and cream and simmer until begins to thicken.
Add the peas, parmesan, green onions and parsley and simmer for 2-3 minutes until the peas are heated through.
Pour the sauce over the drained tortellini and stir together.