Mushroom Asparagus Tortellini is an easy quick fix dinner as well as a Meatless Monday option. The vegetables are sautéed, simmered in a simple creamy sauce and served over tortellini. Tortellini is most similar to ravioli. They are both pastas that are filled with something. 
It's always good to have some easy and fast recipes in your lineup that are delicious as well! Mushroom Asparagus Tortellini is a great choice. The sauce can be made while you are heating water and cooking the tortellini. This entire creamy tortellini recipe will cook in a total time of  under 15 minutes. It is a delicious recipe that is good for a quick weeknight dinner. 
If you are a fan of asparagus and easy to make meatless meals make sure you check out Lemon Asparagus Pasta ,Lemon Asparagus Risotto, Asparagus Fried Brown Rice, One Pot Asparagus Gnocchi and Asparagus Quiche. They are all easy to make asparagus recipes.
You should also check out, 10 Spring Asparagus Recipes.
If you want to try some other easy pasta recipes with mushrooms check out Mushroom Cacio e Pepe , Mushroom Feta Rotini, Creamy Mushroom Spinach Bowties, and Creamy Mushroom Pappardelle. They are all creamy pasta recipes that are simple and hearty.If you want to try some new pasta recipes, they would all be great weeknight dinners.
SOME THINGS TO KNOW:
SUBSTITUTIONS:
If you so not want to use butter, olive oil will work well in the recipe.
If you cannot find tortellini as a fresh pasta at your grocery store, it is also available frozen and dried. It also comes filled with meat instead of cheese.
Baby Bella Mushrooms are also called Cremini Mushrooms. They are dark brown and firmer that a white button mushroom. Cremini mushrooms are Portobello mushrooms that are not mature and therefore much smaller. If you can not find them, white mushrooms are a good substitute.
If your meal does not need to be vegetarian you could replace the vegetable broth with chicken broth.
The shallots can be replaced with yellow or red onion.
Canned peas can be substituted for the frozen if that is what you have.
STORAGE:
You can store any leftovers in an airtight container in the refrigerator for 2-3 days.
Creamy sauces can separate and become grainy in the freezer. Freezing is not recommended.
REHEATING:
You can reheat the leftover pasta on the stovetop in a medium sized pan. If you save some of your pasta water, you can add a bit to thicken the sauce.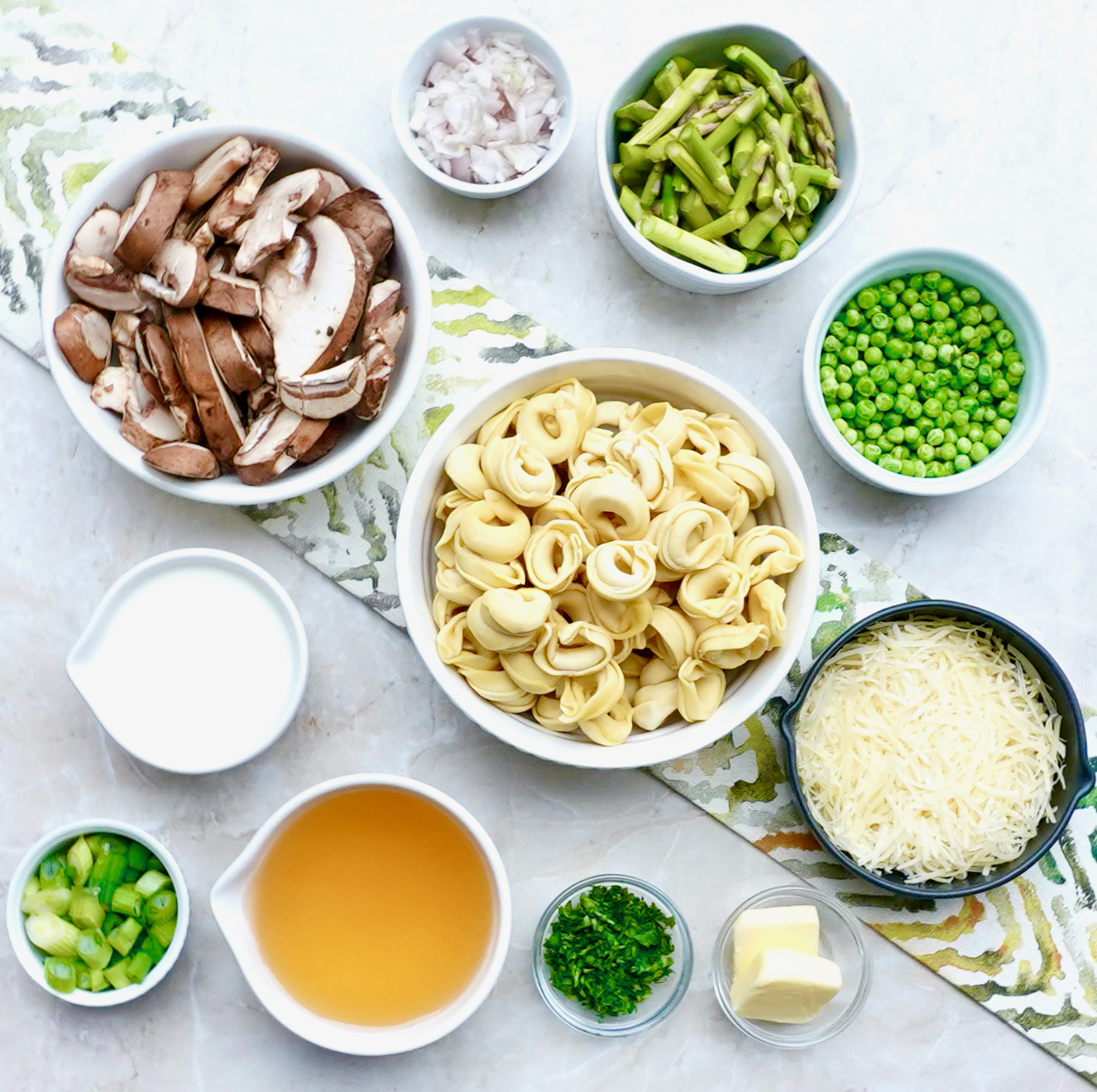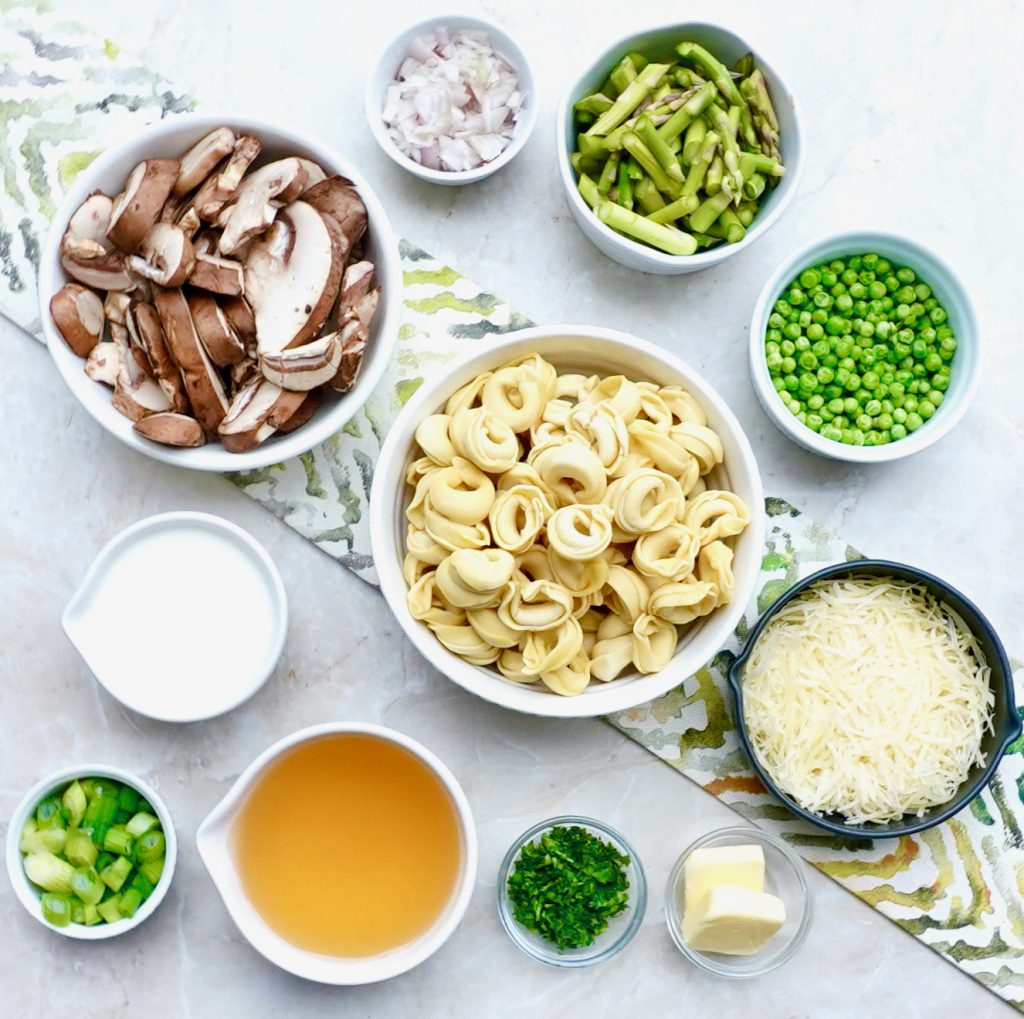 Mushroom Asparagus Tortellini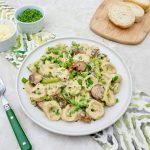 Print This
Ingredients
1 pound cheese tortellini pasta
2 tablespoons butter
1 large shallot, minced
8 ounces Baby Bella mushrooms, sliced
1 pound fresh asparagus, sliced into 1 inch pieces, tough ends discarded
1 cup vegetable broth
½ cup heavy cream
1 cup frozen peas, defrosted
1 cup grated parmesan cheese
3 green onions, sliced into small pieces
2 tablespoons fresh parsley, chopped
Instructions
Heat a large stockpot of water to boiling over medium- high heat. Add a teaspoon salt to the water. Cook the tortellini according to the package  directions for the tenderness that you want.  Al dente is how it is cooked here. Drain the tortellini and return it to the pot.
Melt butter in a large skillet over medium heat. Add the shallots, mushrooms and asparagus and cook stirring occasionally until the mushrooms are golden brown and have rendered all of their liquid, 5-6 minutes.
Add the broth and cream and simmer on medium low heat until it  begins to thicken.
Add the peas, parmesan, green onions and parsley and simmer for 2-3 minutes until the peas are heated through.
Pour the sauce over the drained tortellini and stir together.
Taste and season with kosher salt and black pepper to taste.