Mushroom Cacio e Pepe is twist on the classic pasta dish. Mushrooms are cooked with garlic, crushed red pepper and salt then added to this simple creamy cheesy pasta. If you are a mushroom lover, this recipe is for you! The earthiness of the mushrooms add an extra layer of flavor.
The amazing thing about this classic cacio e pepe recipe is that it is creamy without adding cream. Reserved pasta water is combined with cheese to create an amazing sauce. It is a simple pasta dish that produces a great meal.
Mushroom Cacio e Pepe is perfect for an easy weeknight dinner. You can have it on the table in 30 minutes from start to finish.
If you like easy vegetarian pasta recipes, check out Lemon Asparagus Pasta and Mushroom Asparagus Tortellini, Tomato Broccoli One Pot Pasta, Summer Squash Basil Pasta , and Creamy Pea Shell Pasta  They are all simple pasta meals that are quick fix dinners!
If you are looking for a wine to pair with this Mushroom Cacio e Pepe, check out The Best Wines to Serve with Pasta.
SOME THINGS TO KNOW:FAQ'S
WHAT IS CACIO E PEPE?
Cacio e Pepe means cheese and pepper in Italian. This is a simple pasta dish that originates from Rome and contains Romano cheese, black pepper and pasta.
SPECIAL EQUIPMENT NEEDED:
Large pot to cook the pasta
Large skillet to cook the mushrooms
Colander to drain the pasta
SUBSTITUTIONS:
Bucatini is a thick spaghetti with a hole down the middle, resembling a long tube. If you are not able to locate it at your grocery store you can substitute spaghetti or linguini. To learn more, read What is Bucatini?
The Baby Bella mushrooms can really be substituted with any type of mushroom. Shitake Mushrooms, Button Mushrooms and Cremini Mushrooms will all work in this recipe. You can also use dried mushrooms which have been rehydrated.
Pecorino Romano Cheese is an Italian cheese that is made with 100% sheep's milk. If you cannot locate it, substitute Parmesan cheese.
You can use ground black pepper but whole black peppercorns that have been freshly ground in a pepper or spice grinder will produce more flavor.
HOW TO STORE LEFTOVER MUSHROOM CACIO E PEPE:
You can store any leftover pasta in an airtight container for 3-5 days in the refrigerator.
You can also freeze Mushroom Cacio e Pepe for 2-3 months in an airtight freezer container.
HOW TO REHEAT THE LEFTOVERS.
You can reheat individual portions covered in the microwave for 2-3 minutes until heated through.
You can also reheat the pasta on the stovetop in a medium skillet over medium low heat. Adding a drizzle of olive oil or some pasta cooking liquid will help to bring back the creamy sauce.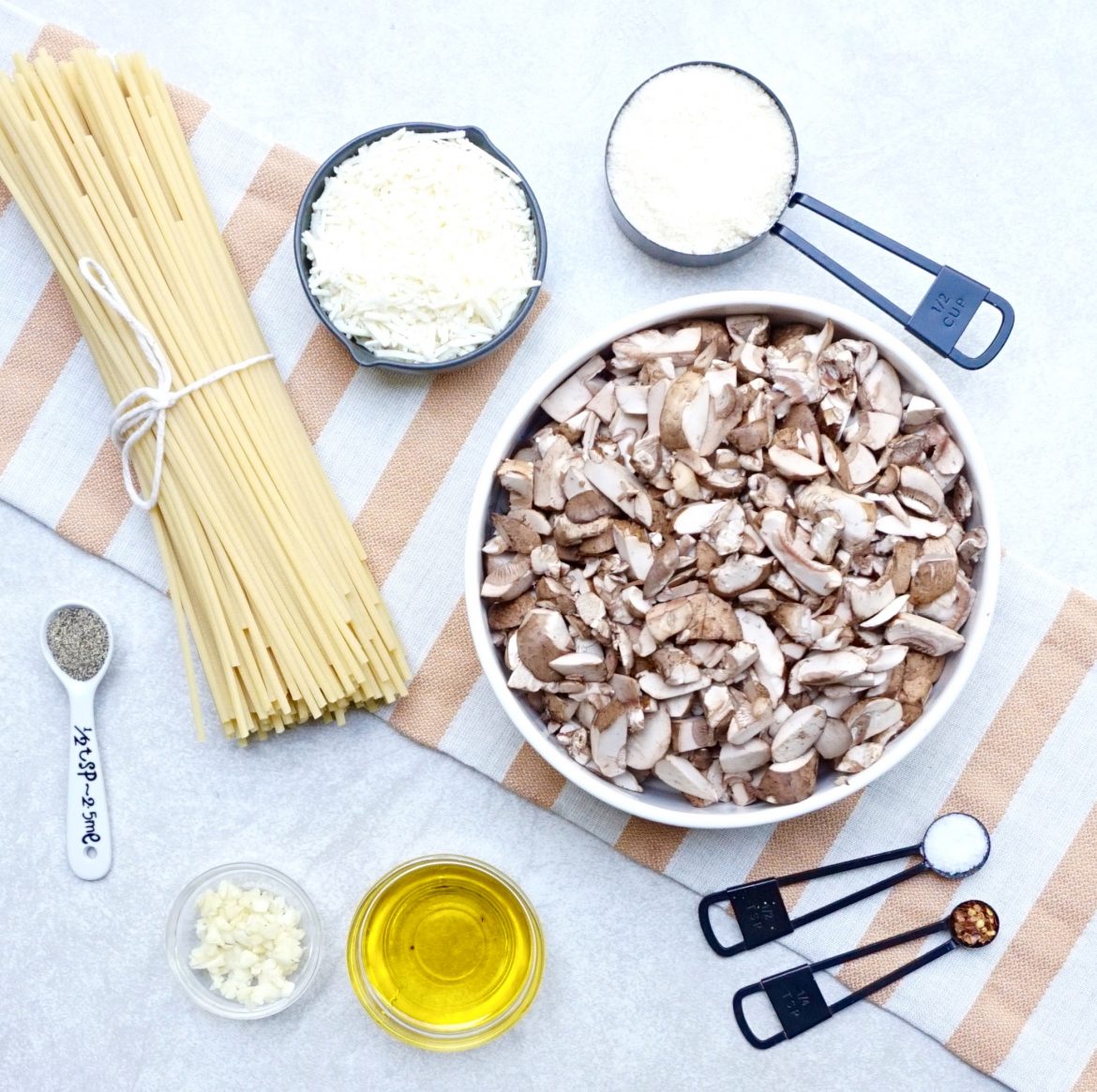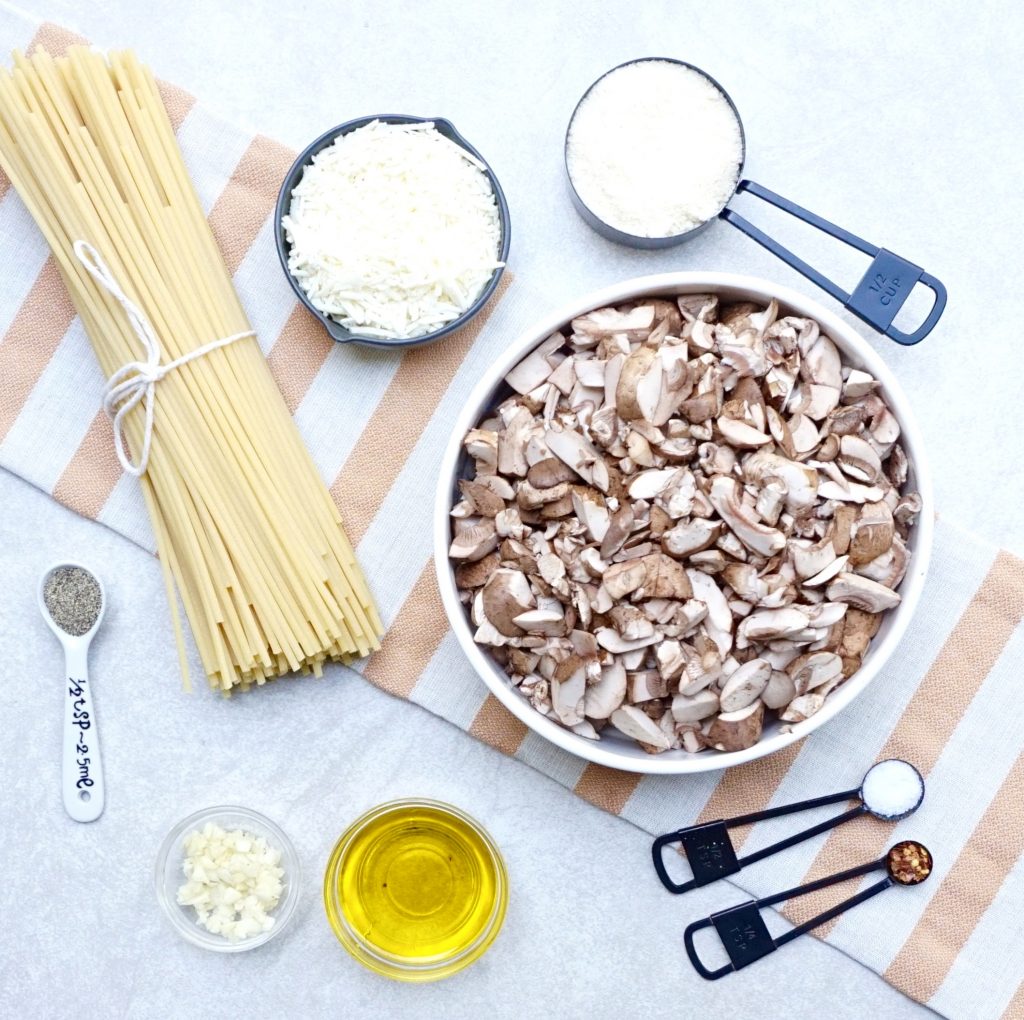 Mushroom Cacio e Pepe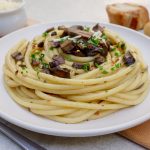 Print This
Ingredients
3 tablespoons extra-virgin olive oil, divided

1 pound Baby Bella mushrooms, coarsely chopped

2 garlic cloves, minced

¼ teaspoon crushed red pepper

½ teaspoon kosher salt

1 pound bucatini pasta

½ cup grated parmesan cheese

½ cup grated Pecorino Romano cheese

½ teaspoon black pepper

1 ½ cup reserved pasta cooking water
Instructions
Heat 2 tablespoons of the olive in a large skillet over medium- low heat.
Add the mushrooms in a single layer, garlic, red pepper and salt to the pan. Cook, stirring often for 8- 10 minutes until the mushrooms have released all of their liquid and are golden brown.
Remove from the heat and set aside. 
Bring a large pot of salted water to a boil over medium-high heat. Add the bucatini and cook pasta according to the package directions for almost-al dente pasta. 
Reserve 1½ cups of the cooking water.
Drain the pasta.
Return the cooked pasta to the pot.
Drizzle the remaining tablespoon of olive oil over the pasta.
Slowly add in the Parmesan cheese and Romano cheese a bit at a time, stirring it in over medium heat. You do not want to just add it all at once and risk it clumping. Grated dried cheeses will work better than fresh grated in this recipe to blend in nicely.
Slowly add in ½ cup of the reserved pasta water. A creamy cheese sauce will start to form. Add another ½ cup of the water if needed and a bit more 2 tablespoons at a time until you have a perfect creamy pasta dish.
Stir the mushroom mixture into the pasta and let it heat through for 1-2 minutes.
Serve in a large bowl with some extra pecorino cheese on the side and enjoy your Mushroom Cacio e Pepe pasta!