Lemon Asparagus Pasta is a great vegetarian meal that is bright and flavorful. Ricotta cheese adds some protein and creates a creamy sauce.The combination of fresh asparagus and lemon flavor work really nicely together to create bold flavors. The best part though is that this simple pasta dish is super easy to make in one pot! It is a great meal to make during asparagus season.
You can prep and cook this Lemon Asparagus Pasta in under 25 minutes. It is a great, easy weeknight dinner and it would also be a perfect side dish.
If you like asparagus, try this Mushroom Asparagus Frittata, Asparagus Fried Brown Rice, Lemon Asparagus Quinoa,  Mushroom Asparagus Tortellini, and Green Vegetable Pasta Primavera. They are other easy to make Meatless Monday recipes. If you want to try another simple vegetarian pasta dish check out Mushroom Cacio e Pepe. If you like this lemon asparagus pasta recipe you should try Lemon Shrimp Orzo with Asparagus.
SOME THINGS TO KNOW: FAQ'S
INGREDIENT TIPS:
Read How to Choose Asparagus so you can start off with the best ingredients.
SPECIAL EQUIPMENT NEEDED:
Large pot to cook the pasta. You will need a 5 quart pan or larger.
SUBSTITUTIONS:
If you do not have ricotta cheese, the closest in taste and consistency is a small curd cottage cheese.
Gemelli pasta is a shape with two small strands of pasta twisted into a spiral. If you cannot locate it at your grocery store, penne pasta, fusilli, farfalle, rigatoni or ziti pasta can be substituted.
If you want this to be a vegan pasta, use Vegan Ricotta Cheese.
ADDITIONS: 
If you want a touch of heat, add ¼ -½ teaspoon red pepper flakes.
Fresh herbs of your choice would make a good addition. Fresh basil is a good one to start with.
STORAGE:
You can keep any leftover Lemon Asparagus Pasta in an airtight container in the refrigerator for 2-3 days.
You can freeze any leftovers in an airtight freezer container for 2-3 months. Defrost them in the refrigerator.
REHEATING:
This can easily be reheated in a saucepan on the stove top over low heat, stirring every 1-2 minutes. If the pasta seems dry, add ¼ cup reserved pasta water or heavy cream.
SERVING SUGGESTIONS:
Serve with some crusty bread, a leafy green salad and a glass of white wine.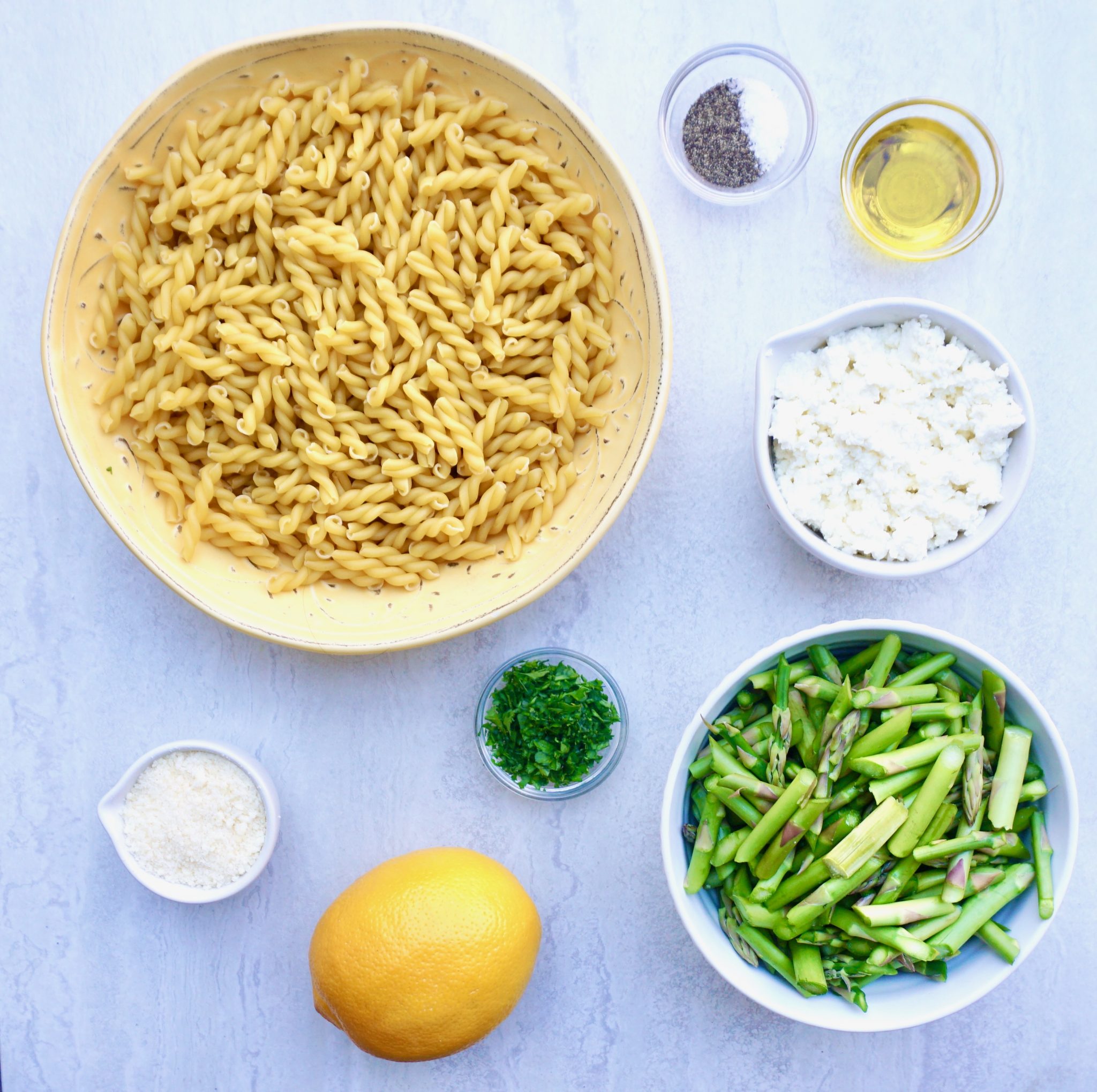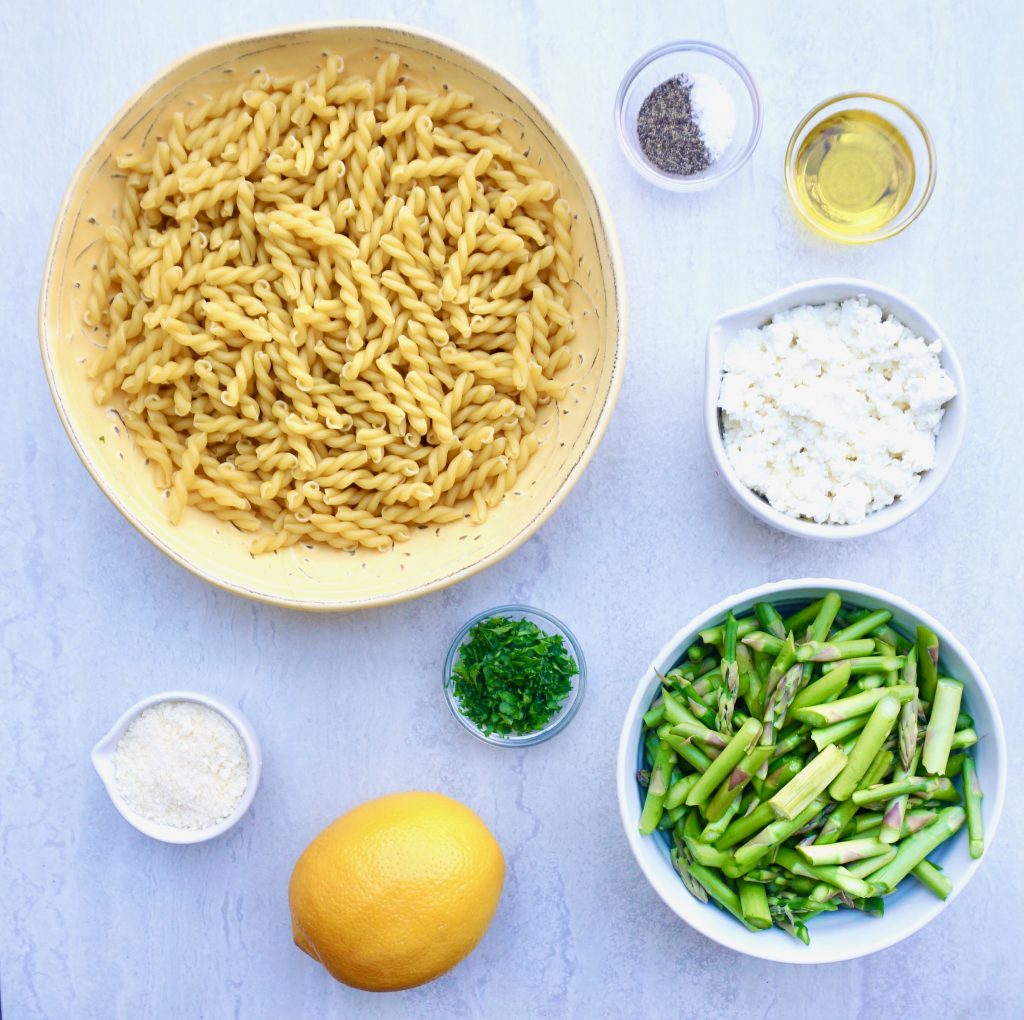 Lemon Asparagus Pasta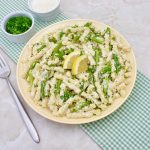 Print This
Ingredients
1 pound gemelli pasta or any short, tubular pasta

2 tablespoons olive oil

1 pound fresh asparagus (cut asparagus spear into 1 inch pieces)

2 tablespoons lemon zest

2 tablespoons fresh lemon juice

1 cup ricotta cheese

1 tablespoon fresh parsley, chopped fine

¼ cup parmesan cheese

1 cup reserved pasta water

Salt and black pepper to taste
Instructions
Bring a large pot of salted water to a boil over medium-high heat.
Add the pasta to the boiling water and cook pasta for the al dente texture, according to package instructions.
3 minutes before the pasta is fully cooked, add the sliced asparagus to the pot and cook it with the pasta.
Reserve 1 cup of pasta water for finishing. Drain the pasta and asparagus.
Return the drained pasta and asparagus to the pan.
Add the olive oil, lemon zest, lemon juice, ricotta, parsley and parmesan cheese. Combine the sauce ingredients well.
Over medium heat ,stir in the cup pasta water to create the pasta cream sauce. Heat through for 2-3 minutes and season with salt and pepper to taste.
You could sprinkle the top with some additional parmesan cheese before serving.