Green Vegetable Pasta Primavera is a great meal to make in the spring. It features asparagus and leeks with some fresh green beans added in and fresh herbs. It is a creamy pasta dish that is easy to make.
This is a quick fix meal. By the time you heat a pot of water and cook the fettuccini, the sauce will be ready. You could easily make this for a vegetarian weeknight meal or as a side dish.
This recipe is a variation of my mom's Pasta Primavera.  It is a great first course for Easter dinner or a perfect side dish. If you want some other ideas for using spring asparagus, check out Asparagus Quiche Cups, One Pot Asparagus Gnocchi, Asparagus Quiche, and Lemon Asparagus Quinoa.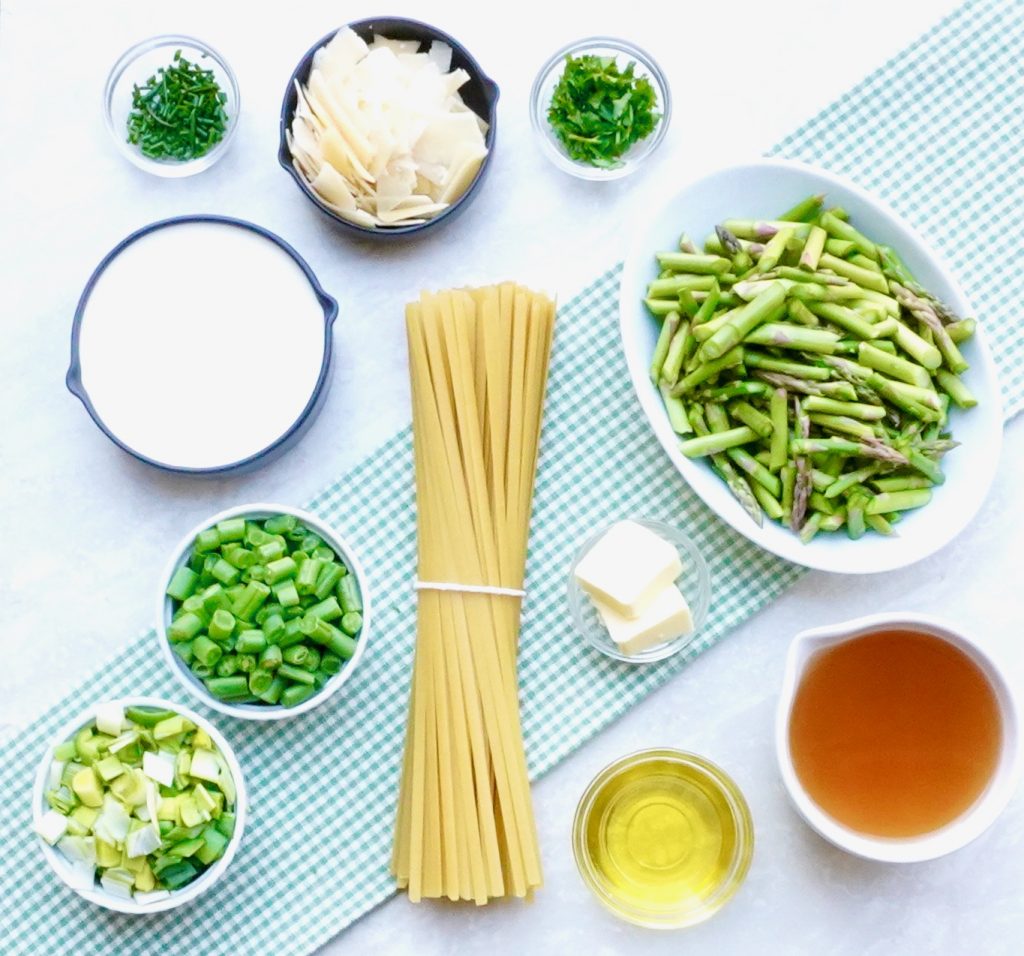 Green Vegetable Pasta Primavera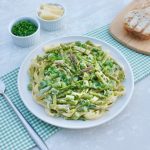 Print This
Ingredients
12 ounces fettuccini pasta

2 tablespoons butter

2 tablespoons olive oil

1 cup leeks. chopped (2 leeks)

1 cup fresh green beens, cut into 1⁄2 inch pieces

2 cups fresh asparagus, cut into 1 inch pieces

1 cup vegetable broth

1 cup heavy cream

1⁄2 cup fresh parmesan cheese, shaved or grated

2 tablespoons fresh herbs chopped ( parsley and chives)
Instructions
Set a large stock pot full of water over high heat to cook your fettuccini . Cook the fettuccini according to the directions on the box for the doneness you prefer. The time it takes to heat the water and cook the fettuccine should be about the same amount of time as it takes to make the sauce.Drain and set aside.
In a very large skillet, melt the butter with the olive oil over medium low heat. Add the leeks, green beans and asparagus.   Cook for 3 minutes,  stirring occasionally until they begin to become tender.
Add the vegetable broth and cream. Increase the heat to medium high and allow the sauce to come to a slight boil. Reduce to a simmer on low heat until it begins to thicken. This will take about 5 minutes.
Stir in the parmesan cheese and herbs. Cook for 1 minute until the sauce becomes very thick.
Add the cooked, drained fettuccini to the skillet. Heat through and serve.