Asparagus Quiche Cups are flavorful mini quiche baked in a tender puff pastry crust. They are easy to make and would be a wonderful addition to a spring brunch.
Eggs, cream, milk, cheeses and spices are mixed with asparagus and leeks to create a creamy, custard like filling that is full of flavor.
Asparagus Quiche Cups can be made ahead and frozen. Instructions are given to freeze and reheat them. If you re a fan of quiche, check out Asparagus Quiche, Spinach Mushroom Quiche ,Crustless Western Quiche and Tomato Basil Quiche.
They are all great for serving a group for breakfast, brunch or lunch.
If you are a fan of asparagus, check out 10 Spring Asparagus Recipes.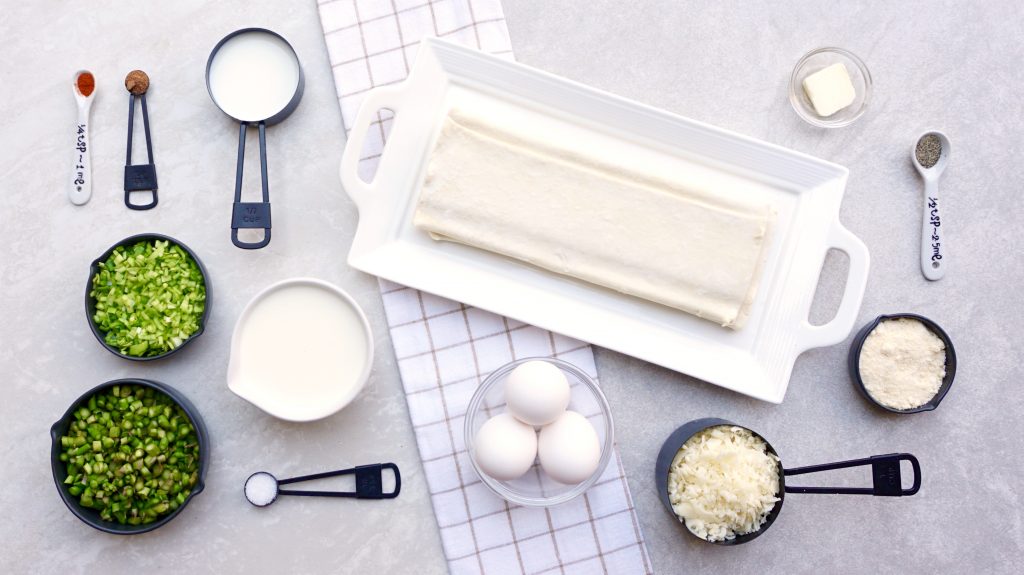 Asparagus Quiche Cups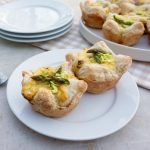 Print This
Ingredients
1 package frozen puff pastry

1 tablespoon butter

½ cup leeks, chopped fine

1 cup fresh asparagus, sliced into 1 inch slices

3 large eggs

1 cup heavy cream

½ cup whole milk

1 cup swiss cheese, finely chopped or grated

¼ cup parmesan cheese, grated

½ teaspoon ground nutmeg

½ teaspoon kosher salt

½ teaspoon black pepper

pinch cayenne pepper
Instructions
Preheat oven to 375 degrees.
On a lightly floured surface, unfold  the puff pastry. Cut each  piece into 9 squares. Place into un greased muffin pans pressing gently into the bottom of the pan and up the sides.You want the corners to be pointing up.
Melt the butter in a skillet over medium low heat. Add the sliced asparagus and cook, stirring for 2 minutes until the pieces become bright green and slightly softened. Add the leeks and cook for an additional minute. Remove from the pan and cool slightly.
In a medium bowl, beat the eggs then add in the cream and milk. Mix well. Add the swiss cheese, parmesan cheese, nutmeg, salt, pepper and cayenne. Mix well.
Add the vegetables to the egg mixture and stir in thoroughly.
Evenly spoon the egg mixture into the puff pastry cups. Each one will take just about 2 tablespoons of the mixture.
Bake for about 15 minutes until they are golden brown.
You can make these ahead of time and freeze them.
Cover and freeze the baked quiche cups on an un greased  baking sheet until firm. Transfer them  to  resealable freezer containers; and return them to the freezer.
When you are ready to serve them. Preheat the oven to 350 degrees.  Reheat the frozen pastries on un greased baking sheet for 20 minutes or until heated through.