Mac & Cheese Balls are a fun way to eat Macaroni  and Cheese. It is formed into balls, breaded and fried. They are great on their own or you could serve them with a dipping sauce. Marinara sauce, ranch dressing and barbeque sauce are all good choices.
These balls need to be prepared in advance and you need to allow plenty of time to make them. First the mac and cheese is made. It needs to cool and be refrigerated for an hour so it is firm enough to form into balls. Once the balls are formed, they need to be frozen. They are actually breaded and fried in the frozen state so the will keep their shape and not fall apart.
Once the balls are fried they can be served at once or be frozen in the cooked state. They can easily be heated when you are ready to use them. The Super Bowl is coming up soon and these are a fun appetizer you can prepare in advance.
If you want some other fun ideas for a Super Bowl get together, check out Loaded Beef Nachos, Buffalo Chicken Meatballs, Vegetable Nachos, One Pan Taco Skillet, Chicken Chili, and Buffalo Chicken Dip.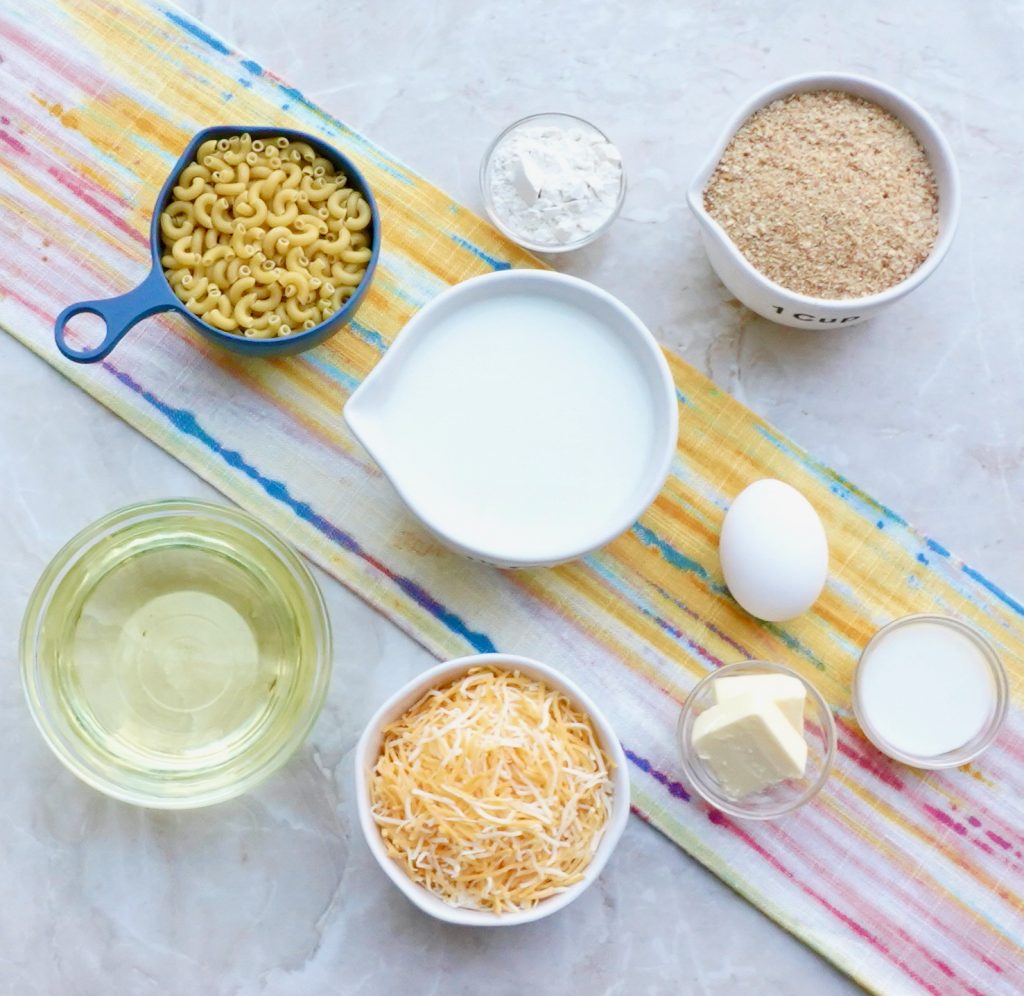 Mac & Cheese Balls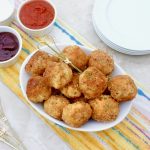 Print This
Ingredients
1 cup elbow macaroni

2 tablespoons butter

2 tablespoons all purpose flour

2 cups whole milk

1 cup shredded cheese (sharp cheddar, cheddar, or Mexican blend)

2 large eggs

4 tablespoons milk

1 cup dried breadcrumbs, plain or seasoned

vegetable oil

wax paper of parchment paper
Instructions
Bring  a large pot of water to a boil over high heat. Add the elbows and cook  for 6 minutes until Al dente. Drain the elbows and set aside. (If they stick together in the colander while sitting, a quick rinse with water will separate them)
Melt the butter in a medium size saucepan over medium low heat. Add the flour and whisk it into the butter until it is completely combined.
Start to slowly stir in the milk while constantly whisking to combine it with the flour mixture.
Once all of the milk has been added, raise the heat setting to medium and continue whisking until the mixture starts to bubble and thicken.
Add the cheese and whisk it in completely.
Remove from the heat and stir in the elbows.
Let the mixture cool to room temperature then place the pan into the refrigerator for 45 minutes to firm the mixture.
Line a baking sheet with wax paper or parchment paper.
Scoop out a rounded tablespoon of the mac and cheese and form it into a ball. Place it onto the baking sheet. (If you slightly wet you fingertips it will be far easier to form the balls)
Once all the balls are formed, place the baking sheet into the freezer. It should take about 1 hour to freeze them.
Beat the eggs and milk together in a pie plate or shallow dish.
Add the bread crumbs to a second pie plate.
Lay a large piece of wax paper on a baking sheet next to where you will be frying.
One at a time, place a frozen ball into the egg mixture and roll it all around so it gets fully coated.
Place the ball into the breadcrumbs. Roll it around so it is completely covered in crumbs. (If you have some spots where the crumbs do not stick, dip that part of the ball back into the egg mixture and then back into the bread crumbs)
Place the breaded ball onto the wax paper.
Repeat this process until you have breaded all 24 balls.
You have 3 options now.
You can cover the balls and refrigerate them for up to a day. You can fry them when you are ready to serve them.
You can place the breaded balls back into the freezer without frying them. Once they are frozen hard, transfer them to and airtight freezer container for up to 2-3 months. You can fry them frozen when you are ready to serve them.
You can fry them now and serve or freeze them fried to serve later. If you want to freeze for later, place them on a lined baking sheet and place it into the freezer. Once they are frozen, transfer them to an airtight freezer container for up to 2-3 months. You can reheat these straight from the freezer. Preheat your oven to 350 degrees. Line a baking sheet with foil and add the balls. Bake for about 15 minutes until heated through.
In the largest skillet you own, pour enough vegetable oil so it is ½  inch deep. Heat it over medium low heat until a haze starts to form. You can toss a breadcrumb into the oil and if it starts to cook, the oil is ready.
Add the balls to the skillet and watch them carefully. After about 1 minute of cooking on the first side, use tongs to turn the balls over. Continue this process until the balls are evenly browned all over.
Make sure that you keep the heat at medium low. You don't want the outside of the balls to brown faster than it takes to heat the ball through.
It will take 5-6 minutes of frying to brown the balls and have the center of the balls hot.
Lay some paper towels on the counter and remove the fried balls from the skillet to the paper towels to drain.