Cheesy Cauliflower Fritters are a fun way to eat your veggies. Cauliflower is combined with red bell pepper and green onions for added flavor and seasonal colors.
This is an easy recipe to make. You could serve these Cheesy Cauliflower Fritters as an appetizer or a side dish. Add some sour cream and a bit of extra parmesan for serving.
Fritters make a perfect side dish and the ingredients can be swapped out based on the season. Check out Mexican Street Corn Fritters, Squash Fritters,  Zucchini Corn Fritters and Potato Fritters for some other options.
You can also check out Boxty which isn't technically a fritter but a fun potato cake.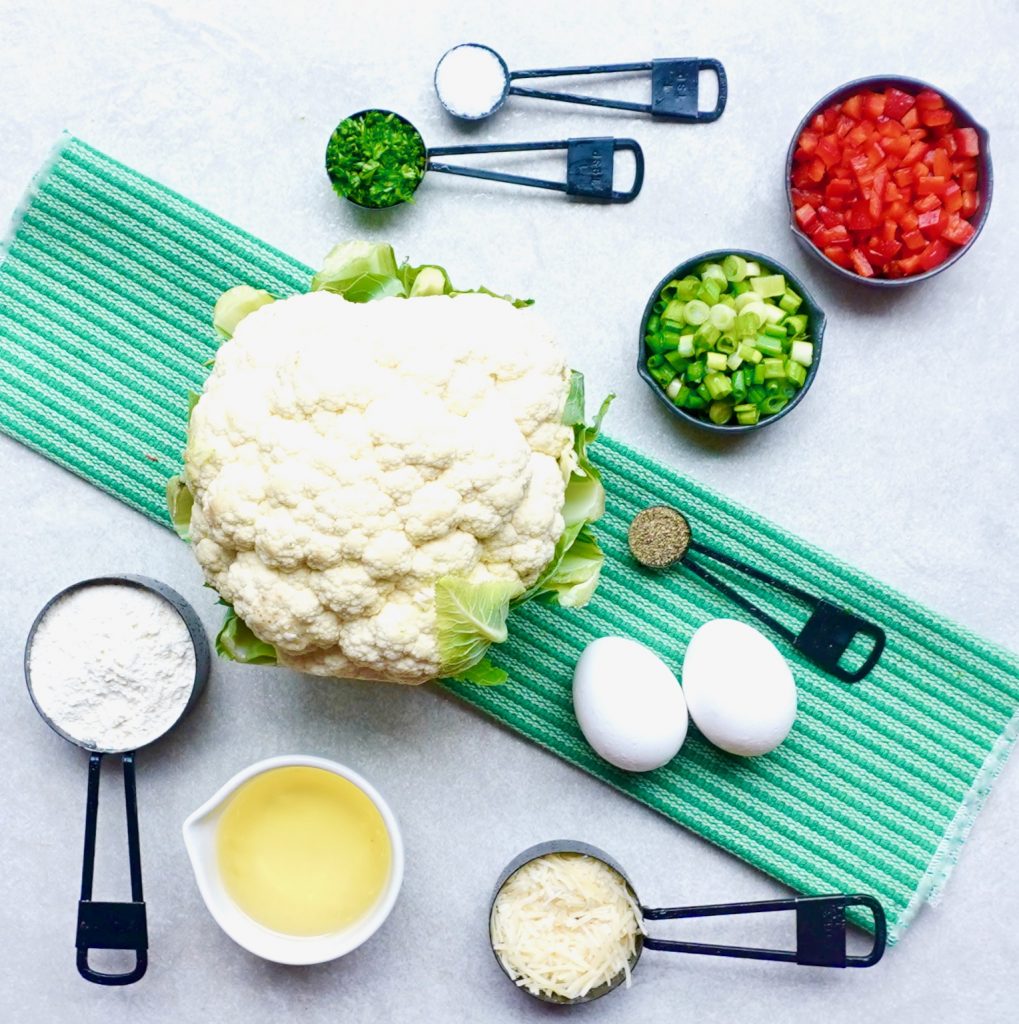 Cheesy Cauliflower Fritters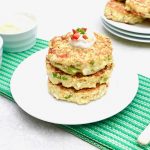 Print This
Ingredients
4 cups cauliflower flowerets, one small head

⅓ cup red bell pepper, diced very small

¼ green onions, sliced small

1 tablespoon fresh parsley, chopped fine

½ cup all purpose flour

3 large eggs, beaten (only 2 are pictured but 3 are needed)

1 teaspoon kosher salt

½ teaspoon black pepper

⅓ parmesan cheese, grated

¼ cup canola oil for frying
Instructions
Place the cauliflower flowerets into the bowl of a food processor. Pulse them until they are completely broken down and the size of a small grain of rice.
Place the cauliflower into a large bowl. Add the red bell pepper, green onions, parsley, flour, eggs, salt, pepper and parmesan cheese. Combine well. You should have a sticky mixture.
In a large skillet heat 2 tablespoons of the canola oil over medium low heat. Measure a level ¼ cup of the cauliflower mixture and add to the skillet. As you add each one, tap them down slightly with a rubber spatula so they spread out a bit. You should be able to fit 4-5 fritters at a time in a 10 inch skillet.
Fry for 3 minutes over medium high low until browned. Flip the fritters and cook the other side for 3 additional minutes until browned. Remove to a plate or baking sheet.
Check the skillet to see if you need additional oil for the second batch. Add another tablespoon or two as needed.
Repeat the frying process with the second batch of fritters. Keep the first batch warm in a 200 degree preheated oven.