Mexican Street Corn Fritters are a fun way to enjoy the flavors of Mexican Street Corn in an easy to serve fritter. Traditionally, ears of fresh corn are grilled and charred, covered in mayonnaise then seasoned and sprinkled with cheese. These fritters have the spices of the original and more! Fresh cilantro and green onions add another layer of flavor.
Mexican Street Corn Fritters  are perfect summer appetizers when fresh corn is at it best. They would also be a great side dish for summer cookouts. You can serve them with sour cream or Avocado Crema and top then with more green onions and Queso Fresco cheese.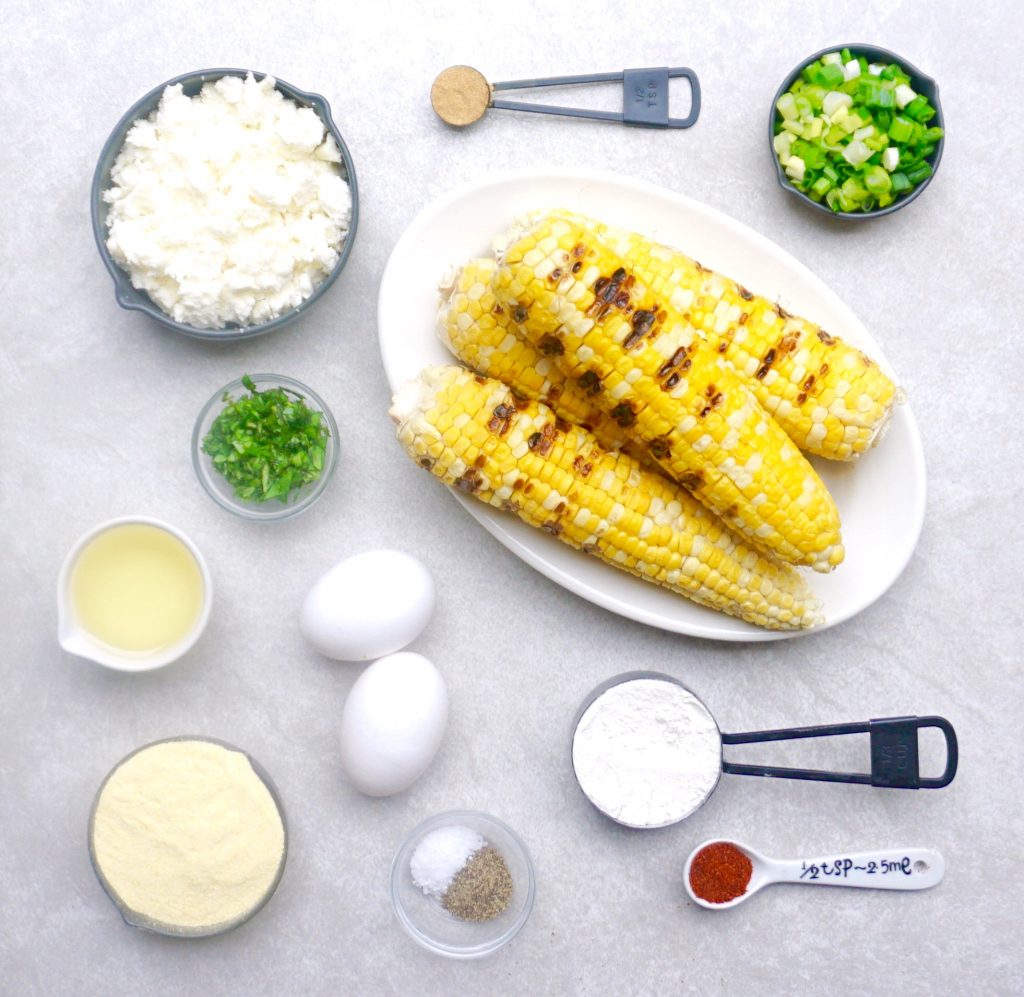 : 
Mexican Street Corn Fritters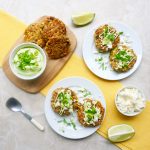 Print This
Ingredients
4 ear fresh corn on the cob, husks and silks removed
1/3 cup all purpose flour
1/3 cup cornmeal
½ teaspoon cumin
½ teaspoon chili powder
½ teaspoon kosher salt
½ teaspoon black pepper
2 large eggs, beaten
2 tablespoons fresh cilantro, chopped
¼ cup green onions, chopped
2 tablespoons canola oil
1 cup queso fresco cheese, crumbled or feta cheese
Instructions
Char the corn on an outdoor grill. You can check out this link on Super Simple Grilled Corn on the Cob for some simple instructions.
If you do not have a grill you can roast the corn in the oven. How to Roast Corn in the Oven  will show you how.
In a large bowl combine the flour, cornmeal, cumin, chili powder, salt, and pepper. Add the beaten eggs and stir in completely.
Stir in the corn kernels, cilantro and green onions. Stir until everything is thoroughly combined.
Scoop ¼ cup of the corn mixture,. Form it into a ball, then flatten it into a fritter. Continue until you have used up all of the corn mixture. You should end up with 10 fritters.
Heal the canola oil in a large skillet over medium low heat. Add the patties to the skillet and cook for 2 minutes on each side until they are lightly browned.
To serve, sprinkle the fritters with the Cojita Freso and additional green onions.