Chocoflan is a great ending for your Mexican inspired dinner. It is the perfect combination of two wonderful  things, chocolate cake and flan!
This is not my recipe, but it is a recipe that I really think is worth sharing. I first saw this Chocoflan being made on Marcela Valladolid's Food Network show several years ago.
Do not be intimidated when you read the recipe. This is not a quick or easy dessert, but if you take the time and the effort you will be so richly rewarded. The finished product is a dense chocolate cake topped with flan and caramel. It is not overly sweet, just thick and rich. Interestingly, the layers reverse themselves in this cake during baking.
The only changes I make to the recipe is that I omit the nuts from the original recipe and I always use jarred  caramel sauce instead of making the Cajeta.
If you like this you should check out Mexican Chocolate Pudding Cake. It has two layers that reverse in the baking process as well and it is super easy to make.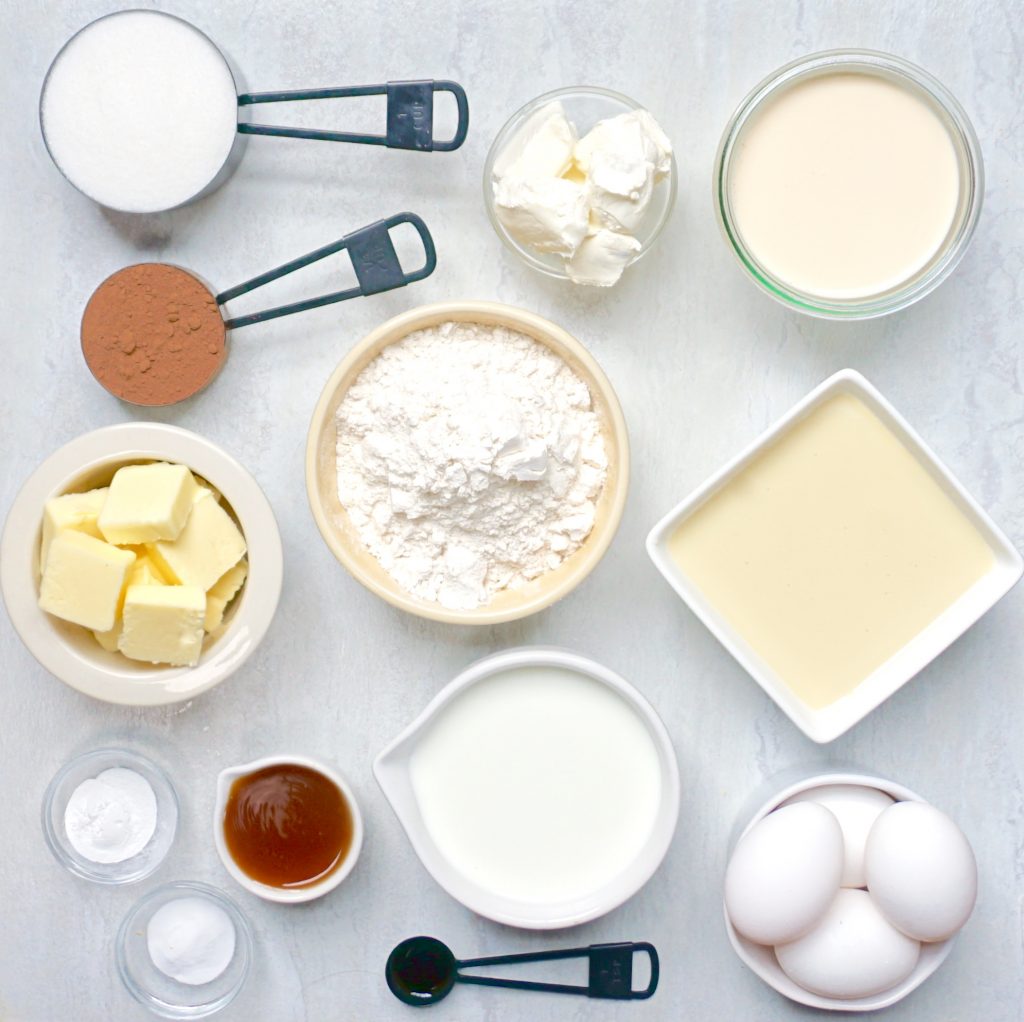 Chocflan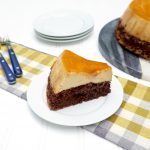 Print This
Ingredients
CAKE:
10 tablespoons butter, room temperature
1 cup sugar
1 egg, room temperature
1 3/4 cups all-purpose flour
3/4 teaspoon baking powder
3/4 teaspoon baking soda
1/3 cup cocoa powder
1 1/4 cups buttermilk
Additional butter or vegetable shortening to coat the pan
FLAN:
One 12-ounce can evaporated milk
One 14-ounce can sweetened condensed milk
4 ounces cream cheese, room temperature
3 eggs
1 tablespoon vanilla extract
GARNISH:
1/4 cup cajeta or caramel sauce
Instructions
Special equipment: 12-cup capacity Bundt pan
Put an oven rack in the middle of the oven and preheat to 350 degrees.
Coat a Bundt pan with  butter or vegetable shortening making sure that the pan is completely coated. Pour the cajeta or caramel sauce into the bottom of the pan, distributing it evenly.
For the cake:
Add the butter and sugar to a large bowl and using an electric hand mixer or stand mixer, beat until light and fluffy. Beat in the egg. Sift together the flour, baking powder, baking soda and cocoa in a medium bowl. Beat 1/3 of the flour mixture, and 1/2 of the buttermilk into the egg mixture. Repeat, ending with the flour mixture. Blend until well incorporated.
For the flan: In a blender, or with an electric mixer, combine the evaporated milk, condensed milk, cream cheese, eggs and vanilla. Blend on high for 30 seconds or beat until the mixture is completely smooth.
Spoon the cake batter into the prepared Bundt pan and spreading evenly. Slowly pour the flan mixture over the cake batter. Cover the pan tightly with foil.
Pour hot water into a large roasting pan about 1 inch high. Place your cake pan into the roasting pan.
Carefully slide the pan into the oven, and bake 1 hour, until the surface of the cake is firm to the touch, or an inserted toothpick comes out clean. When cake is done, remove from the water bath and cool completely to room temperature, about 1 hour.
Invert a large, rimmed serving platter over the Bundt pan, grasp tightly together, jiggle a little and flip over. Remove the pan and scrape any remaining caramel sauce from the pan onto the cake. Garnish with additional caramel sauce.
Notes
If you do not want to purchase an entire container of buttermilk just to make this recipe, make your own! Use whole milk instead. For 1 cup of milk add 1 tablespoon of either lemon juice or vinegar. For this recipe add 1 tablespoon plus a scant teaspoon of lemon juice or vinegar for your 1 and 1/4 cups of whole milk. Let this sit for 10 minutes.